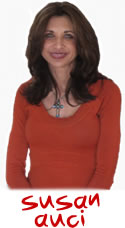 Conference Speaker

---
Travels from Georgia
For More Information: Call 1.800.782.2995 Or
Click Here to Send An Email
For fifteen years Susan Auci owned a business in the fashion industry; however, she always felt a call to ministry. God used her right where she was to fulfill her call to ministry.
Many of her boutique customers came in to shop for a dress and walked out with a transformed life. Susan had countless opportunities to use her

gift for teaching, encouraging, and intercession in her daily interaction with her customers.

Susan found her voice in ministry as broken people walked through the doors of her shop and she boldly shared God's word with her customers. Her fashion business was transformed into a unique ministry for women.
Today, Susan has emerged as a
powerful conference speaker and author, teaching and writing about God's love and restoration through painful experiences such shame, pain, and regret. Her ministry is a unique blend of her own personal testimony along with everyday topics such as fashion to communicate God's love through our hurts.
---
Popular Teaching Topics Include

. . .
God is In2 Recycling
God recyles lives. He is eager to restore and
turn shame, pain, and regret into a testimony of healing and transformation.
The Boomerang
The Bible teaches and whatever we give out to the world comes back to us with interest - the good and the bad!
Feeding Fear
Are you feeding your fear? Are you overcome with fear? Are you ready to break free from the grip of fear on your life? Learn how to follow Jesus' example to break fear off your life.
---
Testimonials . . .
It has been

my pleasure and privilege to be Susan Auci's friend and student for over ten years now. Susan truly uses the Bible as her plumb line for living and teaching. I have been personally impacted by God's revelation through Susan's prayerful study of His word and her leadership in our Bible study and prayer group. My father was a minister and being raised in church I can say without hesitation that Susan is always seeking God's face in all her decisions. I
n Susan's own words to me on more than one occasion "I
give glory to God because I am nothing without Him. He is the one who has given us all gifts. I want Him to shine through our gifts and talents to lead others into His beautiful love and Kingdom."
Mary Flowers
When I am down or going through something, Susan is the one I call. She is very sincere in her passion for God and because of that she leads others to seek HIM.
My most recent life event was that I was laid off from my job of nine years. Susan said that she felt led by God to have everyone who was struggling to come to her house to fellowship. I attended along with seven other women. At least four of us were out of work. There was prayer and teaching about God and that we were not alone. Very shortly after this I was offered a job after eight months of unemployment ... a job that came almost effortlessly way ... a total miracle. Susan teaching and prayer for me in her home seemed to cause a real breakthrough for me in my job search. Two other ladies from that morning also found jobs. ... This is just one of many significant testimonies of Susan's ministry in my life - she has been a blessing to me and my family.
Kaye Vermont
Susan Auci is a wonderful woman of God. I met Susan over ten years ago when we had 'a Mary / Martha encounter.' Our spirits just instantly connected. Over the years I've watch as Susan has run a business, minister both from her business and her home, be a wonderful wife and mother, and always walk with a spirit of excellence. Susan is truly a light and is doing a mighty work for the kingdom. She's the "Real McCoy."


Jackie Brown



---
---