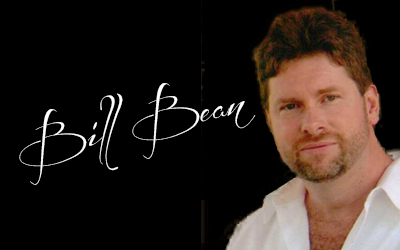 Bill Bean
Anointed and Called of God
to Ministry of Deliverance
Author of Dark Force,
Delivered and Ten Steps to Victory
---
God's Word clearly says that Satan comes to 'kill, steal and destroy.' Bill Bean's family was destroyed by Satan and his demons.
After years of torment, Bill found deliverance and salvation in Jesus Christ as his Lord and Savior.
As a man called to ministry and called, as we all are, to share his testimony, Bill shares a story that can make people uncomfortable - a story that is very real but is not commonly shared in many churches.
Bill shares his story in churches to bring glory to God and to minister deliverance.
He also shares his story with the world as God has opened doors of countless television and radio interviews, faith-based as well as secular.
When The Discovery Channel asked Bill to share his story on an episode of their program 'House of the Dead,' Bill chose to share his testimony in this unique format knowing people would watch who would never come to church but never dreaming that this would become the highest rated episode of the program - God's work and His deliverance would be told to millions of people who would never enter a church to hear a man of God minister deliverance.
Bill Bean is respected by Christians as a man of God who is called and anointed to pray for the sick and a minister of deliverance.
Bill Bean is considered by 'the world' a leading expert in spiritual entities and paranormal activity.
His personal story and his message of his own deliverance is the same whether speaking in a church or speaking to a secular paranormal or sci-fi audience.
His family was tormented and torn apart by an unseen dark evil force. And his testimony is that he has now come full circle ... from being attacked by demons to ministering deliverance and performing exorcisms and house blessings across America.
Dark Force: The Terrifying and Tragic Story of the Bean Family

Bill Bean painfully describes in terrifying detail the events that tormented his family. As disturbing as some of the content in Dark Force is, readers encounter a very powerful and positive message of hope and faith.

In 1970, the Bean family moved into a modest three-bedroom ranch-style house located in Glen Burnie, Maryland. The community was called "Harundale." Bill's first memories of the house are frightening ones. "The house had a very foreboding and ominous feel from the start," he said.

The family later came to believe that a demonic force already occupied their new home. Bill Bean states, "My family was literally torn apart by an evil force that co-existed among us. The activity began as noises and gradually escalated into violent physical attacks on us by the entities."
Reviews of Dark Force:
I read Dark Force and found it to be one of the most disturbing and captivating stories I have ever read. Through it all, Bill Bean stands tall as a champion of faith. his story has touched and inspired many. Dark Force is a must-read book!"
George Noory
Host of Coast to Coast AM
Coast to Coast AM deals wth many topics. Some are more gripping and captivating than others. I usually am not frightened or bothered by content but I do have to say that Dark Force was different. Bill Bean's writing made me feel like I was right there experiencing the horror he and his family went through. As I was pre-interviewing and booking Bill for the show, there were several incidents that happened which seemed like some sort of force was messing with our communication. I am not sure what it was and where it came from, but I highly recommend Dark Force to everyone!
Tom Danheiser
Association Producer, Coast to Coast AM
Every now and then a book comes along that you just can't put down. Dark Force is among those books. I have read many true life stories, but not since reading Jay Anson's Amityville Horror has a story stayed in my mind hour after hour and day after day.
Tim Kelly
Delivered delves deeper and picks up where Dark Force left off, addressing many experiences Bill Bean has had as an adult. Bill says, "I rejoice in the fact that I'm free from the evil that destroyed my family and tried to destroy me. GOD delivered me from it and I can never thank HIM enough."

Bill Bean has said many times that GOD truly delivered him from evil, and he describes many supernatural experiences he has had in his adult years. Some of these experiences include actual battles with demonic entities and a case of demonic possession. And for those who think that UFO phenomena is not connected to the spiritual realms, Delivered is a must read book.

Bill also talks about mistakes he made in his life, and how satan was hell bent on destroying him. However, GOD saved and anointed him to be a strong witness and a fierce warrior against evil.
Reviews of Delivered:
I truly enjoyed reading Dark Force but was blown away by Bill Bean's latest book, Delivered. Bill's experiences continued for years after leaving that house, facing evil and the unknown until he welcomed Jesus Christ into his heart.
By getting to know and welcoming Jesus and by living the example that is taught in the Bible, Bill overcame his additions and became strong to face the evil forces that stand before him.
I highly recommend this book as each story will compel and captivate you to learn more about his true faith in the Lord Jesus Christ and why he truly believes that in submerged baptism we make our covenant with Jesus and will live a truly rewarding, happier and safer life.
Steve Hodgson
Host of Your Life Matters with Jenn & Steve
I must say that this new book from Mr. Bean surpasses anything that I have read to date.
Mr. Bean has been through things tha tmost people will never experience in a lifetime. He has prevailed in his faith in God and has to fight every day to maintain a normal life from the trauma he and his family had to face.
I have read Delivered from start to finish - twice in three days. I can't tell you how you will feel while reading this book. All I can do is tell you the feeling I got as I read. There is a real emotion that you go through while reading this book. You can start to feel where Mr. Bean has been and where he is going. You start to feel the heartache and pain one family suffered and the joy of the outcome one man has overcome in his life. You get a feeling that comes over you and lets you see your life in its entirety, and you begin to see changes that you can make in your own life to make it better and more alive than you ever thought possible.
My hat is off to Mr. Bean for becoming the man that overcame such heartache and pain. He has found God in his life, and not only has he overcome this tragedy to become a stronger person, he did it with the help of God. I feel that we can all learn and grow in this world by taking a look at people like Mr. Bean and knowing that if you ask God for help, He will always come through.
BJ Moylan
Ten Steps to Victory: Change Your Life Today

In Ten Steps to Victory, author Bill Bean walks us through ten very simple yet strong and solid steps to achieving personal victory in our lives. Bill tears away the facade of religiosity and provides us with steps to establishing a real relationship with God that in turn offers real results.

Travis Shortt

Aspyr Communications
---