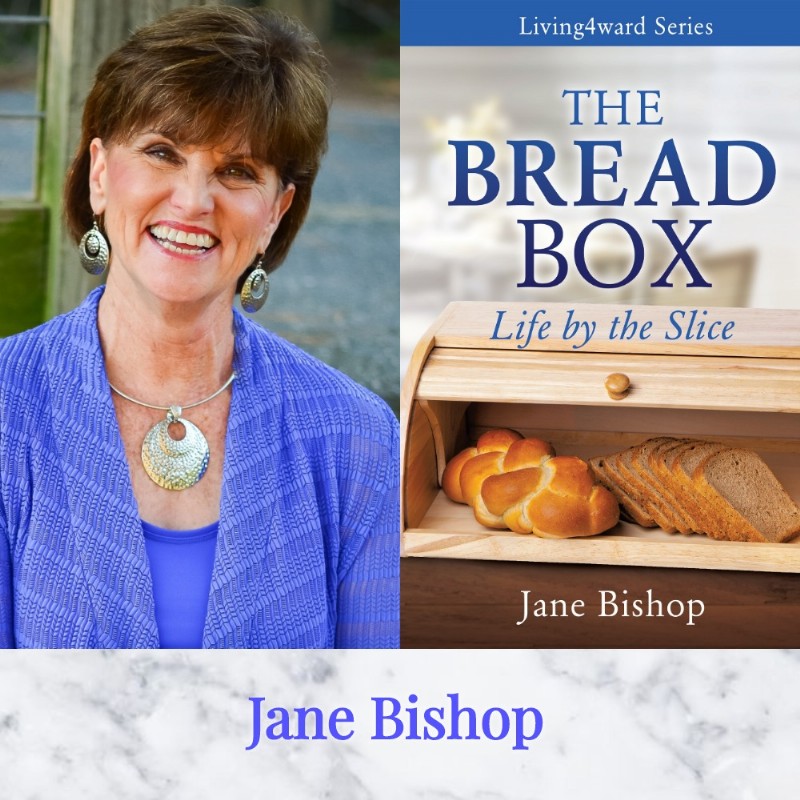 Jane Bishop
Helping Churches, Corporations and
Individuals "Take The Next Step"
Keynote Speaker
Corporate & Faith-Based Conferences,
Retreats, and Leadership Training
Television and Radio Personality
Author:
The Bread Box: Life By The Slice
Overcoming Mediocity: Remarkable Women
---
Travels from Georgia
---
Meet Jane Bishop who is the founder and owner of Take The Next Step which emerged out of her passion to invest in others and help them "go for their it." Using her teaching skills, education, and experience from academic, athletic, corporate and church contexts, her clients experience clarity, confidence and commitment that create a sustainable shift.
Known as someone who lives forward, Jane's passion for life and encouraging others is evident, whether chatting with a friend over a cup of coffee, brainstorming with a leadership team, or delivering content as a keynote speaker.
Her authenticity, enthusiasm, and innate desire to keep it all about the other person provides the foundation for a captivating experience. One of her favorite quotes is by John Mason: "You were born an original. Don't die a copy." Jane believes when a person's passion intersects with their purpose, they are at their best.
Recognized as an energetic speaker, Jane stirs her audiences with a "not to be forgotten" style, blending her teaching skills, experience, and sense of humor. Jane challenges participants with powerful messages of opportunity and action.
Her early background of travel and change as a military dependent has served her well as she has had the opportunity to work with diverse populations across the United States in her 25+ years experience speaking and training in a wide range of events and settings.
Jane holds the ICF ACC credential, has degrees from three academic institutions, is a trained facilitator for DiSC, Emotional Intelligence, Basic Coach Training, and has over 900 hours of coaching. She is a published author with two works: The Bread Box: Life By the Slice and a contributing author to the Amazon bestseller Overcoming Mediocrity: Remarkable Women.
Jane has had published articles in periodicals, is a former contributing writer for a local magazine, a contributing author for a seminary textbook, and a featured guest on BlogTalkRadio, Gwinnett Business Radio, LATalkRadio, Pro Business Channel and United Intentions Network. Jane is also a frequent cohost with Ryan Sauers on his "Marketing Matters" radio show. Jane and Take The Next Step is also part of the Clear Business Directory which screens members annually for fraud and scams.
If curious how Jane can help you achieve your desired outcome, schedule a free consultation and see where that leads.
---
All topics are customized to help the group or organization accomplish their desired outcome. Content for a specific focus and/or topic for an event may be developed upon request and if appropriate development time is allowed.
Stand On Your Story
No one has your story. It is as unique as a fingerprint. As humans, we often default to comparing our story / life to another's story / life. What if you could discover or rediscover how to tap into your story and experience confidence, value, and contentment and shift from comparing your story to standing on your story? Learn three practices that will help make the shift and gain insights into how to stand on your story.
5 Skills to Empower Others
What if you practiced five skills that would elevate your communication and empower others? These five skills can be used in professional and personal conversations. When you experience the shift and empower others, you have a greater influence on those around you.
G.R.I.T. Factor
According to Angela Duckworth, "Grit is passion and perseverance for long-term goals. One way to think about grit is to consider what grit isn't. Grit isn't talent. Grit isn't luck. Grit isn't how intensely, for the moment, you want something. Instead, grit is about having what some researchers call an 'ultimate concern' -- a goal you care about so much that it organizes and gives meaning to almost everything you do. And grit is holding steadfast to that goal. Even when you fall down. Even when you screw up. Even when progress toward that goal is halting or slow." We will explore the value of grit, how it helps develop / reinforce self-esteem, and a formula for each person to tap into their G.R.I.T. factor.
Will the Real You Please Stand Up?
Many have created a self-limiting belief by convincing themselves they are anything but uncommon or extraordinary because they believe there is no headline to their story, no breaking news, no here's what's trending. The result is often demonstrated by attempting to be someone other than their true self. To stand out and be competitive in today's business environment and consistently achieve "top" performance, the answer lies within YOU! Learn three techniques that anyone can begin practicing and experience confidence and success.
How to Have It All
"You can have it all. Simply not at the same time!" Balance in life is learning how to navigate the ebb and flow to consistently be effective. Learn three disciplines that can be practiced daily and experience how to have it all, one slice at a time.
---
Testimonials
"I was so excited when I finished the workshop, to know that I can connect to others even though they are WIRED differently than me. I will use the info I received in my church and the ministries that I am involved in. Thank you so much for your insight and foresight."
Marlene
Georgia
"As Pastor, I was impressed to contact an outside source that could objectively lead the church body in taking the next step forward. The Bible speaks of a God who makes plans, encourages, and empowers people to plan using a value based perspective. I realized that planning does not determine the future -- it can only direct the present. I needed a person to help me lead the church to discover where we are at present then motivate the people by pointing attention and effort toward a hopeful future. Jane accomplished this by her unique leadership style of interaction."
Tullos
Hawaii
"I had the pleasure of hearing Jane speak at the Rotary Club of Gwinnett County in January 2019. Her topic, 'Five Skills to Empower Others' was well received by our members. She is a dynamic speaker and her knowledge and professionalism on the subject were apparent. I highly recommend her for any group looking to have an engaging, thoughtful speaker!"
Rich Bartolotta
"Creating our Leadership Model with Jane helped us to set up mutual expectations of one another as a team. Jane coached us by asking questions and helping us dig deeper into leadership through conversation and writing. That time brought us together as sisters in Christ serving the Lord with one heart and mind."
Courtney
Georgia
"I strongly recommend Jane as a trainer, facilitator and coach for you and your business. Jane has been working with RE/MAX Regency in a series of workshops to impact the productivity of agents in our brokerage. She has a tremendous depth of knowledge around business, interpersonal and leadership skills. Even more so, she's exceptional with transferring that knowledge and improving others' skills along with their overall mindset. She truly is a great person as well as professional coach / trainer."
Mike Myslinski
Re/Max Regency
"I believe our objective was met. The women were engaged, excited and seemed to comprehend what was being communicated. They left energized for the task ahead. I greatly appreciated the fact that Jane was able to take my request and put it into action. She was careful to make sure she understood my objectives and then skillfully executed them based on the needs of our group. Thanks so much. We had a great experience."
Candace
Executive Director
Alabama
"You were definitely the icing on the cake for [our women's ministry event]. You immediately got us going from all the chatter at our tables into something even more fun. Your enthusiasm and humor immediately captivated us and led us into learning that our GIFTs are worth pursuing because God created us to be our own special persons with our own individualized agendas. How motivating was that!"
Judy
Illinois
"How wonderful it was to be a part of your 'Soul Care' weekend. It was so refreshing to spend this time with our sisters in Christ, especially with you as our guide. I came expecting something great and left greatly blessed."
Doris
Georgia
"The Best of the Best! Jane Bishop led our women's ministry in a 'Soul Care' weekend retreat and we were all blessed, uplifted, refreshed, and encouraged under her guidance. She is an amazing professional speaker who immediately connects on a personal level and invokes trust and openness in her listeners. We laughed 'until our jaws hurt' and cried as our hearts overflowed. Bonds of friendship were formed and strengthened that will no doubt last a lifetime. In our last session, we created individual memory boards to "take away" what we had learned, and had been reminded of, at our retreat. When I look at it now, I remember to keep my focus on the things that are most important to me ... love, joy, God's love for me, and my love for others. Our church has had the privilege of having Jane lead us for two years in a row, and I hope she continues to lead our retreats for years to come. If you have the opportunity to hear her speak, go, and take others that you love with you!"
Kim
Georgia
"Jane was very professional, enthusiastic, and engaging. Our group not only was inspired, but also challenged. I would highly recommend Jane for a training event or just as an inspirational speaker. Jane knows her way around churches and understands people and what makes them tick."
Dr. Charlie Barnard
Pastor
Tennessee
"I felt like I had been developed professionally. You put [my] job with students in context of where it is. Thank you."
Tim
Alabama
"Jane has a proficient ability to make individuals think deeply about what they want to accomplish and how they will achieve the desired outcomes. She stretched me beyond my normal way of thinking."