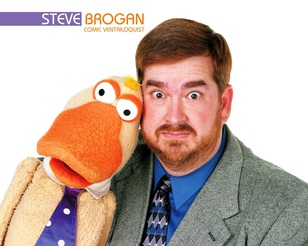 Steve Brogan
"Bringing Laughter to Life!"
---
---
"Comic Ventriloquist" Steve Brogan is a versatile entertainer. His extraordinary talent as a ventriloquist and comedian place him on the short list of corporate and ministry event planners who want high quality, clean, uplifting entertainment - and, in the case of ministry events, a solid Gospel message.
Whether corporate or church, Steve plans each performance to assist the event planner meet their goals for the event. Steve "and friends" often includes audience participation which is always a huge hit with audiences of all ages! Steve is a professional, seasoned entertainer who proves this from the pre-event planning stage to every moment of his presence at your event.
Whether a show in front of a live audience or on television, Steve Brogan is a rare entertainer who can entertain any audience of any age with his incredible and unique talent.
He mixes stand-up comedy, puppetry, audience participation, improvisation, along with his astonishing voice manipulations, all to the benefit of comedy-seeking audiences.
Brogan has appeared on television programs such as Good Morning America, PBS, The Today Show, The Comedy Connection, Swan's Place, and more.
Half of his act is spent making puppets and inanimate objects talk - - and sometimes he puts words in the mouths of volunteers from the audience with hilarious results!
In addition to corporate and church events, sports banquets, and school assemblies, Steve also lectures at leadership conferences, drama and comedy workshops, and entertainment seminars.
Steve's uncle, Bill Spake, was a professional entertainer and taught Steve ventriloquism. Steve chose to have a personal relationship with Christ at age eleven at his grandmother's church. Grandma Spake was a huge spiritual influence on Steve for the rest of her life. At the age of fifteen, Steve began using ventriloquism in children's worship as a tool to reach chidren with the Gospel. He also became very active in Bible studies and bus ministry. God led Steve to become a Children's Pastor and he held that position for fifteen years.
Steve graduated from Campbell University in North Carolina and still returns to perform for incoming freshman classes. After many years of performing, teaching Bible study and leading youth and children's worship, Steve has not lost his first love - entertaining and teaching all ages that laughter is truly a gift from God and that our "life choices" provide us a way to show God our love for Him.
Steve and his wife Carlette have two daughters, Tiffany and Tori, one son-in-law, Jason, and a granddaughter, Piper.
Steve Brogan has developed the talent God gave him to the level of a skilled professional and has won many national awards in ventriloquism. He performs hundreds of events a year and incorporates laughter into teaching spiritual truths about God and His love.
Steve says, "I feel very fortunate to be able to make people laugh for my living. I not only enjoy my work - I am paid to have fun, watch others laugh and teach about God's great love for us. What kind of job could be better?"
Steve knows Who holds his future ... and he knows what his future holds ... working with dummies.
---
Upward Sports Events . . .
Steve's show is filled with hilarious comedy but brings the audience to a point of decision!
If you are looking for a program that is unique, hilarious and entertains the players, leaders, and parents, Steve's five-star Upward reviews will give you the confidence that he is one of the "top" Upward-recommended speakers in the nation.
His show contains super funny characters such as a Tie-Wearing Duck who introduces Steve. He never remembers what he is supposed to say when introducing Steve and tries to be a ventriloquist as well.
Next, a talking Upward basketball, complete with basketball shorts and Chuck Taylors, interrupts because he's sad the season is over. When he and Steve discuss his options of a part-time job, the laughter begins as he tries to nudge his way into Steve's show.
Then Steve's Upward player friend Eddie appears and begins to point out people in the audience he knows - or thinks he knows. The conversation pulls some coaches into the show which causes hilarious streams of laughter and ends up with a coach on stage with Steve for an unforgettable finale.
All this occurs while not losing focus of the evening - that of bringing people to a point of decision that will change their lives.
Steve is a master ventriloquist and comedian who has not lost his first love of sharing the love of Jesus Christ. Thousands of children, teens, and adults have chosen to make a life-changing decision for Christ after hearing Steve's simple Gospel message.
Steve has been featured many times at Upward trainings across the nation and continues to travel the country as one of the "top" recommended speakers for Sports Awards Celebrations. He has also been featured in many Upward training videos and presentations. Steve's passion for Upward goes beyond a job - it's his ministry. He is passionate, polished and professional.
---
Steve Has Performed and Ministered For
Many Organizations - Here Are Just a Few ...
Lifeway Christian Resources
North Carolina Baptist Association
Virginia Baptist Association
RecLab
Upward, Inc.
Sunday Night Live
First Baptist Atlanta, Georgia
Perimeter Church, Atlanta
Wieuca Road Bapist, Atlanta
John's Creek Bapist, Atlanta
Calvary Church, Charlotte, North Carolina
Hickory Grove Baptist, Charlotte
First Baptist Charlotte
First Baptist Garland, Texas
Metropolitan Baptist, Houston
First Baptist Church Texas City
First Baptist Denton
Lake Pointe Church, Rockwell
Park Cities Baptist, Dallas
Friendship Baptist, Grand Bay, Florida
First Baptist Daytona Beach
Woodland Baptist, Bradenton
Mt. Olive Ministries, Cleveland, Tennessee
First Baptist Norman, Oklahoma
First Baptist St. Charles, Missouri
First Baptist Lake Charles, Louisiana
Virginia State Baptist, Richmond
Ritz-Carlton Resorts
Coca-Cola
Pepsi Corporation
Federal Express
The Greenbrier
Westinghouse
Hilton Resorts
Wells Fargo
DuPont
Belk
GTE
IBM
Duke Energy
Cheseboro Ponds, Inc.
Hordis Brothers Seed Co.
North Carolina Sheriff's Association
International Festival Association
Penn State University
Sandoz Corporation
Atlantic Envelope
Biggers Brothers
Grand Kapinski
Westinghouse
Litton Airtron
US Airways
Media Performances Include ...
Good Morning America
The Today Show
PBS
Comedy Connections, Fox
Swan's Place
The Carolina Camera
Comedy Central
Opening Act for ...
Pete Fountain
Jerry Clower
The Tams
The Drifters
The Catalinas
The Men of Distinction
The Eagles
The Temptations
The Embers
The Entertainers
And Cruise Ship Entertainment on ...
Celebrity Cruises & Royal Caribbean
---

For Email Newsletters you can trust