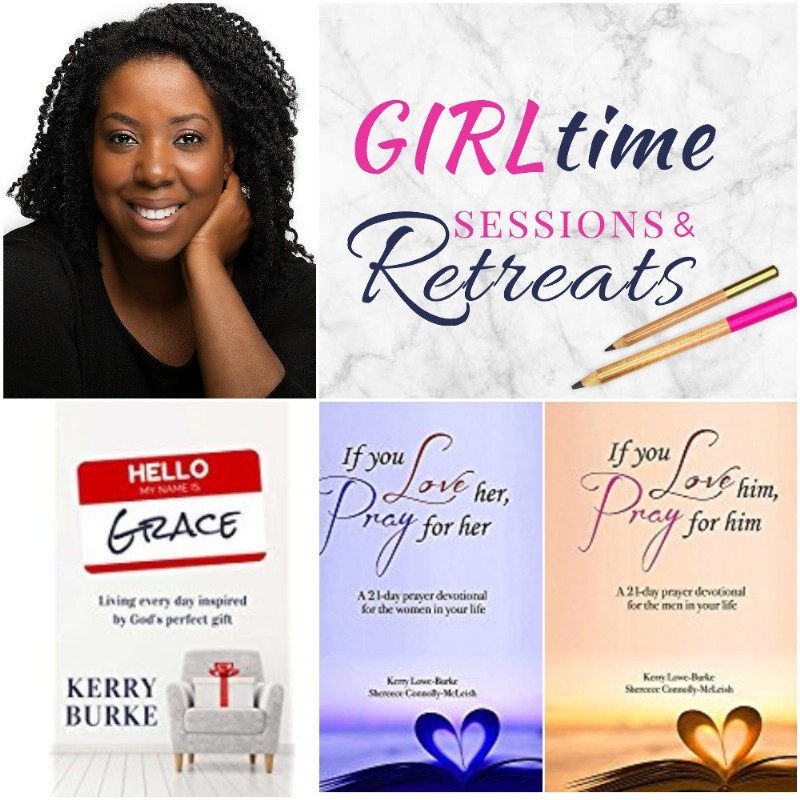 Kerry Burke
"Grace in Season"
Author
Hello, My Name is Grace:
Living Every Day Inspired By God's Perfect Gift
Pray for Him: 21-Day Devotional
Pray for Her: 21-Day Devotional
Conference Speaker
---
I am Kerry. I LOVE Jesus. I am a wife. I am a mother. I am a daughter. I am a friend.
I'M HERE TO HELP YOU STRENGTHEN YOUR WALK WITH CHRIST AND TO TEACH YOU HOW TO LIVE IN GOD'S ABUNDANT GRACE.
Listen, I've been through some stuff. Actually, it's only because of God's undeserved favor and unfailing love that I survived things that were designed to destroy my peace, steal my passion, and kill my purpose.
So now, as a living example, I teach my daughters that they can work through the hard things and I equip other women with the necessary tools and strategies to tap into God's sustaining power. That's why I founded Grace In Season; to inspire women to pursue grace in order to develop their God-given purpose.
Teaching makes my heart smile! In fact, I co-wrote and published two 21-day devotionals teaching the importance of praying for the men and women in your life. My newest book, Hello, My Name is Grace, empowers women to live every day inspired by God's perfect gift of grace
As a preacher-teacher of the Word of God, I take complex themes and turn them into practical, easy-to-understand-and-apply messages. My hope is that through the transforming power of the Holy Spirit, people understand that the Good News of the gospel is for everyone, and that God's amazing grace is available right where they are.
I WANT YOU TO REALIZE THAT GOD IS IN EVERY MOMENT OF YOUR LIFE; EVEN WHEN IT DOESN'T LOOK OR FEEL LIKE IT.
I've been extremely blessed to have opportunities to minister messages of hope in churches, conferences, and conventions - within the United States and internationally - to people across all ages, genders, and ethnicities.
I have an awesome husband. We married in 2006 and, together, we raise our two beautiful daughters.
I've been a member of my church for over 20 years and no matter where I get the opportunity to preach or teach, I'm still proud of my church home where I serve as an ordained minister under the leadership of our pastor.
Let's grow in grace together!
---
GIRLtime Conferences & Retreats
Looking to be refreshed? Then you need GIRLtime! The "GIRL" in GIRLtime stands for 'grace in real life.' ...
Sometimes it's hard to hear God's voice above the noise of everyday life. GIRLtime Conferences give like-minded women an opportunity to devote time to sound biblical doctrine and candid conversation designed to help women connect with God, grow in their faith, and build fruitful relationships, so they can return home refreshed, inspired, and strengthened. Kerry brings the life-giving Word, corresponding workbook, and themed materials and gifts. She works closely with each event planner to offer helpful options for decor and food. GIRLtime can be scheduled as multiple sessions in a day (conference) or over the course of a few days (retreat).
The Big Picture
Life can be puzzling at times. Our great assurance is that God is working diligently on our behalf, tirelessly arranging all of our pieces into a wonderful mosaic of abundant blessings and unspeakable joy. In this session, we learn how to trust God with The Big Picture.
Exploring the Superwoman Syndrome
The standard of our culture implies that a woman should be it all, have it all, and do it all with her eyes closed and her hands tied behind her back. Thankfully, God's GRACE overshadows these Superwoman expectations.
The Creative Process of Purpose
A great work of art doesn't just happen. In the same manner, there is a creative process to the plan God has designed for you. This session examines the five steps needed to successfully arrive to where God is leading you in this season of your life.
Grounded in Grace
The strength of any structure comes from what it is established on. When a tree has a good root system, it reaches down and draws moisture and nutrients from an unseen source. Our source is God's boundless grace.
Preacher
Kerry Burke has been incredibly gifted with the ability to link the Old and New Testaments together as both testify to the grace and character of God. Kerry also communicates practical applications for Christian living based on the Word of God. Kerry wholeheartedly seeks the Lord for every message she prepares, which results in a fresh and powerful experience. She can also prayerfully prepare to speak on a chosen topic, theme, or from a desired text. Preaching topics include:
Messages about the Character of God
The God of Heaven - Nehemiah 2:4
Provision for the Promise - Deuteronomy 28:1-14
The God of the Open Door - Revelation 3:6-8
God Can Handle It - 2 Corinthians 2:14
God's Appointed Time - Genesis 18:12-14 and 21:1-3
ABBA Faither - Luke 15:11-24
Messages on Christian Living
Steps to Spiritual Maturity - 2 Peter 3:18
Called to Bear Fruit - John 15:1-8; Psalm 1:3
After the Crushing Comes the Flowing - Isaiah 10:27
Weapons that Win Wars - 2 Chronicles 20:1-30
Use It or Lose It - Matthew 25:14-30
A Higher Dimension - Ezekiel 47:1-12; John 7:37-39
The Blood Still Works - 1 Peter 1:18-21
Teacher
Like any other skill, living in grace and increasing your faith are skills that can be learned and developed. Kerry's workshops challenge believers to expand their view of God and His work in their lives through interactive activities and action-packed lessons. Teaching topics include:
Grace to Clean House
Grace should be the foundation for the life of a believer. Based on 2 Corinthians 9:8.
Living in Grace
Speaks to the role grace plays in holistic living. Based on Joshua 24:15.
Hello, My Name is Grace
Examines the believer's identity based on the truth of God's Word. Based on John 1:16.