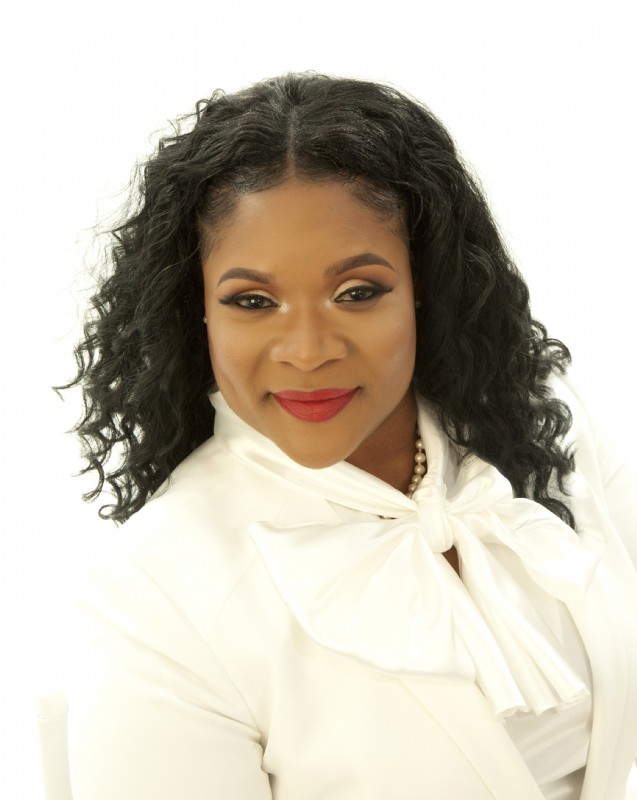 Minister JaVon Ophelia Butler, MPA
Motivational and Inspirational Speaker
Faith-Based and Corporate Events
Film and Television
Writer, Director and Producer
---
Meet Minister JaVon Ophelia Butler, MPA, a Minister of the Gospel of Jesus Christ. Min. Butler is also a sought after Writer, Director and Producer. As a successful Founder, Director and Playwright of SeLah Productions, Inc., (SPI), her beloved non-profit organization domiciled in Southeast Louisiana, Min. Butler has managed to capture the hearts of audiences with her inspiring and motivational messages experienced at her Gospel Stage Play Productions.
Min. Butler's educational experience includes a Bachelors of Arts Degree in Political Science with a minor in Psychology along with her Graduate Studies in which she earned a Master of Public Administration with a concentration in Public Policy from Southern University A&M College, Baton Rouge, Louisiana. She has graced many platforms as a motivational speaker as the Former President of the National Association for Colored People (NAACP), Chapter, #6315. Min. Butler's most noted endeavor is her passion for children and youth to be inspired to strive to accomplish their dreams and visions to become who God created them to be in the earth realm. Min. Butler is also a member of Delta Sigma Theta, Bayou Lafourche Chapter.
Many people have been inspired as they have witnessed Min. Butler's passion to be Christ-like by encouraging others to live the abundant life that God has promised them as His children. As a Minister, many individuals have deemed Min. Butler's inspirational speeches as life-changing and heart transforming. In 2017, the nation voted for Min. Butler to be selected as Playwright of the Year by Church Stars Christian Entertainment Network
. As a result, she was provided an opportunity by God to expand her borders in the Performing Arts. In theater productions and films, Min. Butler uses her Gospel Stage Play Productions as a tool to win souls across Southeast Louisiana and on an international front. She has engaged in many humanitarian efforts across the seas, particularly Ghana, Africa, the Accra Region and has been afforded the opportunity to have a presidential visit with the Ghanaian President, John Kofi Agyekum Kufuor.
Min. Butler enjoys accomplishing the Mission and Vision of SeLah Productions, Inc., to charities locally and abroad in an effort to help them build their mission and visions.

Min. Butler is also the CEO of JaVon Ophelia's ACT (JOACT) Mentorship & Learning Program in which children, youth and adults receive training from professional coaches in acting, singing and dancing. College students are afforded an opportunity to participate in SeLah Productions, Inc. through the Volunteerism Program, "Theatre Me", which offers college students volunteer hours to complete their courses at an accredited university.

Min. Butler enjoys the assignment of being the Host of her own weekly Facebok Live web talk show series, SeLah's Spot. The talk show topics include current events happening within SeLah Productions, Inc., and ends with an inspirational word.

Ms. Butler has appeared on television stations locally and nationally, particularly The Word Network which is a religious broadcasting network in Detroit, Michigan, Majesty Now in Waycross, Georgia, and Local NBC 33 WVLA in Baton Rouge, Louisiana. Min. Butler has engaged in radio interviews locally and nationally as well.

Min. Butler is mostly known as a notorious vision and glory carrier. She has inspired many from her favorite scripture, Habakkuk 2:2-3, as she continues to push everyone who witnesses her speaking engagements to carry the vision that God has given them so that His Glory would be reflected in their lives and on the earth. In her prophetic gift, she has ministered to many about their destinies and purposes as it relates to the fulfillment of their vision and desires.
Target audiences: Church Programs/Events; Black History Programs/Events; Vision, Leadership or Business Panels; Training Seminars about Vision, Leadership or Business Practices; Gospel Stations/Radio Interviews; Television Appearances (Gospel), Youth Groups, Bible Studies, Sorority Events, Graduations, and Community Events.

Min. Butler is the proud daughter of the late Joseph Butler, Sr. and the late Joy Ann Woodland Butler of Lutcher, Louisiana. Min. Butler has a love for dogs, particularly her late 13 year-old West Highland White Terrier, Jasper Orion Butler.
---
Speaking Topics
Provision for the Vision
Provision for the Vision contains inspirational nuggets used an encouragement for audience members to understand that God is faithful and He will provide "Provision for the Vision" that He has imparted in every believer. Audiences will experience details about how the Holy Scriptures can increase our faith so that our prayers can be answered and provision can be seen in a manifested state in their lives.
Marry to Carry
Marry to Carry highlights the importance of why individuals desire to be married and why individuals are married. It encompasses the important role divinely orchestrated by God between a husband and a wife. In experiencing the session on this topic, singles will obtain clarity about their divine assignment, and married couples will experience a refresher course on how to continue their assignment in one accord. Men and women alike will be enhanced in their knowledge of God's Divine Order for marriage.

Boss Up or Bow Down
Boss Up or Bow Down is about learning how to be an effective and efficient boss. This topic is derived from Min. Butler's inspirational self-help book, Bossing Like a Lady. The highlights of Boss Up or Bow Down explain in detail of how imperative it is to maintain a professional work environment amongst staff and employees. It also highlights the "Do's and Don't's" as a boss.

Theater Mentorship
Theater Mentorship highlights topics about the correct steps in putting on a successful theater production and/or producing a film. Highlights also are from learned experiences from working with theater productions throughout Southeast Louisiana and internationally.

"JaVon's writings are just as creative as her speeches as she continues to soar and inspire many audiences with her strategic coaching that is transformational and life-changing."
Courtney Joseph
Sunday School Teacher
King Solomon Baptist Church
"Ms. JaVon carries the grace and the passion for youth ministry and I have been inspired by her teachings regarding vision and the Gospel of Jesus Christ. She has taught me how to become a productive career-oriented young woman as I pursue a career in Social Work. I feel blessed to have witnessed Ms. JaVon's teachings as a Youth Director for 14 years. I will continue to apply what I have learned to my life as a productive adult. Ms. JaVon rocks!"
Derione Brown
Youth Ministry Member
Greater King Triumph Baptist Church
"Min. Butler's powerful and explosive messages have blessed me weekly. As a fan of SeLah's Spot, her heartfelt passion for the Gospel of Jesus Christ has inspired me to live righteous and holy before God. Min. JaVon's black and white messages regarding the scriptures, reminds me of a modern day John the Baptist. Her tenacity and dogmatic approach to encourage believers and non-believers alike to live by the Holy Bible has been exhilarating as I grasp the steps to become a better Christian. I am grateful for the legacy that Min. Butler is building as she continues to inspire many with the Word as she highlights the Kingdom of God."
Nykisha Joseph
Beacon Light Ministries