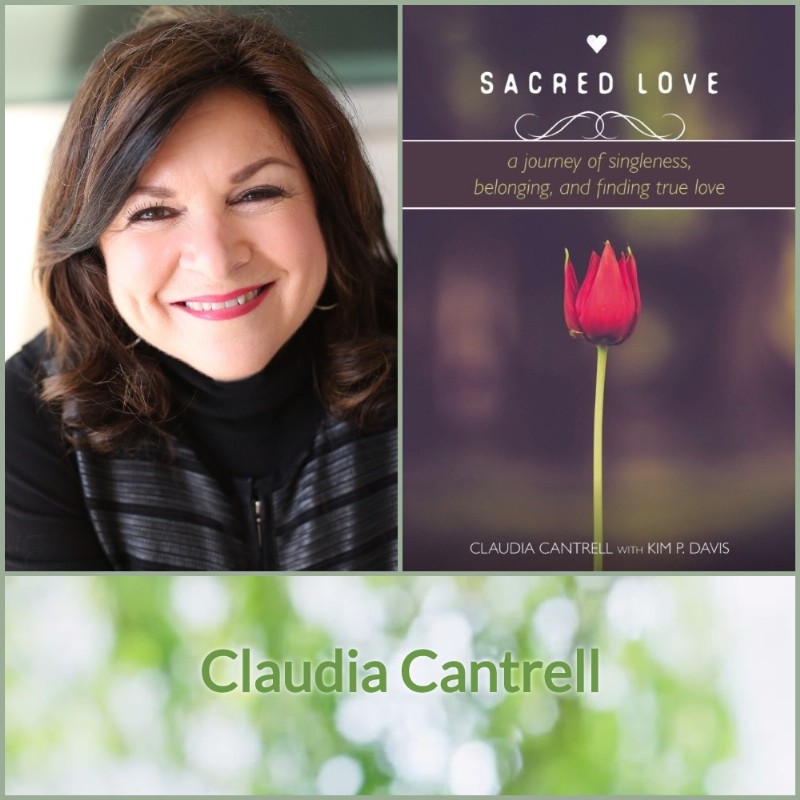 Claudia Cantrell
Author of
Sacred Love: A Journey of Singleness,
Belonging, and Finding True Love
---
Travels from Georgia
---
Hello, I am Claudia Cantrell. I was born in North Carolina and had one sibling. Most of my years were spent in Charlotte with exception of attending school in the Raleigh-Durham area. I received a BS degre in biology at Meredith College and a Bachelor of Health Science in 1984 when I graduated from physician assistant school at Duke University. I have been a PA now for greater than 30 years and have loved it. Currently I am semi-retired and only use my clinical training when my husband and I go on medical mission trips.
I wrote a book which was released in December 2017 called Sacred Love: A Journey of Singleness, Belonging, and Finding True Love. Without a doubt, I know that I was prompted by God to write this book to give women hope from emotional wounding. I, myself, struggled with rejection most of my life. I was bullied when bullying wasn't cool. From a very young age, I asked myself why God had created me. It is a hard story to hear but it ends up great. The book goes into detail about my journey of being single and trying to find that place of belonging and acceptance. Due to the rejection, whether it was real or perceived, I put up a high brick wall so that no one could hurt me. Unfortunately, this wall kept anyone from getting in and it kept me from seeing Jesus.
Even though I had accepted Christ as my savior at the age of nine, I didn't understand the personal relationship to Him, and I didn't understand how much he loved me and accepted me. Everything around me was seen through a lens of rejection. For years I tried desperately to find my worth in being smart because I could not find it in anything else. No one had explained to me that my worth, acceptance and belonging was in Christ. This truth did not become a revelation to me until my late 40s. Even though I prayed daily and read scripture, I still wanted to do things my way and climb the ladder of success. I didn't know how to fully surrender to the lover of my soul. In 2007, brokenness brought me to the end of myself, and my protective wall started to crumble. I could then see Jesus and His love and acceptance for me. The chains were finally broken and the lies that I had believed all of my life, instilled in me by our enemy, were revealed.
At the point of brokenness, I surrendered everything to Jesus Christ. My healing did not happen overnight. It has taken a number of years. The revelation of Christ's love for me and his acceptance and the fact that I belonged totally to him was freeing. I had always wanted to be married but had kept men at a distance. My beautiful love story with my husband, David, started in 2008 on a medical mission trip. It is detailed extensively in my book and David's opinion of things at that time is also there. It is definitely a God-ordained marriage. David's love for me was and is a part of my healing.
I named the talk Identity Theft because our enemy stole my identity in Christ all of the years that I believed and acted on the lies that I heard repeated to me. I had to start filling my head with the truth which came only through God's word and what He says about me. As I mentioned, my story ends up great! I want women to know that Jesus Christ is the only one who will love them unconditionally and totally accept them. When we accept Christ, we belong to his family. Our identity is not what we do, how we look, what achievements we've made, or anything earthly. Our identity is totally in Christ and Satan tries to steal that truth from us.
My husband David and I live in a suburb outside of Atlanta. He is still practicing medicine and hopes to retire in the next few years. I have an incredible stepdaughter, Katie. We have two King Charles Cavaliers who have won my heart. I am now a Christian career and leadership coach for women. I love helping women rediscover joy, embrace their God-given purpose, and build their confidence.
---
Identity Theft
This talk is taken from my book Sacred Love: A Journey of Singleness, Belonging, and Finding True Love. The talk is centered around my journey trying to find love, acceptance, belonging, and worth. It is about the lies that our enemy tells us that we choose to believe instead of God's truth that steals our identity, joy, and life. Once we accept Christ as our Savior, our identity is totally in Him. These words had to go from head knowledge to a revelation in order for me to see Jesus. He used brokenness to bring about revelation. Most of my life was riddled with rejection and trying to find my worth. The talk is for women who have experienced emotional wounding and need healing and hope. My journey was hard but ended up great!
Is God Big Enough?
This talk is based on my journey through singleness. I have "walked in the shoes" of single women and did not marry until age 54! Singles are often pressured with our enemy's lies, such as, "Go ahead and sleep with him/her. Everyone else is. God will forgive you anyway." Or "Even though you are dating a non-Christian, you won't fall in love and marry her/him." Or "Being yoked together is not important. He'll change later and accept Christ." There are a lot of lies that I discuss. The talk is centered around the main lie that God is not big enough or powerful enough or resourceful enough to answer your heart's desire for a spouse. The audience will benefit by seeing the importance of surrendering, waiting, and not compromising. Never limit God's power, "put Him in a box," or insist that God meet your timeline. There are consequences.
Coaching Works
This talk is centered around coaching. I am a Christian leadership and career coach for women and am attending The Professional Christian Coaching Institute. I discuss briefly the differences between a coach, a consultant, a mentor, and a counselor. I talk about who can benefit from coaching in general and how one would know if they are "coachable." My coaching is faith based and Holy Spirit driven. I help women rediscover the joy they once had, discover and embrace their God-given purpose, and build their confidence. I explain the typical woman who would benefit from coaching. The audience will benefit by understanding what a coach does and does not do and how God can direct their path by using a coach to ask powerful questions, listen to what is said and not said, and encourage. The coach manages the process. The client manages the progress.