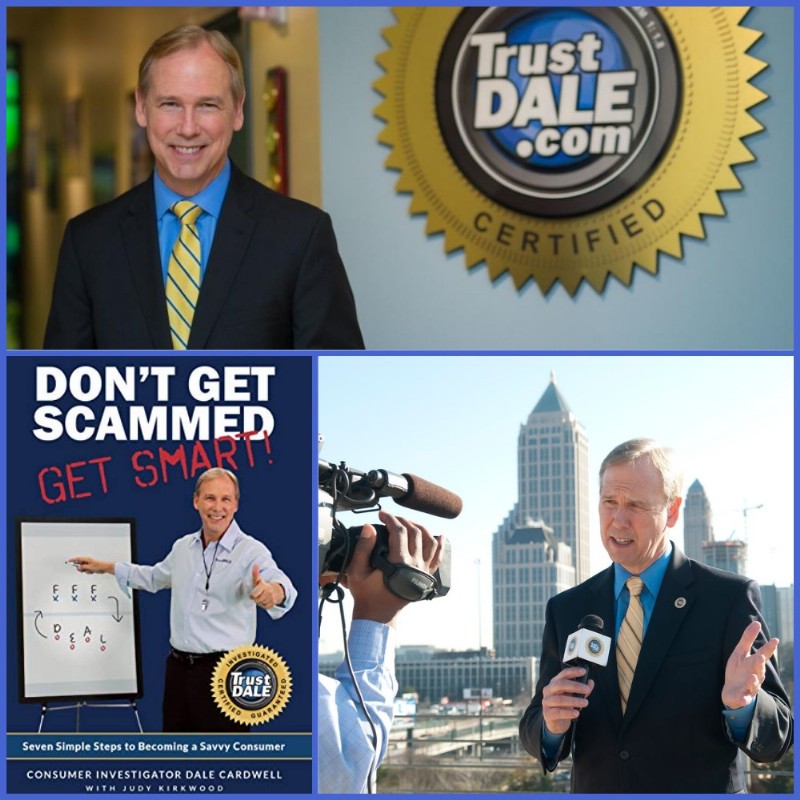 Dale Cardwell
Promoting Ethical Business Practices
That Empower Consumers and Expose Scammers
Six-Time Emmy Award Winning Journalist
Television and Radio Host
Author of
Don't Get Scammed - Get Smart!:
Seven Simple Steps to Becoming a Savvy Consumer
Keynote Speaker
Corporate Events -- Church Conferences
Community Events -- Senior Adult Conferences
---
For More Information, Contact Stacy Robinson
---
Consumer Investigator Dale Cardwell is a six-time Emmy award winning journalist, TV and radio host. In 2009 he founded TrustDALE, a free online research and referral site for consumers. His website certifies companies based on a seven-point investigative standard that Dale developed from 30-plus years of analyzing how consumers got burned. He realized that identifying companies that were not engaging in those negative practices would protect consumers proactively. When consumers choose companies certified by the TrustDALE team, they are further protected by the TrustDALE Make It Right Guarantee.
Dale's career began at WKAG in Hopkinsville, Kentuckey. His exposure of concerns related to the 1985 crash of a U.S. Army chartered jet that killed 248 Fort Campbell soldiers in Gander, Newfoundland made international news and propelled Dale to a prominent investigative role with the CBS-TV affiliate in Birmingham, Alabama. Dale performed investigative reporting stints for WRAL-TV in Raleigh and WSMV-TV in Nashville before serving as an investigative consumer reporter for WSB-TV in Atlanta, the number one station in the nation's ninth largest television market.
Teaming Up with Clark Howard
In 1996, Dale joined consumer advocate Clark Howard. Together they formed one of the nation's most successful consumer reporting teams. Clark and Dale won numerous awards for their business reporting and, under Clark's tutelage, Dale became an expert at recognizing financial scams and determining the components that separate sound financial investments, as well as products and services, from those that are "too good to be true."
Fighting Political Corruption and Government Waste
WSB-TV expanded Dale's role in early 2000 to include ferreting out political corruption and taxpayer abuse. Dale's efforts saved Georgians tens of millions of dollars, led to the jailing of some of Atlanta's most notorious politicians, and caused others to be removed from office. He left WSB-TV in late 2007 to run for the United States Senate. Holding the sentiment that government had been "bought" by special interests, Dale refused PAC (political action committee) contributions.
TrustDALE Expands with Nationwide Presence
In 2013, Dale expanded his consumer protection network to Tampa, Florida and, two years later, launched his service in Dallas-Ft. Worth, Nashville and Birmingham. In 2016, national brands like Sir Grout and America's Preferred Home Warranty began to recognize the power of having an authentic consumer investigator vet their performance. The TrustDALE website can now be applied to every US city when a consumer simply logs their zip code in the search box.
The Make It Right Guarantee
The TrustDALE guarantee is truly unique. Most reputable companies offer some level of guarantee but, at the end of the day, if something goes wrong, the company is still in charge of creating a path for resolution. With the TrustDALE Make It Right Guarantee, every company Dale recommends has signed an agreement that places the TrustDALE organization in charge of determining how a company must remedy a situation. This third-party guarantee greatly reduces the time it takes for resolutions to take place and therefore creates significant peace of mind when a consumer must make an important buying decision.
Dale offers a variety of keynote presentations (please see list below) appropriate for corporate audiences, faith-based organizations, and community groups. '7 Steps to Becoming a Savvy Consumer' is Dale's most requested topic with content applicable to individuals at every age and stage of life. This particular topic is highly popular among national conferences for senior adults, leaders of the wide range of industries catering to seniors, and senior adult ministries.
Outside of his professional pursuits, Dale and his wife Angie, a hospice nurse, have raised two grown children, Adam and Jessica, and make their home in DaKalb County, Georgia.
---
Speaking Topics
7 Steps to Becoming a Savvy Consumer
In his most requested speaking presentation, Dale Cardwell shares his seven-step strategy to becoming a savvy consumer. Learn how to identify a scam before you get swindled -- this time, experience won't be your teacher. His investigative standard, vetted across numerous businesses, lays down both offensive and defensive tactics for getting the jump on con artists and saving your hard-earned money. Don't get scammed! Get smart!
[This topic is offered as a keynote address of approximately 35-45 minutes as well as the option of a half-day conference, including a workbook for each attendee.]
God's Veil of Protection: Dale Cardwell's Personal Testimony
The first time my life was threatened I later awoke in the middle of the night and found myself in the living room, checking the locks on the windows while sleepwalking. I had just broken a story about a city councilman being investigated for cocaine distribution and, to my shock, one of his henchmen confronted me and personally delivered a death threat. That was also the first time I asked and received a God-given hedge of protection for my family and me as I pursued my calling as an investigative reporter. I have felt the hand of God throughout my career, and, like many, have strayed from His path long enough to experience pain and find my way back. His grace is always sufficient.
How to Build a Value-Driven Business
Lots of people can become successful in business, but what creates sustained success? Consumer Investigator Dale Cardwell shares the lessons he learned from building TrustDALE, his consumer research and referral website, and his nationally syndicated consumer protection TV show and podcast. Like the men who built their houses upon sand and rock, Dale will differentiate companies built on fraud, gimmick and truth. He will also explain how to navigate the difficult world of creating and sharing a message with customers that breaks through and resonates.
The 12 Scams of Christmas
The holidays usher in a time when we place a greater emphasis on thinking of others. Sadly, the season also ushers in a time when con artists tend to think of you -- as a target for a scam. Dale tells the story of good, honest and, yes, smart people who open their hearts only to be ripped off. From the family that had its heart set on the puppy that was never delivered because it did not exist, to learning how to protect you and your loved ones from too-good-to-be-true cyber scams, Dale's decades of consumer protection experience will help you keep your cheer, while helping you steer clear of getting taken.
---
Testimonials
"Dale uses his vast experience as a consumer advocate and combines it with common-sense reminders to offer actionable advice on how to spot a scam and how to deal with it."
Dan Abrams
Chief Legal Affairs Anchor
ABC News
"A reliable guide on how to protect yourself from scam artists bent on stealing your hard-earned money."
Thurbert E. Baker
Former Attorney General of Georgia
"A must for any informed consumer."
Roy E. Barnes
Former Governor of Georgia