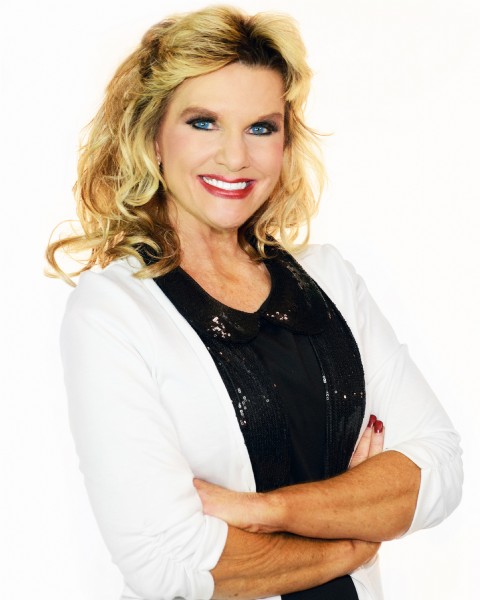 Jackie Carpenter
Host / Executive Producer of
Award-Winning Television Talk Show
"The Christian View"
Executive Producer of
Award-Winning Feature Film
Stand Your Ground
Author of
Bridge to a Miracle
and

Georgia Justice
With a Powerful Real-Life Story to Share
Jackie Carpenter is a Dynamic Speaker
for Church Services & Conferences
---
---
Jackie Carpenter never dreamed she would host an award-winning television talk show reaching millions - or that she would executive produce an award-winning movie about her family's tragedy which would be translated into multiple foreign languages.
She loved her quiet, private life as wife, mother, and grandmother, church organist, business partner with her husband, and enjoying world travel with her husband.
Jackie was happy to live the rest of her days in a small town in Georgia, enjoying her family and her church.
But when tragedy struck, her life changed in ways she could never have imagined.
When her son Jason was falsely accused of murder, Jackie Carpenter fought against the odds to free him. But when the prosecution sought a life sentence, Jackie's life spun into turmoil sending her on a difficult journey of wavering faith, tentative hope, and ultimate victory.
Jackie would have given everything she had and would have given her own life to rescue her son. But the only thing God required her to give up were her doubts - she obeyed and a miracle followed!
Jason Veitch, a contractor building eight homes in a new subdivision, was losing thousands of dollars to copper thefts. Following the advice of a police deputy, Jackie's son stood guard one night at a home under construction. When faced with three intruders, his shotgun accidentally fired and a man died.
When her son was arrested and charged with felony murder, Jackie tried to "fix it." "I became an attorney, a police officer, a judge, a juror, a forensic expert," says Jackie. "Then two weeks before trial, I realized that everything I researched was to no avail. There was nothing else I could do to help Jason."
It was then that Jackie completely turned her son over to God and began 'living and breathing' The Book of Psalms where she found comfort and guidance. Throughout the courtroom trial she shared with family members copies of Psalm 91.
"Ten long months we lived in the very pit of hell where Satan viciously attacked our family continuously," recalls Jackie. "Day after day after day after day. But at 3:30 p.m. on Thursday, April 16, 2009, on the third floor courtroom of Coweta County Courthouse, the judge announced, 'The jury has reached a decision' and to Jason, 'Please rise' ... and God showed up!"
When Jackie shares her real-life story, she takes audiences on a journey of utter helplessness through valleys of fear and doubts to a path of faith that led to her family's miracle. Her testimony offers hope to the hopeless, help to the helpless, rest to the restless, and life to the lifeless.
God began opening doors for Jackie to share her family's story in church services and women's conferences, as well as radio and television interviews across the United States and internationally.
Jackie and her family are amazed that God has made the way for their miracle story to become a feature film. Stand Your Ground has won many prestigious film fesival's first-place awards for best screenplay and best film. The Dove Foundation awarded the film it's highest ranking for film recommended for families. Stand Your Ground was also reviewed and is recommended by Ted Beahr's MovieGuide.
After the unexpected but very rewarding journey of producing Stand Your Ground, Jackie wondered what God had for her next. She wanted to continue sharing her dramatic testimony with millions ... and God opened the door for a weekly television talk show.

The Christian View television talk show features lead host Jackie Carpenter and her co-hosts discussing a wide range of topics from a Biblical perspective. The program can be viewed weekly in most major markets throughout the United States, and can be viewed globally via a very active YouTube channel and live streaming. (More about The Christian View and viewing info at TheChristianView.tv.)
---
Speaking Topics ...
Standing Your Ground
Jackie Carpenter shares the dramatic testimony of a tragedy that befell her family and others when her son was falsely accused of felony murder. In the months that followed the horrible night that a man was accidentally and tragically killed, Jackie did everything in her power to find an answer that would ensure her son's freedom. She worked day and night in her quest for the answer - ultimately landing herself in the hospital with severe anemia. When God had her flat on her back, Jackie finally understood that the only answer she needed for this hopeless situation was God and His Word. Jackie surrendered her son to God and committed her trust in God alone to bring her family through the upcoming court trial. Audiences are spellbound as Jackie shares her story, and they walk away with renewed faith and, often, with a first-time trust in Jesus as their only hope.
This presentation is perfectly 'set up' when the event planner plays the movie trailer just before Jackie begins speaking.
The "Second Half" of Life
It's amazing what God can do in 'the second half' of a woman's life! There is a time and season for everything - getting married, raising children, career, becoming a grandmother, and much more. And in later seasons of life, God often frees us up for new and exciting adventures to further His Kingdom! For Jackie, when she thought she was settling in to a comfortable new phase of life as grandma, God very dramatically showed her that He wasn't finished with her yet! He miraculously brought her family through an unexpected tragedy - and that was enough to praise Him for during the rest of her days. But He had more in store ... Jackie could never have dreamed there would be two books, a movie that is now in several languages around the world, and now an award-winning television talk show. Everyone's 'second half' of life is not the same - but God is NOT finished with you - there's always more from God! For such a time as this ... it can be the best, most fulfilling part of life ... The Second Half!
---
Testimonials & Book Reviews . . .
The Bridge is a book for people who believe in miracles. It is also for people who need to be reminded that during troubling times God is not the guilty party. Even devout Christians sometimes need to be remindd that their strength is in the Lord, and The Bridge served as that reminder.
Miss Bob Etier
People of deep religious belief will find it an affirmation. Divine intervention and influence is credited for the strength to get through the ordeal as well as the favorable verdict of not guilty on all counts.
Charles Ashbacher
This powerful story of an accidental death and the unwavering faith of a mother's love and belief in the Psalms rivets the reader. If you want to hear about a "miracle" and the effect the power of prayer can have on a family, you will be very interested in this mother's story.
Deb Fowler
The Bridge clearly demonstrates that God still performs miracles in the 21st century. The key point is that when bad things happen, it's better to trust God than to blame Him. The story also reveals that it is certainly possible to survive a tragedy without losing faith.
Emory Daniels
Anyone going through a struggle that seems desperate or that is facing a sentence that looms inevitable will take courage from reading Jackie Carpenter's account of her son's incarceration and eventual exoneration. She gives God the glory and provides the scriptures that her family clung to throughout this devastating ordeal.
Maggie Harding
Jackie Carpenter's faith in her son and in her God is genuine. This comes through clearly in her writing. This is a book that will bring encouragement to anyone who has experirenced an injustice in a like or similar circumstance. Heart wrenching and heart warming. A memorable reading experience.
Richard R. Blake
As a reader of this true story, you will cringe wonder, worry, but if you are a believer, you will always keep God's love and faith in your mind and body.
Cy Hilterman