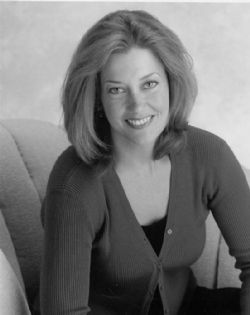 Lisa Winters Cox
Inspiring Women to
Trust God With Their Hopes and Dreams
Travels from Georgia
Call 1.800.782.2995 Or
Click Here to Send An Email
---
Lisa Winters Cox is probably best known as one of the former "Doublemint Twins."

She and her sister, Linda Ryan Puffer, did a series of six commercials, which aired over a period of ten years from 1985 to 1995.

Lisa currently appears in the five-film series "The Sugar Creek Gang" and continues her career in TV commercials and movies. Though TV and film often are what makes her seem so familiar, it is her love of God paired with her honest and informal speaking style that draws audiences in and allows listeners to feel as if they know her.
Through her personal testimony and Biblical teaching, Lisa shares key principals on trusting God with hopes and dreams related to marriage, career, ministry and family.

Her passion is to encourage women to realize the fullness of healing and freedom of

life in Christ.
As a writer and speaker for Shine Media, Lisa became enthusiastic about having a platform that allows her to share her love of Christ and to teach life-application principles from God's Word.

Her writing

is featured in Dr. Katie Brazelton's new book entitled Praying for Purpose: 6o Influential Christian Women Share How Their Lives Have Changed.
Lisa and Linda were reintroduced to television viewers when they were recently featured on Oprah Winfrey's Where Are They Now?
---

Speaking Topics Include . . .


Trusting God with Hopes and Dreams
Lisa has been in the secular acting business for over 20 years. Although she is best known for her Doublemint commercials, she has been in over 60 others. Her career has taken her from the stage to the screen. When she was just beginning to attain success in the industry, she felt God was calling her back from New York to her home in Georgia. She and her husband began a family and a new chapter in her life. Through relinquishment and trust, she had to learn to put her hopes and creams on the altar. God has surprised her over and over again by weaving her gifts, talents, experience, and life circumstances together to truly give her the desires of her heart. She loves to share the lessons she has learned on the faithfulness of God and the mysterious ways in which He does more than we can imagine when we trust Him with everything.


Sister-Like Relationships
Growing up as a twin, Lisa learned key principles to making and developing spiritual sister-like relationships. God uses these precious friendships in many important ways. Lisa helps women understand the God given reasons why these relationships can bring depth, spiritual growth, support and joy into our lives. Through Lisa's use of personal life experiences, the Word of God, and other helps, women will walk away from this workshop with spiritual and practical tools to apply in their friendships and their walks with God.

He Knows Your Name
The meaning of Lisa's name is "a witness to Truth". Although at times this did not exemplify Lisa's life, God's grace brought about its fulfillment. In this teaching, Lisa encourages women regarding their identity in Christ. God knows our true name and He even changes our "name" when we first come to Him. Through personal testimony and the Biblical examples of Abraham and Peter, who both experienced a name change, Lisa shares the biblical principles of our new natures and purposes in Christ.

That I Might See
60-Minute Overview, Extended Conference/Retreat Teaching, or Six-Week Study
That I Might See is an indepth study about wholeness and healing. Lisa has walked alongside many people, in varying capacities by being a friend, prayer partner, counselor, mentor, and encourager. Yet, she began to desire to be used in a more complete and powerful way. Lisa wanted to walk with people in a way that would result in lasting spiritual and emotional healing, so that others would know the wholeness and freedom she has found in Christ. This became her prayer, "Lord, make me a vessel of healing." Out of that desire, through much prayer and study, Lisa discovered the healing promises and principles revealed through the healing miracles. This teaching will help every sojourner discover the fullness of life that Jesus came to bring. The six-week study is available for purchase in both CD and cassette formats with workbook included. Additional workbooks can be purchased for group studies.
... I have come that they may have life, and that they may have it more abundantly." John 10:10
Finding Comfort
Learning to find comfort from God in the midst of the uncomfortable things life brings, is one of keys to experiencing more joy and contentment in our lives.

We can have wellness of soul even if we don't have wellness of circumstances. Using scriptural examples and life application teaching, Lisa will help others learn how to find comfort from the only source of true comfort and how to maintain that comfort even when the storms of life are threatening to overtake us.
---

What Others Are Saying . . .

With insight and honesty Lisa shares God's unconditional love and unique purpose for every woman. Her heart-to-heart style is filled with compassion and encouragement. Her message speaks to any woman who has asked "What does God want for me?"
Udella Walker, Director of Women's Ministries, Mount Paran North Church of God
Lisa is a gift from the Lord to the twenty-first century woman! With both strength and Godly submission, she weaves a tapestry of words, wrapping sound theology around candid personal testimony. Lisa's teaching will entertain and inspire you toward a better version of yourself.
Nanette Jones, Director Women's Ministries, Legacy Community Church
---
Lisa Winters Cox Travels from Georgia
For More Information, Please Call 1.800.782.2995 Or Click Here to Send An Email
---