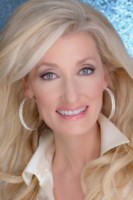 Helping Create First Impressions
That Open Doors to the Heart
Co-Host on Multiple Award Winning
National Television Talk Show
"The Christian View"
On-Air Fashion Contributor for
CBS 46 Daily Newsmagazine TV Show
"Atlanta Plugged In"
Professional Image Consultant
Mrs. Georgia Interational 2013
America's Mrs. of the Year 2001
---
Trudy Davies Davis is owner and co-founder of The Image Academy, a professional image consulting firm whose clients include top-tier business executives, pageant contestants, professional speakers, actors, news anchors, and television talk show hosts.
As a conference speaker, Trudy teaches how to make the best possible first impression in order to ensure people respond to you positively and are open to what you have to say. For many in various types of business, Trudy gives them a new skill that enhances their business and can increase their income. For 'every day people' who aren't on a public stage, the skills Trudy teaches help build trust in relationships, build bridges, and open doors to conversations and opportunities that can lead to people being open to your ministry, your message, and, at the most basic level, your friendship. Trudy's message is beneficial to absolutely everyone.
Her fun, high-energy, motivating, and information-packed seminars are full of practical take-aways that every audience member can immediately begin putting into practice. Trudy's message is not about buying a new wardrobe - she teaches how to go through your own closet and know which pieces will make you look your very best (for your body type and coloring) and how to make simple changes to or accesorize certain pieces to make them look better on you. For people who do want to take Trudy's tips shopping with them, she provides a purse-sized personalized color chart and tips for your specific body type.
Trudy is a seasoned keynote speaker for Christian women's conferences, teen girl events in schools and churches, community and country club events, pageant workshops, and corporate conferences and retreats. She has appeared on many secular and Christian television talk shows. As a breast cancer survivor, Trudy has served as a spokesperson for many related events and fundraisers with her platform message of "Fight Like a Girl." Trudy is a pageant coach who has helped many contestants take home the crown. Trudy is a wardrobe stylist for film and television, including stylist for the five co-hosts of the television talk show The Christian View.
As Mrs. Georgia Interational 2013 and 2001 America's Mrs. of the Year, Trudy has had countless opportunities to share her messages of "Fight Like a Girl" and building self-esteem and self-image with corporate audiences, churches, community groups, and many television appearances.
Testimonials . . .

"As a full time wife, mother, and employee, I find it's important to be a good steward of my time and money. I chose to take advantage of the professional advice of a personal shopper in order to gain myself more time and money while still shopping within my budget. In the past, my tendency was to spend a lot of time buying the same style and color and still not be totally satisfied with my purchases. Now I shop in half the time and my whole wardrobe has a fresh, new look that is not only practical but stylish. From accessories to the shoes, it's great to have the right thing to wear for the right occasion right at your fingertips. With the advice of a shopper I can avoid impulse buying which means I now wear everything that's in my closet!"


Board Member, Chick-fil-A

Director of Camp WinShape for Girls

Author of Along the Way

"I write and direct for Soteria Productions out of Atlanta, Georgia. We have worked with the Image Academy on several occasions and find that all of our wardrobe and image needs are met far beyond expectation. Trudy has an intense eye for detail and works well with talent of all ages. She is very professional and efficient and is irreplaceable on set. No matter the specifics, The Image Academy is or choice for wardrobe and image consultation needs."

"Trudy and Sheila are absolute fashion geniuses! After an hour or two with them I walked away feeling far more confident about what looks best on me. They taught me how to best enhance my strengths and play down those weaknesses. I have saved so much money by not buying things I just like or on sale, but buying clothes that are appropriate and attractive for my body type, color and fashion style. Their encouraging way, eye for detail, and excellent teaching skills make them an outstanding choice for any woman who would like to look her best!"


President and Founder, Big Dream Ministries

"Trudy has a unique talent of being able to transform the simplistic into the majestic . . . a very beautiful lady with a very beautiful God-given talent!"

Jackie Carpenter

Executive Producer / Host, The Christian View television talk show

Executive Producer, Stand Your Ground feature film

"Trudy Davis is a gifted professional. She uses her God-given talents and beauty to inspire others to walk in confidence based on who they are in Christ. She teaches basic skills to enhance the outer appearance based on inner beauty. She gives practical tips to bring out the best. I would recommend Trudy for your next event!"

Dawn Mooring

Author, Conference Speaker

Co-Host of The Christian View television talk show
---

For More Information: Call 1.800.782.2995 Or Click Here to Send An Email
---