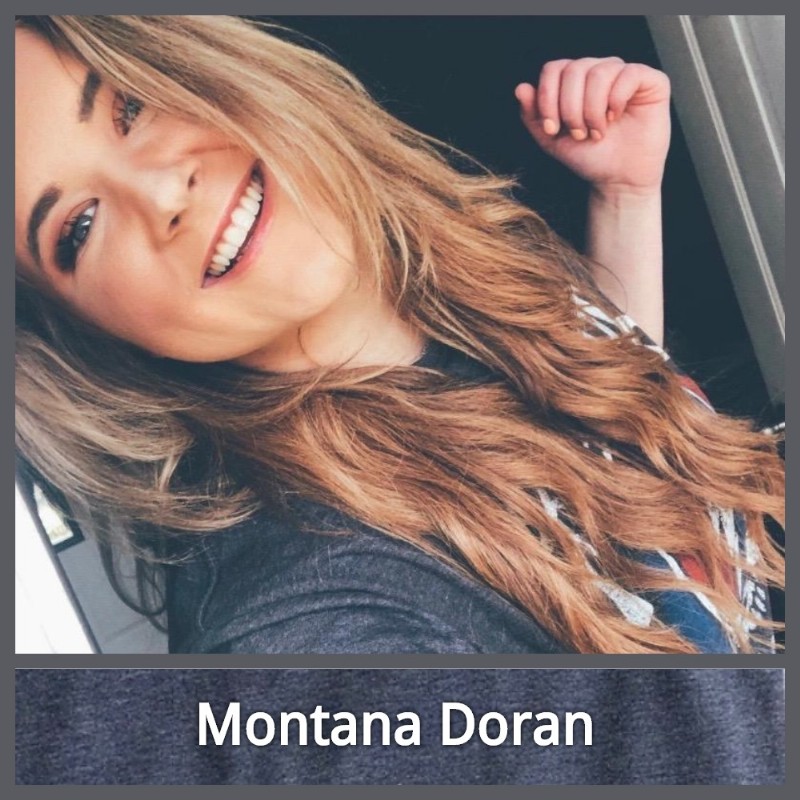 Montana Doran
Comedian - Podcast Host - Keynote Speaker
Church & Corporate Events
Comedy Night, Retreats & Conferences
Colleges & Universities
Student & Young Adult Ministries
Women's Events
Travels from Georgia
---
My name is Montana Doran, but I really love it when people call me Tana.

I love to talk. I mean, I really love to talk!

So I talk ... I talk on my podcast, Tana Talks ... I talk on stage at comedy events ... and I talk at ministry events that want some fun and laughter mixed in with some life-changing Truth.

I'm 25 and a recent college graduate living in the Atlanta area. I have a degree in Psychology and Communications. I love all things pop-culture. My favorite thing to do is make people laugh.

Typical millennial, just out here trying to figure things out. I work full time at a corporate job, and, on the side, I speak, I write, I volunteer with my church, and I've become known for my stand-up comedy.

I believe everyone has a story. A story that matters and has the potential to change lives.

However, for most of my life I didn't believe this. I spent my whole life in church thinking that God wanted to use everyone but me. I had such a distorted view, I thought my life and story was too much and too dark to be used. So, in college, I left the church and everything I was raised in.
After years of self destruction, I was at a women's conference and my life was completely wrecked. Everything I believed about myself and God was challenged. In that moment, my life began to change.
In my worst seasons of pain and self destruction, my purpose was birthed. I realized that all the things I went through were not only for me but for others.
I spent years healing, re-learning everything, and listening to soooo many podcasts. I fell in love with podcasts. So while recovering from a bad car accident and encouragement from so many friends, I broke down and started my own podcast.
My life mission is to empower others to use their voice to impact those around them. It's so easy to get caught in the comparison trap of social media. On my podcast, and in my comedy and speaking ministry, my audience and I are real people having real talks.
On stage and online, I create a safe space for ALL. While my background is faith-based, I realize that every audience member, every podcast listener, has a unique background and comes from a different walk of life. I like to break all the rules. I like to talk about the "taboo" things that often are avoided.
My talks can include hard truths about s
ingleness, overcoming the past, college culture, social media, and mental health. Yes, I'm a comedian, so somehow I manage to mix laughter in everything I do even when sharing God's Truth about hard topics and real human struggles.
I believe we all have more in common than we have differences.
I believe we all struggle.
I believe there is power in telling your story. Your story is yours. Your story is your superpower.
| | |
| --- | --- |
| I invite you to contact me so we can talk about incorporating my comedy and bold Truths into your event. | |
---
Montana speaks on a variety of topics and will customize a talk to fit your event theme and purpose.

Speaking topics include singleness, college and campus culture, overcoming your past and becoming resilient, social media and its impacts on mental health, church culture, and life of the millennial Christian.

Montana's storytelling ability captivates audiences. She is able to talk about some very serious topics while bringing a light hearted approach. Her talks will likely have you laughing, crying, and laughing again.

Montana carries her faith into every aspect of her performances -- speaking and delivering comedy that is clean, appropriate, and tied to spiritual lessons to inspire audiences.
---
Testimonials
"Tana Talks is so real and inviting. It's so different from anything I've listened to. The heart and passion that goes into every podcast is clear to spot. Conversations provoke so much emotion and encouragement."
Ana Camilia
"This girl!! Wow. Twenty-five and literally thriving!! What you will get out of this podcast is vulnerability, authenticity, and relatability. Tana is the type of person who will keep it real while also encouraging you to see the big picture and understand that there is hope in Jesus who is bigger than anything we could ever go through. Give this girl a chance! Listen and take in her words! You won't be disappointed!"
Tiffani Patino
"If you are looking for a genuine, kind, uplifting woman to listen to ... come on over!! Tana covers all ranges of subjects from being a woman, feeling like you don't have a voice, or to just being vulnerable."
Hiwot Richardson
"She's real. One of a kind and authentic to the core of a human. Always room for laughter and an amazing person. She's the bomb! She drops the mic before the mic was even picked up!"
David Shea
"You can always count on this podcast to provide a no-judgment perspective on issues we all deal with! It's guaranteed to uplift you with humor and positivity and show you that you are not alone. Montana's heart to help those who listen shines in every episode. She is one of the most genuine and real people I have ever met."
Erin Gillis
"Tana is 100% herself and brings the best out of whoever she is interviewing. Love this podcast."
Suchi Sajja
"This is one of the best podcasts I have ever listened to. She is so real and honest and I love getting to know other people and their stories. This is only the beginning."
Vanessa Romero
"I love the Tana Talks podcast because it comes from a perspective of a Christian host, but the conversation is organic, ulfiltered and unedited. Host Montana Doran really keeps it real with her uplifting podcast that is guaranteed to make you laugh, smile, and regain insight for how everyone has a story, a purpose, and a destiny."
Megan Thomas
"I love Tana Talks! I love how authentic these podcasts have been and I love the range of topics discussed. They are informing and I love the diversity that is spun into them. Snaps for you, Tana Talks. I'll keep listening as long as you keep posting!"
Carolina Ramos
"So inspiriational, real with a sense of humor. I look forward to hearing the podcast each weekend. It's always a new and fresh perspective."
Rhonda Lucas