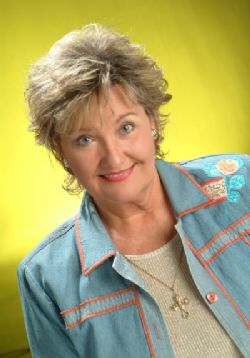 Ann Downing
Gospel Music Hall of Fame
Gaither Homecoming Concerts
---
---
More than likely you've seen Ann Downing as a regular on the popular Gaither Homecoming Video series. However the majority of her time is spent maintaining a full schedule of church concerts and speaking engagements each weekend traveling throughout the United States and Canada.
Apart from her affiliation with the Gaither Homecoming Friends, Ann's own versatile music style appeals to a wide range of musical tastes and age groups, not just the Gaither Video fans.
Ann's unique presentation style is also appealing in that she comes down from the platform to communicate with the audience on a very personal level; something few can do successfully. Her spontaneous, off-the-cuff delivery gives the feeling of a conversational visit rather than a rigid formal program.
| | |
| --- | --- |
| Raised on a cotton farm in rural Mississippi, Ann grew up dreaming of the day she'd sing gospel music all over the world. Right out of high school she began to realize that dream by securing a position with the legendary Speer Family, later marrying the man of her dreams and co-founding a group that helped shape the face of Gospel music we have today. She won the industry's highest honor-the Dove Award-for Female Vocalist within a year of co-founding the Downings and went on to be inducted into the Gospel Music Hall of Fame. | |
Ann has been lauded with various awards and accolades throughout her gospel music career spanning over forty years. However, she's quick to tell you that she's like you in many ways. Fading success? She's been there! Crumbling marriage or financial ruin? She's been there! Lost a spouse or experienced a devastating trauma in your family? Ann's walked in your shoes!
What do you do when you can't "fix" what's wrong in your life or the lives of those you love? What do you do when the circumstances of your life beg the question, "do you really believe what you've said about trusting God?" Ann's intensely personal story is one that reaches us all where we live and helps us hold firmly to the promise that "earth has no sorrow that heaven can't heal."
---
Below are some short "descriptions" of Ann's latest speaking topics




Ann utilizes her gift of music to enhance each speaking session
I'm A Survivor!




Sometimes life votes you off the island and you feel like you are the weakest link! When you've run out of lifelines and there's no friend to phone, how will you make it in the real world? Ann turns to the Bible to find the first real survivor-and wouldn't you know she was a woman? Travel with Ann as she ventures down the road with Ruth and learn to find the handfuls of purpose in your own life.




Enough of the Fluff, Gimme the Real Stuff!




Comfortable Christianity, move over! Wave goodbye to your laid-back religion-this is where the rubber meets the road. When life forces you out of the hymnbook and off of the pew, what in the world will you do? Walk with Ann on a journey that takes you face to face with your faith, and challenges you to put it into practice!




I Quit




When you get to the end of the rope, tie a knot and hang on! But what do you do when you've tied a rope-full of knots and still nothing's changing? Through an intensely personal story, Ann helps you find two surprising words that just may change your life!




Father Knows Best




It sounds like an episode of "Touched By An Angel," but even Hollywood can't top God working in the lives of his children! From its dramatic beginning to its heartwarming close, your spirit will soar as Ann shares how God turned the 56 most painful days of her life into a new beginning for one special teenager.




Above All Else




Gotta check the mirror once more to make sure you're in the best condition possible? But have you checked your "heart condition" today? Journey with Ann through a series of "heart Scriptures" to learn what our Heavenly Father puts 'Above All Else' and what "heart-titudes" He desires us to possess.




No Strings Attached




Love and acceptance..we all want it, but how many times do we get it with no expectations in return? How do we show our very personal selves to others or even to God? Masterfully weaving a very personal story of creating a piece for her craft-talented mother, Ann communicates beyond a doubt that we're loved.strings and all..with no strings attached.
---
1998 Gospel Music Hall of Fame Inductee

1997 Grand Ole Gospel Reunion Living Legend Award

1973 Singing News Queen of Gospel Music Award

1970 Dove Award for Female Vocalist of the Year
"Climbing Jacob's Ladder"




(# 25 Song of the Year)

"I've Got A Song In My Heart Again"

"I Feel So Good About It"

"Greater Is He That Is In Me"

"Sheltered In The Arms Of God"

"I Believe What The Bible Says"
Gaither Gospel Hour, TNN

Praise The Lord, TBN

700 Club

Gospel Singing Jubilee
Speaks at women's conferences all across the U.S.

Hosts her "Middle Tennessee Women's Retreat" annually

Performances in Ireland, Scotland, England, and Canada

Concert at Robert Schuller's Crystal Cathedral
---
Looking Who's Talking . . .
"As a minister of Worship, I hear so much music and receive new cd's all the time. I listened to Ann's new cd.her music, her message, and just 'Ann Downing' pulled me right in, made me listen, be involved, and caused me to worship God and praise Him while being blessed by the whole experience. Ann Downing is REAL! I love her new project.it is my new favorite!"
Jim Van Matre, Minister of Music & Worship
Dauphin Way Baptist Church, Mobile, AL
"I've been listening to the fantastic voice of Ann Downing for many years. She remains a passionate performer with a crystal clear voice. Any church would enjoy her rich ministry and positive outlook on life."
Dr. Stan Toler, Pastor and Author
rinity Church of the Nazarene, Oklahoma City, OK
"Ann Downing represents all the best of traditional southern gospel music and churchmanship. In her home church, she is loved and respected for her ministry and her faithfulness across the years. She's combined musical ability and her faith with quality."
First Church of the Nazarene, Nashville, TN
"Ann Downing knows where the heart is! She sings with passion, grace, and quality, but her aim is to deliver God's Word where it's needed the most, right in our hearts. Her stature in gospel music is unquestioned and her professional ability with few peers. But Ann ministers and that's what's most important to any local church."
Harlan Moore, Minister of Music and Worship
Bethany First Nazarene Church, Bethany, OK
"Ann Downing is a special blessing to the body of Christ. The Lord has anointed her and given her such a powerful ministry. Whether singing or speaking, she demonstrates such class and elegance. When I think of Ann Downing, I think quality, genuineness, and real talent."
Christian Music Artist and Choral Arranger
"We have known Ann for 30 years and if you have been enjoying the Homecoming video tape series, you know of our involvement together. We feel she will be an encouragement to your church or any place of ministry in her music and speaking. She is a communicator!"
Bill and Gloria Gaither
"Ann Downing is a remarkably talented Gospel singer and pianist. I have personally watcher her come through life's most difficult situations and come out on top with God's help. She is a beautiful person that sings and plays with a deep understanding of your pain and joy. She is a must have artist for your church, campmeeing or event. Not only very professional but spiritually transparent."
International Revivalism Coordinator
The Church of the Nazarene
"For 17 years of my pastoral ministry, Paul and Ann Downing were a part of my congregation. I observed how God used them to bless multitudes of people in their music ministry. After Paul's homegoing, I am grateful Ann has continued that ministry and I highly recommend her to any group as someone who will share from her heart the things God has taught her through good times and bad times."
Retired President, Trevecca Nazarene University
"I have known Ann for many years and have watched with admiration as she embraced God's sovereignty through the difficulties of her life. That attitude produced a firm trust in the lord and contagious joy that overflows from her life and ministry. Ann expresses her love for the Lord Jesus through her music and speaking with talent and enthusiasm. She brings the message of the transforming power of God with discernment and sensitivity to the Holy Spirit."
Dr. Wayne Benson, Senior Pastor
First Assembly of God, Grand Rapids, MI
"When over 300 ladies from varied backgrounds gather together for our annual weekend retreat, the ladies' expectations are sometimes as varied as their backgrounds. The first time we invited Ann Downing, I was amazed by her sweet spirit of discernment, as she captured the heartbeat of our women and so uniquely wove a message of hope and encouragement through her words and songs. THEY ALL INVITED HER BACK FOR ANOTHER YEAR!"
Chairperson for Evangelical Christian Ladies
South Central District of Ohio
Churches of Christ in Christian Union
"Ann Downing spent an evening with our church family, and touched the hearts of our people deeply. I have met few in the music arena with a heart for others, and a love for Jesus as Ann has. God has allowed her to experience some great trials as well as some wonderful joys. I believe it is out of the experiences of her life that God is using Ann to touch so many. She has been where so many struggle today, and therefore understands the hurt and the pain with which many are wrestling today. I highly recommend Ann Downing and her ministry to you. You will be blessed!"
Bob Cleveland, Senior Pastor
Colony Park Baptist Church, Edina, MI
---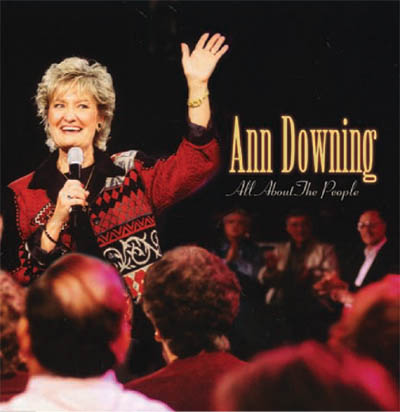 ---
---
In order to receive updates that are of most interest to you, please include the state where you live and, if applicable, your type of ministry or business. Please include your email address if it is different from the email address used to send your request.
---