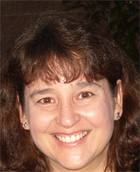 Inspirational and Motivational
Conference Speaker
---
---
Claire Foltz ran headlong into the arms of Jesus on April 2, 1980 - and she's been a woman going after God's own heart ever since!
If she's learned one thing on her hold-onto-your-hat journey with God, it is this: Life is messy, but GOD is able!
Together, Claire and God have experienced a lot. Claire was the first woman student athletic trainer to graduate from the University of Georgia, and she helped start the Sports Medicine program at Children's Healthcare of Atlanta.
She has been a stay-at-home mom, homeschooled her two children, worked in her husband's dental practice, had a children's novel and two short stories published, and has spoken in medical, elementary school, and Air Force conference settings.
During her adventure, there have been sweet times and painful times. The road of motherhood ran straight through a rough time. Claire is currently walking out of this desert with a precious gift which God has given to her to offer to His daughters, her sisters ... t
he soul-quenching comfort of a cup of cold water.
Claire and her husband Jeff are the matriarch and patriarch of a blessedly chaotic seven-person, two-dog, three-generation home.
---

---