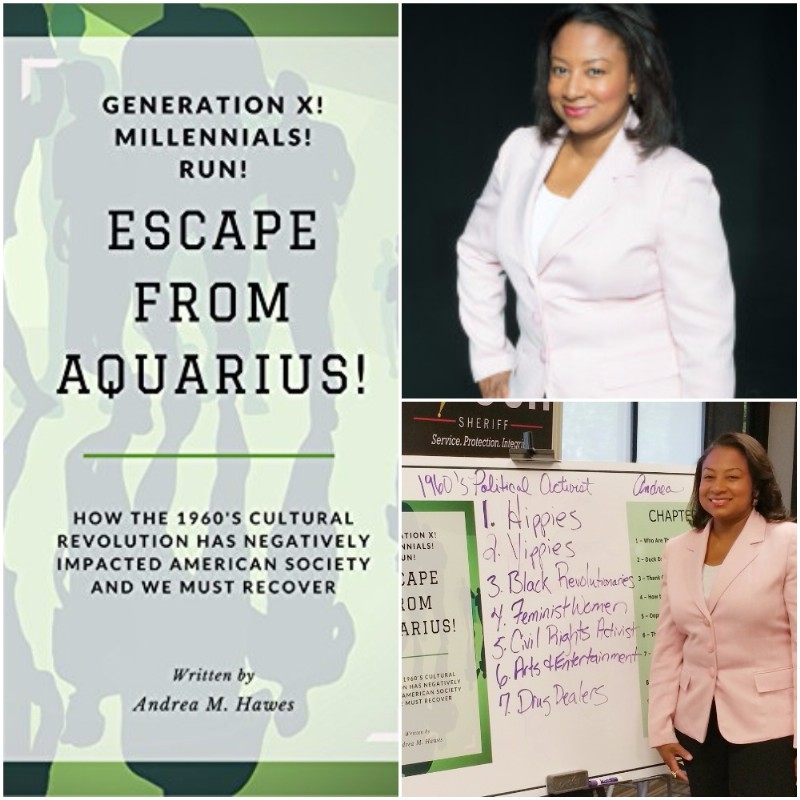 Escape From Aquarius:
How the 1960's Cultural Revolution
Has Negatively Impacted American Society
And We Must Recover
Radio Host
Television Personality
Faith-Based Conference Speaker
In-Demand Speaker for Conservative Leadership Groups
---
With a background in music, communications, and business (workforce development), Andrea Hawes was born in Augusta, Georgia, to teenage sweethearts. Andrea's childhood provided a clear demonstration of hard work and determination by her mother and grandparents. Through her family she learned to farm crops, raise farm animals, and was elected to district office in the National 4-H Club.
Even though Andrea was raised a country girl, her mother had bigger dreams for her and taught Andrea to sing in the family kitchen. Motown, girl groups, Simon & Garfunkel - nothing was off limits as Andrea gained a well-rounded American music education and career.
In addition to a musical eduation, Andrea's mother gave her a thorough education in the Holy Bible, preparing Andrea for life's adventures and pitfalls.
Andrea continued fulfilling her mother's dreams for her when she attended the Art Institute of Atlanta's Music Business Program where she studied music production, sales, and marketing. Shortly thereafter Andrea began traveling the workd, singing in Germany, Switzerland, England, Italy, and all over the United States.
While pursuring her music career in New York City, Andrea found herself on her way to the World Trade Center as the first plane hit on September 11, 2001 .. a day that changed her perspective on life forever.
When Andrea's mother was diagnosed with the aggressive autoimmune disease Scleroderma, Andrea put her music and personal life on hold to focus solely on caring for her mother.until she went to be with Christ in 2012.
Andrea Hawes is passionate about helping put Americans back to work. Through her company, Hawes Strategies & Development, and as a corporate motivational speaker, Andrea helps individuals and corporations with business and workforce development.
Also as a motivational and inspirational speaker, Andrea's passion is speaking God's truth (and common sense!) to the generation that was tragically misled by 'the age of Aquarius' - - and their children, the upcoming generation of young adults who are being misled by their duped parents. Andrea's "Escape From Aquarius" messages pack a powerful, life-changing punch when presented at student / youth conferences, as well as events for parents, teachers and student leaders, churches services, and conservative leadership groups.
---
Escape From Aquarius! documents the very colorful life of Generation X author and musician Andrea Hawes.

Ten chapters of real-life stories of Andrea as a youth running head on into the chaos that resulted from the 1960's cultural revolution.

A great lesson for Millennials thinking of making the mistake of following the 60's generation's model for family and life.

Andrea offers speaking presentations based on the message of this book that are ideal for student conferences, leadership events for student leaders and teachers, parenting conferences, and church services.
Speaking Topics Include ...
Escape From Aquarius - - Escape From Liberalism
An overview of how Americans were indoctrinated into deadly liberalism over the past forty years and what can be done to recover.
Escape From Aquarius - - Escape From Drugs
How Americans were indoctrinated into drug culture so easily and what parents and young people can do to defend themselves from indoctrination.
Escape From Aquarius - - Escape From Atheism
In order for excessive liberalism to have overrun the country, God had to be demoted. Andrea helps young people and adults learn why God is important to have a healthy, productive life.
Escape From Aquarius - - Escape From Feminism and Welfare
Why is working important and how has feminism and welfare killed the American family?