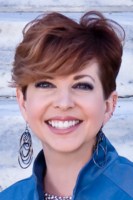 Deborah Hightower

2008 Inspirational Country Music Award
Nominee for Female Vocalist of the Year
and 2007 and 2008 Nominee for New Artist of the Year
---
---
Deborah Hightower made a grand entrance into the music world with the release of Her Name is Deborah. The twelve-song journey of contemporary, love-inspired music garnered four Top 10 hits on inspirational radio and earned Deborah nominations for 2007 ICM New Artist of the Year and 2007 and 2008 ICM Female Vocalist of the Year. Her musical styles are as diverse as her own influences and audiences. She has shared her gifts in a variety of venues - from intimate gatherings to mega-churches to overflowing concert halls to television and radio ... even the White House.
Beyond the powerhouse vocals, Deborah's artistry includes writing and speaking on subjects such as faith, family, friends, and finances. Her message is full of inspiration, information and empowerment. Her writings have been published in industry magazines, and she has been guest speaker at women's conferences, couples' retreats, fundraising events, and corporate functions. She has served as Mistress of Ceremonies in beauty and scholarship pageants and international festivals.
Deborah coined the phrase God-Spun, the title of her blog, during a moment of revelation while reading a business magazine - drawing on the notion that God's perspective can be applied to things seemingly unrelated to God.
It is Deborah's passion to uplift and encourage others through music, writing, and spoken word.
---
Speaking Topics Include . . .
Expand Your Tent ... Expand Your Life
By "expanding our tent" we can avoid self-sabotaging behaviors and learn how to expand into a broader life and greater fulfillment. Learn how to expand your mind by growing outside your comfort zone and living a more joy-filled life. This can mean anything from learning a new language to meeting new friends who aren't just like you ... expanding your spiritual life ... finding a cause that inspires you to share your time and talents.
If The Shoe Fits, Wear It
In this tongue-in-cheek presentation, Deborah explores the many "shoes" that women wear as they maneuver life as wife, mom, friend, daughter, sister, career woman ... the list goes one. She addresses the issues that come along with each one and how not to get lost in the shuffle.
How to Ease the Squeeze Between Children, Self and Parents
Deborah offers insight, empathy, and practical solutions to baby boomers - also known as "the sandwich generation" - who face a season of life where they are squeezed between caring for their children and their aging parents while maintaining their own careers. This topic is great for women's and couples' events.
With over twenty years experience in financial planning, Deborah applies Biblical principles to everyday money management for couples, individuals, and organizations.
Life's journey comes with many, often unexpected, curves, bumps, potholes, and ditches. Deborah speaks to women about issues such as childrearing, becoming an empty nester, balancing career and family, expanding prosperity, and changing careers.
Wives and Husbands
Couples often forget the "art" of sharing in the rush of everyday life. Deborah explores with couples the art of
sharing love, pizza, dreams, and even money in this presentation which is ideal for marriage conferences and couples' banquets.
Can You Eat Your Gucci's?
Financial expert Deborah Hightower teaches how to meet your financial goals while still enjoying
some of life's splurges - and not sacrificing your next meal!
Is Your Financial Ox in the Ditch?
A financial plan that first honors God first and then the rest - getting out of debt and saving for the future.
No Time to Think
Are you too busy doing "things" to meditate on God's plan and promise for your life?
Girl Math
Women have different thoughts, ideas, and needs when it comes to money ... from long-term healthcare to exploring a second career, from leaving a legacy to planning for a worry-free retirement. This presentation gives women valuable information and confidence to prepare for their future.
---
Testimonials . . .
Deborah is such a refreshing voice to speak on the subject of financial planning. She approaches the important subject with a unique and interesting approach. She also sings - what a unique combination. I was impressed and will see her again.
Marilyn Smith
Conference Attendee, Spartanburg, South Carolina
Deborah's Booming Caregivers topic is delivered with optimism and practicality designed for baby boomers, their parents, and their children.
Paul D. Nussbaum, Ph.D.
Author
What an evening of wonderful information and encouragement!
S. Soluri
Conference Attendee, Tallahassee, Florida
Deborah is an absolute pleasure to work with! She always arrives on time and prepared! Her music reaches all generations - young and old. Her heart for the Lord really comes through in her voice. She is one of the few artists who can entertain or usher a group into worship and knows the difference between the two. I have had her on the show, Atlanta Live, several times and look forward to having her on many more.
Rick Goins
Producer
Atlanta Live, WATC TV 57 Atlanta
Deborah has a broad range within her distinctive voice and can cross all over the board of genres from Country to Adult Contemporary to Praise and Worship ... leaves me wondering what the next album will bring.
Power Source Magazine
Her Name is Deborah Album Review
Whether singing Christian Television Network's The Pastor's Heart theme song, in concert, or at a faith-based event, Deborah is able to bring inspiration that touches the heart of everyone who hears.
Rip Kenley
General Manager
Christian Television Network, WGNM 64
I met Deborah several years ago when my attorney recommended her to help me with financial planning needs. I was immediately impressed. It wasn't until months later that I found out she was leading a double life - she also sings and speaks professionally. Having always a passion for contemporary Christian music, I found myself listening to her music constantly. I find her voice very rich and smooth - her music very uplifting and very inspirational.
Tony Long, Jr.
Capital Theatre Executive
One of the most promising female artists.
Solid Rock Church, Monroe, Ohio
Deborah brings to the stage incredible energy and pizzazz. A can't miss!
S. Jones,
Concert attendee, Chicago, Illinois
Deborah Hightower's music is unique and invigorating! Her recordings and live performances are encouraging! Anyone in attendance or those listening to her CDs can't help but experience the Spirit's presence. Deborah''s personal walk is reflected in her music. In today's world, honesty in one's testimony is a much valued necessity and Deborah is an excellent example of Godly integrity.
Bill Traylor
President, Mansion Entertainment
Be Blessed from Deborah's album, Her Name is Deborah, shows how much she's in love with the One she sings about.
Mike the Messenger
The Fire Escape
WFHB 91.3/98.1 FM, Bloomington, Indiana
Who would have thought sound financial planning and good music would come into my life through one person? Deborah knows what it takes to be a success in both worlds.
Walter Woods, Washington, D.C.
I met Deborah at a ladies conference and was immediately drawn to her professionalism, knowledge, and down-to-earth delivery of information regarding women's issues. Her music was an added surprise.
S. Jones
Conference Attendee, Boston, Massachusetts
---
Deborah Hightower Travels from Georgia
For More Information: Call 1.800.782.2995 Or
Click Here to Send An Email
---