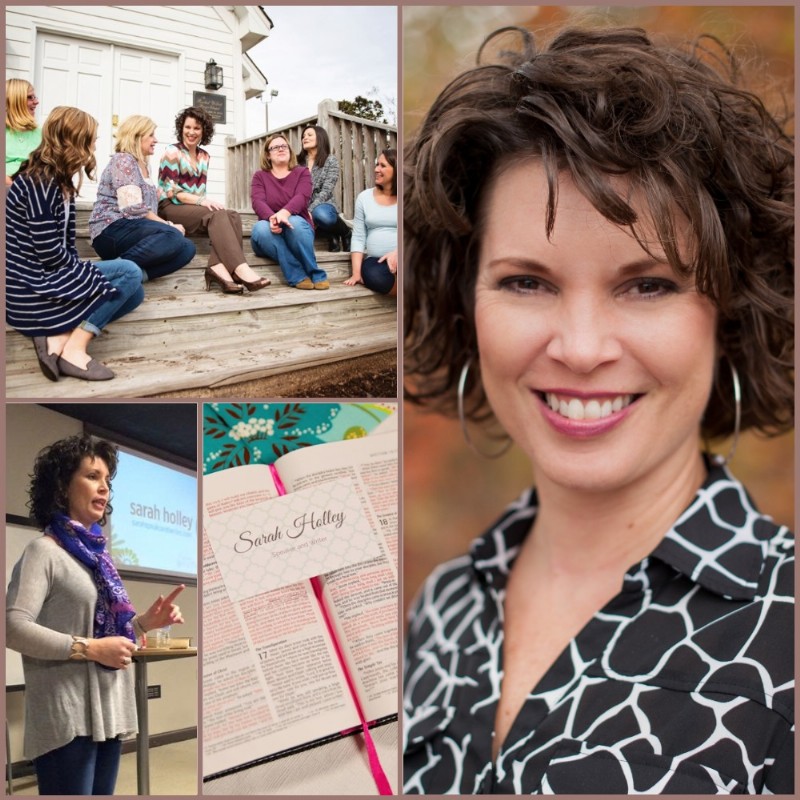 Sarah Holley
Inspirational / Motivational Speaker
Bible Teacher
Counselor
Inspiring Women to Know Jesus More,
Study His Word with Greater Fervor, and
Apply the Truth to Everyday Life
---
Sarah Holley enjoys nothing more than encouraging and inspiring women to know Jesus more, study His Word with greater fervor and apply the truth to their everyday lives. As a trained counselor and Bible teacher with more than two decades of teaching and speaking experience, Sarah covers a wide range of topics that resonate with women at every age and every stage of life and can be immediately applied to affect change.
She has traveled the world training family professionals and has spoken on marriage and parenting in twenty states, four countries, and twenty-eight United States Navy and Army bases and installations.
Sarah is a wife and a mom to three teenagers. She enjoys reading historical fiction, baking chocolate chip cookies, watching British TV, and cheering on her kids in sports. She trained as a counselor and has spent much of the past 20+ years as a Bible teacher. She likes nothing more than to encourage and inspire women to know Jesus more, study His Word with greater fervor, and apply the truth to their everyday lives.
Jesus, the Ultimate Ladies' Man
Jesus loved and respected women. His approach was radical - revolutionary, even - and the women who knew Him played a pivotal role in building His kingdom. Sarah discusses Jesus' interactions with ten different women in Scripture, examining how Jesus views these women and what that means for us today. (Content from this talk is being expanded into an upcoming book.)
Jesus and the Mom Who Asked Big
Lottery winners, rising stars, the famous, and rich athletes all have something in common: friends and family come out of the woodwork wanting something from them - a loan, a gift, access. In some ways, Jesus was no different. While much of His family reviled His new stardom, His aunt asked for the world. As Jesus' brothers and sisters, is it OK for us to pray for something outlandish? Is it OK to ask God to grant a big request? And, if so, will He answer? And, if not, what do we make of that? Big questions. Big ask. Big God. (Matthew 20:20-28)
NOT One Size Fits All
Two women, experiencing the same death of the same brother, approach Jesus with the same statement, "Lord, if you had been here, our brother would not have died." It would be easy to think that Jesus should and would respond in the same fashion. Not so. He sees past the words to the needs they each have and meets them right where they are. And He will do the same with each of us because He's not a one-size-fits-all healer. (John 11:1-45)
Jesus and the Desperate Woman
Jesus finds Himself getting away with His disciples after the death of His cousin, but this little getaway is interrupted by a foreigner who is overwhelmed by the extreme needs of her daughter. She's desperate, badgering Jesus and His disciples until she gets a response. And a response she does get, but it's not one that makes us comfortable. In fact, it seems rude ... and disrespectful ... and downright mean. Are we missing something? Could there be more to the story? (Matthew 15:21-28 and Mark 7:24-30)
It's All About the Blood. Period
While on a mission to heal a young girl, Jesus is interrupted by a woman who has been suffering 12 years. It's the kind of suffering that has consumed her and stripped her of everything - her health, her finances, her family, her peace of mind. She has an encounter with Jesus, an opportunity to seek healing, but she discovers that He desires so much more. Maybe you've been there. Maybe you are there - so consumed by your current struggle - your job, your kids, your health - that it keeps you up at night, monopolizing your every thought and every prayer. And maybe you'll identify with this woman and discover that you've been seeking a partial rehab while Jesus wants a total transformation. (Mark 5:25-34)
Parenting with Grace and Peace
As a recovering "screaming mom," Sarah shares insights she has learned that will enable you to be the mom or dad you want to be. Rather than being the parent who flies off the handle or the one who gives the silent treament, you can learn how to manage your own behavior so that your kids will admire you and actually want to be with you!
The Dance of Marriage
Marriage isn't easy! Yet it is the most powerful relationship and the one that even the most wounded among us craves. Sarah shares principles that can empower you to grow in understanding, compassion, and transparency in your marriage.
The Imitation Game: Following Jesus' Example in Discipleship
It's a good churchy word, "discipleship," but what does it really mean? And how do we actually do it? Looking at Jesus' example with His own disciples, Sarah unpacks the six key components of discipleship and shares modern stories of discipleship in action.
The Names of God: Elo-Who?
In ancient times a name defined the character and future of a person, so when God revealed Himself to His people, He was telling them Who He is. Daniel 11:32b tells us that the people who know their God will display strength and take action. Learning who God calls Himself is not merely an intellectual exercise; it has practical application in everyday life.
When Tragedy Strikes
What you choose to do today can radically impact your ability to thrive when the inevitable challenges of life hit. Whether it's a health scare, a relationship crisis, or financial devastation, we will all face some challenge that has the potential to rock us to our core. In this talk, Sarah shares the habits she has developed that allowed her to cope with a cancer diagnosis.
---
Testimonials
"I was so amazed how God was using you and how open and honest you were. How real. I took crazy notes. I listened like my life depended on it. I recaptured. I refocused. I regrouped. You taught wonderfully and thoroughly and soundly. The seeds God used you to plant are still bearing fruit in my life to this day."
Christina Abts
Women's Retreat attendee
Grace Community Church
Riverside, California
"Sarah is an excellent speaker! Her presentation to my Marriage and Family Therapy classes were interesting, practical, and professional. Her speaking style is personal and warm, and she has a gift to communicate difficult concepts with ease."
Dr. Amanda Blackburn
Dean of Students
Richmont Graduate University
"I have listened to probably hundreds of Bible lessons over the years but never seem to walk away with any real knowledge or understanding. Until hearing you speak. Both occasions I came home telling my husband all about the lessons and the meanings of things. You are an amazing speaker, teacher, and very inspiring! I can't wait until next month and would love to hear you at other events as well!"
Joni Louse Schardien
Mommies Monthly attendee
Loganville, Georgia
"You were an informed, kind, warm, relatable, and sincere speaker. Thank you!"
Susan Sferra
Licensed Clinical Marriage and Family Therapist
"Thank you, Sarah, for your cheerful and honest teaching."
Mickey
Parent Training attendee
"The best training I have ever been to. Thank you and God bless."
Brian
Marriage and Parenting Training attendee
"Sarah did an outstanding job connecting to the audience. Thank you for your professionalism and use of humor."
Parening Training attendee
Fort Rucker, Alabama