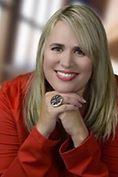 Tracy Hurst
Inspirational Speaker
Christian Counselor
Author of
Tuesdays with Tracy:
Real-Life Devotions that Speak to the Heart of a Woman
---
Tracy Hurst Travels from Georgia
---
Tracy became a Christian at the age of 16 and her life was changed forever. She went from being a depressed, suicidal, rebellious teenager to a dynamic leader for Christ. Immediately after accepting Jesus as her Savior, Tracy began a Bible study on school grounds at her high school in Illinois. The dramatic transformation in Tracy's life has inspired many, including her own mother, to give their lives to Christ.
Tracy's heart for women explodes when she ministers on stage. She has a unique ability to draw people in through laughter and realness. In addition, she never leaves the stage without sharing some of her dramatic testimony, which touches every heart in the audience. Tracy's testimony and personal invitation have led many to salvation and encouraged women from all walks of life to surrender to God.
Tracy Hurst is a licensed professional counselor, author, conference speaker, and former co-host/guest on "Marriage and Family Today," which aired daily on Moody Radio. Tracy was appointed by the Governor of Georgia to serve on the Georgia Composite Board of Professional Counselors, Social Workers and Marriage and Family Therapists with the task of evaluating and approving the licensure of counselors.
Tracy Hurst received her Master's Degree in Counseling Psychology from Georgia School of Professional Psychology. She also studied Christian Counseling at Richmont Graduate University, formerly known at Psychological Studies Institute. Tracy's counseling practice has been through AlphaCare Counseling Center, where she worked primarily with adult and adolescent females on a variety of issues. She witnessed tremendous results with her clientele and many are led to salvation and healing through her practice.
In addition to counseling two mornings a week, Tracy enjoys spending time with her daughter and husband, writing, speaking and taping a radio segment titled, "Tips with Tracy" which airs on The Dottie Coffman Show.
---
"I want to share with you some exciting news
and give all the glory to God because it is
through His favor and love that First For
Women Magazine has published an article
about my "Christmas Miracle" devotional.
It was freelance writer Diane Nichols who after
reviewing hundreds of stories, stumbled on my
Christmas Miracle" devotional, written over three
years ago, on my website. Diane has told me
that finding my miracle story was like finding a
needle in a haystack, but as soon as she read
my story, she knew it was the one for their
December issue. You can pick up your copy of
my story in First Magazine, December 2009,
page 42) at your local grocery store or newsstand
throughout America and Europe.

The thing is friend, if God can do this
or me, then what will He do for you?
It is my prayer that you will have a
miracle filled Christmas this year!
---
Tracy Hurst's topics include . . .
Tracy's miraculous testimony is known to captivate audiences around the country. From television, radio and speaking alike, Tracy's story of abuse and depression has brought many to salvation. It is a message of hope, restoration, and proof that all things are possible with God!
Stepping High - Walking in Worth
From high heels to running shoes, every woman knows that finding the "perfect" shoe can be a difficult task. What is even more challenging is walking in those shoes with self worth on the inside. This message is uplifting, honest, and seeker friendly. Tracy shares how being labeled by God, the Designer of the universe, will not only impact you, but everyone around you as well. Every woman is sure to leave with a new bounce in her step!
Trusting God . Sleeping In The Storm
From Tracy's dramatic entrance to the closing point, the audience will be on the edge of their seats as she shares how to sleep through the storms of life. Thunderous circumstances will come, but there is a place of rest for God's people. Join Tracy under the umbrella of God's Word and discover how to walk through the trials of life with peace in your heart. This is one of Tracy's most requested messages and is a true crowd pleaser!
This is a powerful message of God's restoration power. Tracy begins her talk by sharing how God miraculously returned a lost item from her childhood. This amazing story brings tears and applause from those in the audience. Although there is a thief who has come to kill, steal and destroy, there is One greater that came to give "life and life more abundantly" - His name is Jesus Christ (John 10:10). If the enemy has been stealing from you or your church - this is the message for you!
Dynamic Duo -- Home & Heart
Dynamic Duo Margo McDonald and Tracy Hurst team up to share the importance of home and heart. Margo is a gifted interior decorator with an amazing ability to enlighten women on how to decorate and use items they already own to do it! As a Christian Counselor, Tracy guides women through the delicate issues of the heart. Both Margo and Tracy believe that true enjoyment of life begins in the home and heart of each woman. Margo and Tracy offer a wonderful venue for your upcoming women's retreat, tea, or holiday event.
Hassle

Free

Holidays
Tis' the season to be jolly? While many of us are "decking the halls," research has shown that during the holidays, Americans struggle more with stress and feelings of depression than any other time throughout the year. This is why you need to invite Tracy to bring Christmas cheer and share how to "hassle free your Holiday Season" and enjoy the most wonderful time of the year! With practical tips and emphasis on the "reason for the season," this message is sure to brighten everyone's holiday.
Becoming A Woman of Grace: Overwhelmed To Overflowing
Reaching Your Promise Land
Living Beyond Regret Series
---
I enjoyed getting to know Tracy over the past few months and our Event Committee was very pleased with Tracy's clear presentation, her message, and most of all her sweet heart and faith. We had such positive response from our ladies - here are some: "Tracy really spoke to my heart and reminded me to keep my focus and hope on my Savior this season." "The speaker was the best we have ever had - Bring her back!" "The speaker was awesome!" Needless to say, I would highly recommend Tracy to any group!
Linda Ivy, Director of Women's Ministry
Beech Haven Baptist Church, Athens, Georgia
"Wow, what an awesome speaker!" resounded over and over in the halls, via email, and per countless phone calls after the Ladies' Retreat for Sophia Academy.

Tracy Hurst perfectly presented "Overflowing to Overwhelmed: Becoming a Woman of Grace" to 60 ladies in a passionate yet easy-to- grasp manner that left them either speechless or pouring over with emotion. One inspired guest wrote, "How brave of Tracy to share her story of healing!" Tracy, too, speaks freely of her calling and her passion for Christ so that it literally overflows to her audience . much like the Grace of God of which she speaks.

A real treasure can be found in the ministry of Tracy Hurst and any chance to hear her is both a treat and a gift.
Susan Loeffler, Sophia Academy Ladies' Retreat
Tracy Hurst is "the real deal." She is transparent in her message and relatable to women on many levels.

Tracy not only helps women to see where they may need to look closer at themselves and their relationship with God, but also provides practical advice that can be applied to daily living immediately.

She is an enthusiastic and captivating speaker, never leaving the audience wondering when the next break is coming.

She makes the audience feel welcome to ask questions and answers them with sincerity.

Tracy Hurst is truly inspiring and impactful, and a blessing to all that hear her!
Women's Committee, First Baptist Church of Alpharetta
Tracy Hurst was a huge asset to our women's ministry

. Her ability to relate to the struggles, heart longings, and joys of ordinary women was only surpassed by her compassion and humility. Tracy communicates with tremendous clarity and authenticity, calling forth courage in women to believe in the greatness of God that can change their lives.

I highly endorse Tracy's ministry, seeing first hand her character and daily walk. The gift of God in Tracy will truly refresh, challenge and add great faith!"
Beth Bennett, Women's Ministry Leader
Tracy Hurst is a woman of compassion, integrity and faith. I highly recommend her ministry in any venue but particularly in the women's arena. Her life has been marked by the power of the Holy Spirit and the manifest presence of God.

Through her dynamic gifts in speaking she has the unique ability of connecting with people like no one else I have ever met.

I have been forever changed by her ministry and I know she will make the same impact in hearts everywhere!
Tony Sutherland, Worship Leaders & Minister
Tracy Hurst is one of the most anointed people I've ever met! As she delivers a message of hope and inspiration, lives are changed for the glory of the Lord.

With a gentle spirit and powerful punch, Tracy encourages people to move forward in the Call of God and motivates them to grow deeper and stronger in their relationship Him.

She is a blessing to all who know her and hear her!
Rev. Brigette Wagner, Evangelist
Comments from Attendees . . .
This has truly been an amazing evening for me.

I feel as though this evening was meant just for me.

My heart has been so heavy for so long, but now it's as though I have gained a new ability to look to the only source of true strength! Thank you!
This event and Tracy's message has moved my heart and made me evaluate my relationship with Jesus

. I want to live for Jesus and give him praise.
Tonight was very special. I divorced just a couple of years ago, and well it took that to bring me back to God.

Everything tonight was a strong reinforcement and I can't begin to explain how wonderful it feels to have God as my anchor.

Thank you and God bless.
Tonight I realized it is okay to mess up or go through a trial, but I must trust in my Lord to make it through the storm.

I have accepted Jesus Christ into my heart as Lord and Savior.

I have been blessed tonight and I want to thank you for your prayers."
"Tracy is a dynamic speaker and she never ceases to amaze me. I try to attend whenever she is speaking.

What I love about Tracy is that she speaks straight to a woman's heart.

I always feel understood and not alone when she shares her testimony and life challenges. Her transparency lets me know she is the "real thing." I can attest that she is the same woman off stage as she is on. It is obvious that Tracy's heart is to see people become whole and free through Jesus Christ. Her speaking style makes me laugh and cry in one sitting! Her faith in God is contagious. I always leave her presence feeling inspired to draw closer to the Jesus. Tracy is tr
uly a mouthpiece for the Lord.
---
---