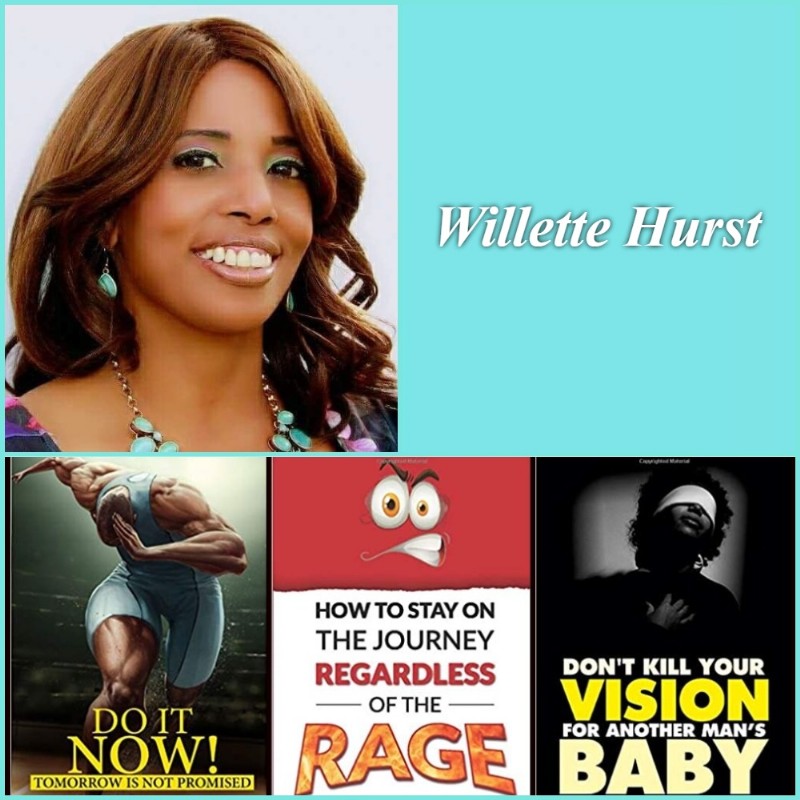 Willette M. Hurst
Evangelist / Conference Speaker
Author of
Don't Kill Your Vision For Another Man's Baby
Do It Now! Tomorrow is Not Promised
Over Due: Inspirational Stories That Will Push You to Birth Your Dreams NOW!
Travels from California
Content Provided by Speaker
---
Willette M. Hurst is a highly sought-after international speaker, life coach, the founder of Driven 2 Empower U LCC, a mother of two and a grandmother. A prolific writer, Willette has authored and published three books titled, Don't Kill Your Vision For Another Man's Baby; Do It Now! Tomorrow Is Not Promised; and Over Due: Inspirational Stories that Will Push You to Birth Your Dreams NOW!
Her books are testimonials and truly inspirational accounts of her life and are a must-have for someone who needs that extra motivation to believe in themselves again.
Born in Santa Monica, California and raised in West Hollywood, Willette had a normal life, a home and a good job, until she feel sick at work in 2012 and her life changed completedly. When the doctor declared that she was irreversibly disabled, things changed suddenly, and everything she had spiraled out of hand. She lost her job, was evicted from her home, filed for bankruptcy, and spent nearly six years living from her car and people's homes from California to Georgia. Even worse than losing what she owned, her self-worth, self-esteem, and self-respect plunged.
After moving to Georgia, Willette spent the next three years trying to collect and rediscover herself. Rather than feel a victim of the events that had occurred in her life, she found in them her purpose to inspire and uplift others. Instead of bitterness, she found healing and restoration. She learned to love the person she was and began to focus on utilizing what she had gained in the loss for her own benefit and that of others.
Having found her calling and started the journey into ministry amidst her homelessness, Willette has showcased incredible persistence and dedication to reinstating other people's shattered dreams and helping them to discover their authentic selves. Through Driven 2 Empower U LCC, Willette has impacted hundreds of lives, helping people, young and old alike, overcome their tough experiences and derive value from them as building blocks to a better life.
Since 2010 Willette has been an evangelist and has had a profound and remarkably fulfilling experience. She has evangelized to people at every platform God has given her, preaching a message of hope from retail stores, gas stations, and international conferences and workshops. She has established herself as an astoundingly supportive mentor, empowering people to reach their dreams and visions and explore the immense power God has put in them.
Willette Hurst's life is an afirmation that, with determination, no challenge cannot be overcome and, most importantly, be a mirror that reflects God's grace on those who believe in Him.