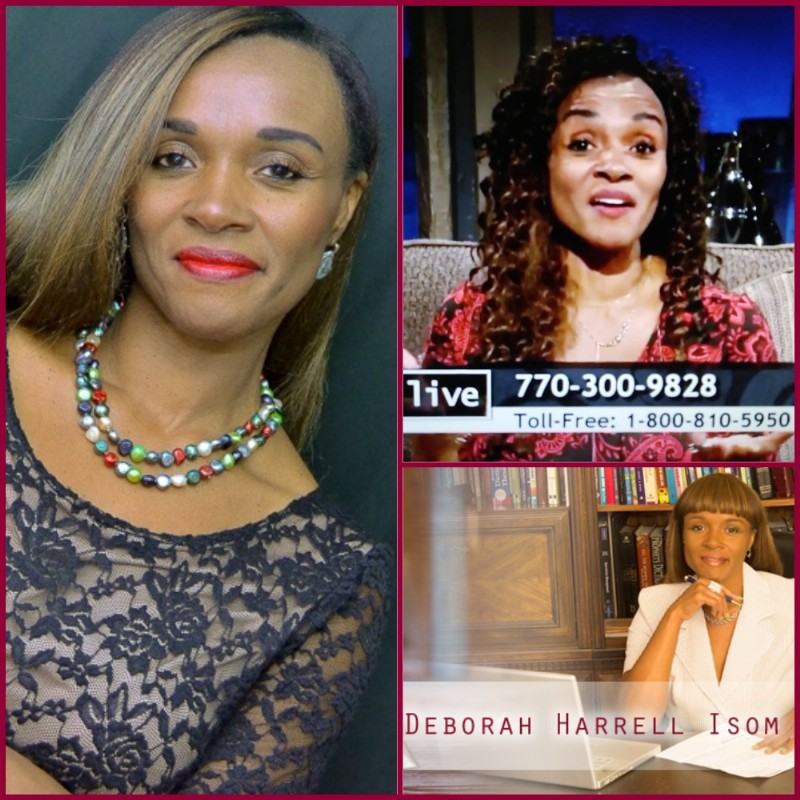 Deborah Isom
Conference Speaker
Teacher / Motivational Speaker / Inspirational Speaker
Television Talk Show Host
Prophetic Times and Atlanta Live
Author of
So You Say You Are a Prophet
and
The Successful Ambassador
---
Dr. Deborah Harrell Isom is dedicated to teaching and encouraging others on a global level through conference speaking, teaching, writing, and television hosting.
She is a popular host at WATC TV 57 Atlanta with her weekly teaching program Prophetic Times and serving as one of the hosts of the nightly live television talk / variety show Atlanta Live.
Deborah is founder of Begin Again Ministries, Inc., where she serves in mission ministry worldwide, preaching and teaching sound biblical truths meant to assist people to know and to operate in their unique purpose. Begin Again Ministries is aa leader in ministry to the homeless of Atlanta, including regularly providing meals and other physical and spiritual needs of the homeless community.
A small-town girl
and the youngest of twelve children, Deborah entered college at age 16 and earned a Bachelor of Arts degree in Mass Communications. She continued with three years of ministry training and was ordained to the office of a prophet and later an apostle. She holds a Masters and a Doctorate in Divinity, and she completed an Associate Degree in Christian Education at World Changers Bible School where she now serves as an instructor.
Deborah strongly perceived the call of God to ministry while serving as a prayer warrior at Trinity Broadcasting Network (TBN). She serves as an Orientation Instructor at World Changers Church International under the leadership of pastors Dr. Creflo A. and Taffi L. Dollar.
Deborah founded "Aaron's Beard School of the Prophets Bible School" in 2004. The focus of the school is to equip those called to five-fold ministry and the church to do the work of the ministry with the tools necessary to meet with success.
Deborah is co-founder of Legendary Leaders, a ministry and a next-level networking organization for established and rising leaders in many arenas, including ministry, publishing, speaking, filmmaking, television, acting, the arts, and much more.
Television host, executive producer, preacher, author, entrepreneur, international speaker, and dynamic prophetic voice to the nations, Deborah Isom flows under an awesome prophetic and teaching anointing.
Dr. Isom received President Barack Obama's Life Time Achievement Award, the Outstanding Georgia Citizen award, and the Humanitarian Award. Deborah has appeared on multiple television programs inclduing Babbie's House, TBN's Joy In Our Town, Friends and Neighbors, Club 36, One Flesh, Supernatural Intervention (Montreal, Canada), and numerous times as a Spotlight guest on TBN's Praise.
Deborah Isom has been described as one who motivates and educates and someone who knows how to get the best out of people. Deborah would describe herself as a women blessed in life and in ministry and whose greatest joys are being wife to Vernon and mother to her son Cornell.
---
Marriage Made Simple
Couples will better understand what it means to submit one to another. Ladies will leave with a sense of empowerment and will better understand what it means to honor their husbands. Men will understand the power and meaning of loving their wives. Couples will begin to walk at a new level of success in marriage. (
Ideal as a keynote presentation for couples events, women's events, and ministry leadership conferences.)
Empowerment for Women
Men and women were created to be equals with women co-leading with men. Submission in its simplest form means to get along with those around us. To be a help mate is the Hebrew phrase 'ezer knegdo' which means suitable, face to face, equal and opposite. Women and men were created in the image of God and both were empowered to have dominion on the Earth. (
This keynote address is ideal for women's events, marriage conferences, church services, and leadership conferences.)
Activating Spiritual Gifts
We are all endowed with spiritual gifts, but what are the spiritual gifts? What is the difference between spiritual gifts and natural gifts? Where and how should spiritual gifts be used? Must we be ordained ministers to have and to use spiritual gifts? How can we be activated to use our spiritual gifts? Dr. Isom addresses each of these questions and more, based on scripture along with personal anecdotes as a person who is aware of her gifts and operates in them daily. (
This keynote message is appropriate for Sunday sermons, leadership conferences, and any group that desires its members to know and to operate in their unique spiritual gifts.)
The Power of Media in Ministry
Deborah explores the big picture and the practicalities of advancing the Gospel using various areas of media and the arts. How can television, radio and the arts enhance a large ministry? Are television, radio and the arts viable options for smaller ministries? Deborah removes the mystery and the many questions of television ministry production, including financing a television ministry that can reach millions worldwide. (
This message is ideal for anyone desiring to reach a worldwide audience with the Gospel and is a particularly important message for any individual, ministry or church considering any type of television / radio ministry.)
Prophetic Activation: Prophetic Protocol
We read about prophets in the Bible but how does that affect our lives today? What is a prophet? Are there still prophets today? What exactly is prophecy? Who can prophesy? What is the character and the characteristics of a prophetic person? This powerful presentation includes activation sessions. (
This message is for any church or ministry that desires all that God has for them and desires the Prophetic to be activated in individuals and among the body of Christ.)
Seven Steps to Prosperity
Prosperity for a believer is not as simple of the world's definition of prosperity solely focused 'the big-bucks.' Deborah explores the truth of prosperity ... understanding what prosperity is, developing good habits, doing what you enjoy, understanding purpose, giving ten percent of your earnings, understanding the importance of a day of rest, understanding the importance of good character, and understanding the concept of being content (not satisfied). (
This keynote message is ideal for church services, leadership training, teaching conferences, financial conferences, women's ministry, and marriage conferences.)
---
Testimonials
"Dr. Deborah Harrell Isom has taught in several of our women's training workshops and was outstanding. The ladies were really energized by her powerful and anointed teachings. Deborah has also served as guest facilitator and lead minister for our prophetic presbytery at our annual conferences. I highly recommend Dr. Isom for any ministry event and I know that the audiences will be blessed."
Destiny Yarbrough
DestinyX.tv / DDH Ministries
"Dr. Deborah Harrell Isom is a dynamic teacher and conference speaker. She boldly engages her audience with zeal and reveals prophetically sound doctrine. She builds up, motivates, and sends out to the call of destiny."
Ellen Austin
Inspired Word Ministries
"Deborah does a great job teaching on the spiritual gifts and she can teach on this subject any time she wants here. She stirred our audience and caused them to think."
Michael Thompkins
World Changers Church International
"The message on prosperity was amazing and the altars were packed with people coming forward to receive prayer and the Word of the Lord."
Pastor Fred Wantaate
Senior Pastor, Makerere Full Gospel Church
Kampala Uganda, Africa
"Deborah's TV show Prophetic Times on VTN TV consistently wins its time slot weekly 5 to 1. Great teaching show and it is a great contribution to our network."
Susan Barnard
Program Manager, VTN TV
"Deborah is a great host on Atlanta Live. The anointing on her life causes the phones to ring off the hook with those calling in for prayer. She is a blessing."
Jennifer Eichelberger
Producer, WATC TV 57 Atlanta