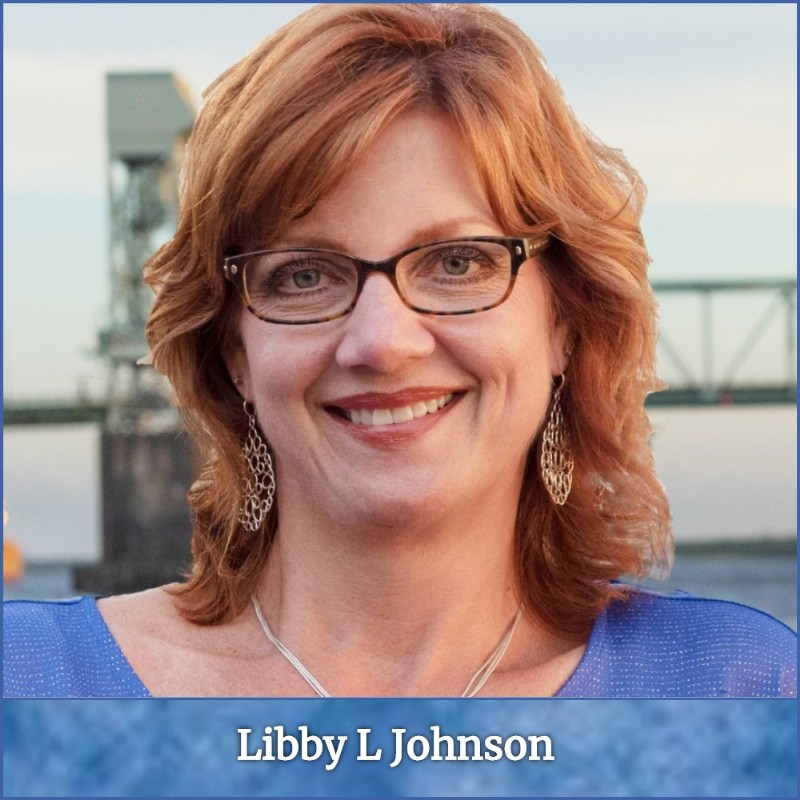 Libby L Johnson

Sermons / Church Services
Conferences and Retreats
Keynote & Break-Out Sessions
After-Dinner / Luncheon Speaker
Women's and Co-Ed Events
Travels from North Carolina
---
W
ith enthusiasm, a bit of humor, and stories from her life, Libby Johnson inspires confidence in others as they discover their fullest life. She supports people wanting to move from not enough to enough. Whether that is enough self-esteem, enough confidence or enough hope!
Having felt God's call to ministry later in life, Libby has a unique perspective with which to minister. She is a speaker, life coach, writer, preacher, ordained CBF Baptist minister, hairdresser, wife, mother and Christ follower.
Libby has been speaking and leading conferences and retreats since 2012, offering topics that bring hope, such as hope of a new name, intentional quiet time, overcoming shame, knowing you are enough, and trusting God in the waiting.
Libby loves to dig in deeper with retreat audiences! Her retreat programs include "Be Still: Learning to Find Stillness in a World That Never Stops" (focusing on intention quiet time) and "Let Go and Live Free: Loosen the Grip of Shame on Your Life."
"As a speaker, I bring a message of hope to folks that no matter where life has taken them, they can overcome and be all that God intended for them to be. So often, we don't move forward because we allow our past to hold us back. This was my story for years and God redeemed me and calls me by a new name, and I am compelled to share this with others.
Libby is a native of Wilmington, North Carolina, and a lifetime member of Winter Park Baptist Church. She graduated from Campbell University Divinity School in May 2016 with a Master of Divinity degree and was ordained in November 2016 by Winter Park Baptist Church.
Along with a passion for speaking, since graduation she has become a Certified Christian Leadership Coach (CCLC) and an Associate Certified Coach (ACC). Libby is a member of the International Coaching Federation. Coaching allows her to help people on a personal level as they strive to overcome obstacles and setbacks in life.
Libby has been married to her high-school sweetheart, Kenny, for more than 30 years, and has two adult boys, Brandon and Zack whom she loves and adores; they are great young men. Sounds like a perfect scenario, right? Well, life has thrown her a fair share of curve balls. Thankfully, having boys, she learned early on to "play ball." She admits she has not always been the perfect wife, mother, Christian or friend. BUT GOD, in his great mercy, grace, forgiveness and love, has allowed her to flourish and grow where he planted her.
In her spare time, Libby enjoys going to the beach, walking, reading for pleasure, and any kind of self-care. "Never feel guilty for self-care."
---
Hope In a New Name
This message looks at Isaiah 43, which is a passage of restoration and protection, and focuses on the restoration that God offers each of us. No matter what our past is and whether or not it breeds shame or insecurities, we learn in this message that we are enough. That God has renamed us, and he calls us redeemed, worthy, unashamed, honored, forgiven and enough. In this message you will learn that our hope comes from our faith in Jesus and our surrender to him. God calls you by a new name! We are left with the question of whether we will accept that new name.
Let Go and Life Free: Loosen the Grip of Shame on Your Life
Are you suffering from a painful past, struggling to forgive or accept forgiveness, feeling less than or not enough? In this message, Libby uses her research, personal stories, and God's timeless truths to help you to understand what shame is and how to recognize it, learn about shame resilience and the keys needed to help you bounce back from shame, and identify and begin the steps necessary to truly overcome and live freely.
Brene' Brown says that "shame is universal, and no one is exempt." As Christians, we want to believe that we are OK and that shame doesn't affect us. But Libby has found the opposite. She is passionate about the work of overcoming shame and sharing this message with churches everywhere.
Be Still: Learning to Find Stillness in a World that Never Stops
In today's world, when our feet hit the floor, we normally start our day with a myriad of tasks, often without a moment of quiet time. Quiet time has been a passion of Libby's for many years. It is not always easy, but God rewards our efforts. God created us to be in relationship with him. This message is based on John 15:5, "I am the vine, you are the branches, those who abide in me and I in them bear much fruit, because apart from me you can do nothing." Through her personal story of pruning, Libby teaches how to overcome busyness and find rest in God, discover that pruning allows you to become who God intended for you to be, and grow in confidence, knowing who you are in Christ, through your relationship with Him.
Trust God in the Waiting
John Ortberg says, "Biblically, waiting is not just something we have to do until we get what we want. Waiting is part of the process of becoming what God wants us to be." In Libby's message on waiting you will learn about an atmosphere of waiting; you will understand what this looks like and how we obtain it. Through Libby's own story of waiting, along with scripture on how to wait well, she will lead you to understand that even when we face difficulties, we can trust that God is there. You will also discover the importance of trusting the next step even when you don't see the big picture, and realize that nothing about your transition has taken God by surprise, so trust His plan.
---
Testimonials
Libby gave a beautiful message of how to apply God's word to our own lives at the "Be Still" conference. As a member of the WINGS ministry at Winter Park Baptist Church, Libby showed true leadership by walking the attendees through the steps needed to "prune" the busyness from their lives and find a true stillness with God. Her message was one of challenge and of inspiration. I highly recommend Libby as a speaker for any organization. You will truly be encouraged and blessed by Libby as she shares her heart with your group.
Kelly Lecci
Winter Park Baptist Church
Wilmington, North Carolina
I have attended both the "Be Still" retreat in the mountains and the conference that was held at our church. The time of worshiping and sharing at the first retreat was one of the most meaningful times of my life. Learning different methods of prayer helped me to connect with my Savior on a deeper level. Libby tried to help me figure out why I was resisting something so awesome. A year or so later, Libby hosted a similar retreat at our church. I talked with Libby again about my struggle and she encouraged me to walk the Labyrinth. It was a hard walk there, but I took one step into the Labyrinth and the tears started flowing. I just walked and prayed and cried and prayed and cried. These two events moved me in a such a way that not long afterwards, Libby baptized me.
Suzanne Shearer
Winter Park Baptist Church
Wilmington, North Carolina
I loved the retreat! I found that I was shaming myself on being a good enough mother or good enough wife or a good enough teacher. I was always comparing myself to others. After the retreat I walked away with some tools to be able to start my day with specific scriptures that told me who God says I am and to renew my mind throughout the day.
Sarah Bolton
Retreat Participant
Wilmington, North Carolina
Libby recently led a spiritual retreat for our office and it was absolutely wonderful! She was very intentional during the planning process about learning what we wanted from the retreat and provided great feedback and suggestions as to what activities would fit the personalities and preferences of the group. The retreat activities provided a wide range of opportunities for spiritual engagement that spoke to everyone on many different levels. It was a beautiful time of individual spiritual growth that was done in rich fellowship as a group. Libby embodies a beautiful spiritual presence that creates a safe, comfortable, and directive space for individuals to take part in a spiritual retreat. The retreat provided time together as a team that was both meaningful, memorable, and much needed.
Amber H. Johnson-Carter
Director of Admissions
Campbell University Divinity School
Buies Creek, North Carolina
I went on the "Be Still" retreat with Libby Johnson. The activities took me outside my comfort zone, at times, but I experienced true communion with God and deepened relationships with other women. Libby provided a wonderful balance of structure and space to allow God's spirit to work among us in powerful ways. The weekend was a true blessing!
Winter Park Baptist Church
Wilmington, North Carolina