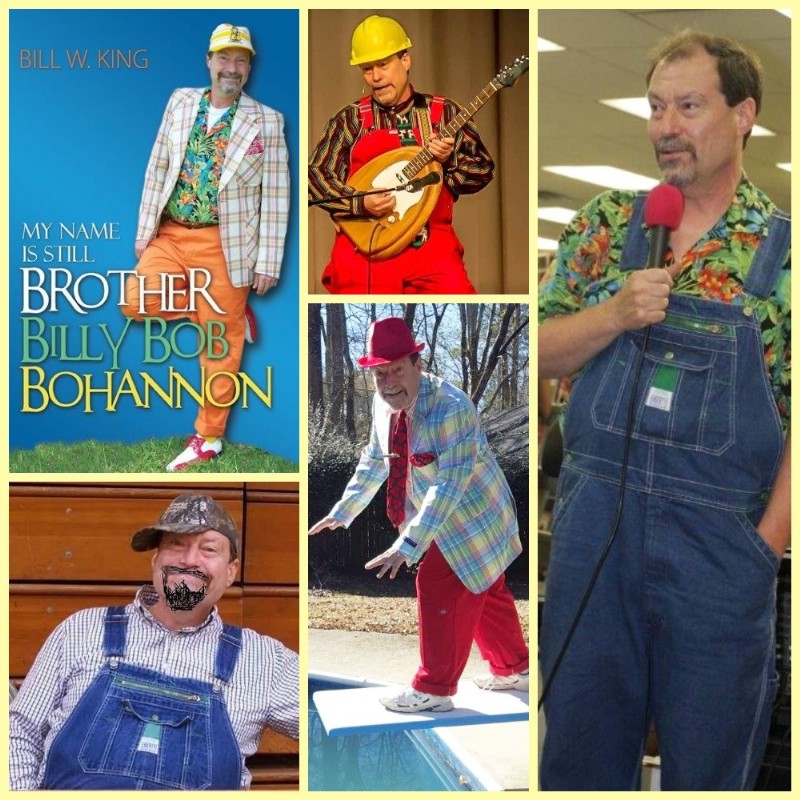 Bill King
a/k/a Bro. Billy Bob Bohannon
a/k/a Billy Bob
Clean Comedy
Humor with a Message
Preaching & Bible Teaching
Author:
Out of This World
But You Shall Receive Power
My Name is Still Brother Billy Bob Bohannon
Clean Up the House, Boys, Mama Has Hired a Maid
---
Travels from Alabama
---
Dr. Bill King is a husband, father, grandfather, ordained minister, humorist, storyteller, speaker, songwriter, singer, musician, published author, syndicated columnist, and cancer survivor. (He's not bragging about having had cancer -- he's bragging about beating it!)
Bill is a resident of Opelika, Alabama, and a native of Rainsville, Alabama, where he graduated from Plainview High School. He continued his education at Samford University, in Birmingham, and then earned master's and doctor's degrees from New Orleans Baptist Theological Seminary.
Bill has been married to Jean Willis King, also of Rainsville, since 1975. They have one married daughter and one ten-year old grandson. They also have two dogs, but they aren't nearly as cute as the grandson.
As a minister, Bill served as a pastor for thirty years. (That's probably why he acts so crazy!) He served churches in Fort Payne and Rainbow City, Alabama; Marietta, Georgia; and Southaven, Mississippi.
Since 2007 he has served as the Director of Tuskegee Lee Baptist Association, in Opelika, Alabama.
Bill has also performed clean humor and music as Bro. Billy Bob Bohannon since 2002. Billy Bob dresses in some colorful outfits, tells some colorful stories, and sings some crazy songs, but he doesn't dance.
His first appearance as Billy Bob was as an emergency fill-in at a Valentine's banquet at his church. The person who was scheduled cancelled at the last minute and with the banquet so soon, Bill was their only option. (They probably they didn't want to pay anyone else when they knew the pastor would do it for free!) Bill had no thoughts or ambitions of performing as Billy Bob again, but he began getting invitations from other churches.
Since then, on a part-time basis, he has done approximately 1,000 Billy Bob programs across Alabama, and much of the southeast. So far, Billy Bob has made appearances in thirteen states -- but not necessarily the original thirteen colonies.
He has appeared in churches, schools, community events, cafes and coffee houses, fairs and festivals, family events, as well as under an oak tree. He even performed in 2014 for the Alabama legislature. He has appeared several times on both "The Kenny Dean Television Show" in Alexander City and the "My Town Live" television program in Fort Payne.
Bill has been singing and playing guitar since childhood. He has since added the harmonica, banjo, mandolin, ukulele, and mountain dulcimer. He plays some unusual instruments in his programs, including a one-inch long harmonica, a ukulele that looks like a watermelon, and an electric guitar made from a commode seat! He's still fiddling with the fiddle but has not yet mastered it. He has written over two hundred songs (some serious; some not) and is a member of the Nashville Songwriters Association International. For five years he played and sung with The King's Band, a contemporary Christian band, in the Memphis area. He has recorded five music CDs and one CD of stories.
Bill is the author of eight published books, including three books of Billy Bob "stories and stuff," two Christian novels, a compilation from his newspaper columns, and two animated children's books with artist Joseph Copeland. His books are available through Amazon in paperback and for e-book download, in select bookstores, and directly from the author.
Bill's weekly columns currently appear in fourteen newspapers across Alabama, as well as on Facebook, in Christian Post Bindings, and the Coosa Journal Magazine. He also writes periodically (no pun intended) for the Christian magazine, Mature Living.
Whether speaking from a pulpit, at a school assembly, a festival, a leadership conference, or (where it all began!) at a Valentine's banquet, Bill King a/k/a Bro. Billy Bob Bohannon offers clean humor AND Bible-based, life-changing truth.
In his brightly colored outfits, with his trademark red and white dress shoes, Billy Bob presents programs of clean comedy, including stories and "stuff" from family, church, and ministry life, alternated with humorous songs (some originals and others that are parodies of familiar tunes!). Most programs conclude with some serious thoughts and Christian songs. All music is live, and Billy Bob accompanies himself with one of his many instruments. (Bill can provide programs with or without music, depending on your needs.)
Bill King enjoys communicating directly with each event planner or pastor to ensure a program that fits your theme and best helps you reach your goals for your event.

---
Testimonials
"Dr. Bill King has created a character that many of us in the South imagine really exists somewhere in one of our churches! Dr. King uses a blend of church humor, stories from everyday life, and outlandish costuming in his presentation to tickle your funny bone. He blends the jokes and storytelling with songs and music to give wide variety to his program. Dr. King also can lend a more serious side to your event as he is a gifted communicator of God's Word, having served as a pastor for over 30 years. I would encourage you to use my friend, Dr. Bill King, a.k.a. Bro Billy Bob "The Baptist" Bohannon, for your next event."
Mike Jackson
Director of Discipleship and Family Ministries
Alabama Baptist Convention
"He was great; our folks really enjoyed him. His get-up was pretty interesting."
Dr. Larry Felkins
Chilton Baptist Association
"Billy Bob's down home country humor is hilarious, and I highly recommend him for any type of event in your church where you want folks to enjoy a good laugh and enjoy some fun."
Wendell Dutton
Cherokee Baptist Association
"Billy Bob is one of the funniest acts out there!! He does comedy with music that all ages can enjoy. Bill King is truly a "King" among Christian comedians."
Danny Freeman
Minister to Students / Associate Pastor