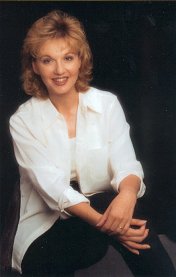 Cheryl Kirking
Corporate and Faith-Based
Conference Speaker
Author & Worship Leader
---
Cheryl Kirking tickles the funny bones and tugs at the heart strings of audiences nationwide through her Ripples of Encouragement(TM) Keynotes, Concerts and Workshops. She weaves her unique blend of original songs, home-spun humor and personal anecdotes. A popular keynote speaker for women's, church, business groups and educational conference, Cheryl is available for seminars, retreats and concerts. Cheryl regularly leads worship for women's conferences and at church services.
| | |
| --- | --- |
| She is the author of the books Ripples of Joy, All is Calm All is Bright, and Teacher You're an A+. She has written for the best-selling Chicken Soup for the Soul series, Stories for a Woman's Heart and numerous other books. A Certified Personality Trainer, she is a contributing author to the personality book, Getting Along With Almost Anybody and has discussed the topic on numerous radio and television programs, including LIFE TODAY and DECISION TODAY. | |
A songwriter and recording artist, Cheryl has recorded six albums of original songs, but considers her teenage triplets her greatest production! They inspire her writing, and also sparked her interest in studying personality types. As a Certified Personality Trainer, Cheryl helps others improve their relationships and gain a better understanding of themselves.

Cheryl is a member of the National Speakers Association, the Gospel Music Association, and is listed in "Who's Who in Professional Speaking." She has been twice nominated for "Best Female Performer" by the Independent Entertainers Association. She draws upon her background in teaching, public relations and psychology to enhance her fast-paced, uplifting presentations. She grew up on a farm in Wisconsin, and enjoys small town life with her husband and children.



---
Cheryl's Keynote Presentations Include . . .
Ripples Unlimited: Keynotes in Concert
Like a stone in the water, our words and actions often have a far-reaching ripple effect. Weaving original songs, humor and stories from her book Ripples of Joy, Cheryl presents a message of hope, joy and inspiration, reminding listeners that we each have the privilege of positively affecting others. C heryl customizes each presentation for the audience. Often requested for Volunteer and Staff Appreciation Banquets, Women's Events, Educational and Wellness events, Conference Kick-offs and Wrap-ups.
Jelly Side Down and Sunny Side Up
Gain perspective instead of losing your mind! She offers practical stress-management techniques, blended with humorous parodies which poke fun at everyday nuisances, like her crowd-pleasing song, Desserts is Stressed spelled Backwards. As the proverb says, "A cheerful heart is good medicine," so Cheryl encourages listeners to celebrate life!

It's Your Song
With a focus on personal responsibility, goal-identification, and a good dose of common sense, Cheryl encourages participants to identify, develop and share their unique talents. Audiences are challenged and inspired by the music and message.

Moving Ahead ... Without Leaving Your Life Behind
Are you so busy juggling responsibilities that you feel like you don't have a life? Thoughtful insight on choosing priorities, creating and maintaining balance, and living effectively.

A Unique Christmas Concert & Message
. . .
All Is Calm, All Is Bright: Finding Peace & Joy in the Holiday Season
Christmastime can be a hectic and harried time ... especially for busy women who want to give to others but find their own well running dry! Take time to experience the Peace and Joy of the season as author, humorist, and recording artist, Cheryl Kirking weaves her original songs and homespun humor with heartwarming stories from her book All Is Calm, All Is Bright. Cheryl will tickle your funny bones and tug at your heart strings while encouraging us all to have a meaningtul Christmas.
Some of Cheryl's Workshops . . .

The Personality Puzzle
Getting along with co-workers is an increasingly important skill. A survey of the top three traits employers preferred in employees revealed that 84% chose good

interpersonal skills

as their top pick, over education and experience! (Executive Magazine, May/June91) A Certified Personality Trainer, Cheryl shows how to identify the basic personality types in this informative and fast-paced workshop. She offers tools to bring out the best in one's self and others. Participants learn how to appreciate the uniqueness and value of each "personality puzzle piece", so they can work effectively and in greater harmony with others, creating a more productive environment. The information can be applied to improve personal as well as professional relationships. "The Personality Puzzle" is of high interest, because just about everyone wants to learn more about themselves and others!
(A half-day or full-day workshop, minimum 1 1/2 hours)


Join the Circle!
Are you so busy juggling responsibilities that you feel like you don't have a life? Studies of people who live long, productive lives reveal that they share some common traits which promote balance and health. In this fast-paced workshop, Cheryl Kirking encourages us to join this circle of folks, and to develop these traits in our own lives, to promote health in ourselves and in our relationships. You'll get a good dose laughter, along with thoughtful insight on choosing priorities, enhancing creativity, maintaining balance and living effectively.
---
Women's and Church Events Testimonials . . .



Many commented about there not being a dry eye in the room ... you truly touched our hearts ... the standing ovation was well-deserved!
Becky Deidrich, WMOTC convention planner, Green Bay, Wisconsin

Thank you for a beautiful conference! Our women are still raving about what a blessing you were to them. You are such a talented lady and so available to the Lord...
Faye Sager, First Baptist Concord Women's Conference, Knoxville, Tennessee

Your program was wonderfully received! We have had so many positive and enthusiastic comments on your program. Thank you for making our Women's Night Out a success!
Linda E. Brown, Vice President Marketing, Shawnee Regional Hospital, Shawnee , Oklahoma

Thank you so much for opening our Steve and Annie Chapman concert ... Your style was just right for our audience ... You reached the audience with your humor and music, and we would like to have you back...
Mark Hull, Fellowship of Christian Athletes, Eau Claire, Wisconsin

...will please fans of Evie,Twila Paris and Christine Wyrtzen.
Warren Anderson, Contemporary Christian Music Magazine
Thank you for speaking at our "Women's Night Out" dinner. We've had a lot of positive feedback and I hear lots of ladies are continuing to enjoy you by through your CDs and tapes!
Carol Bobo, Southside Baptist Church, Simpsonville, South Carolina

Thank you, Cheryl! Your words, your music, your witness touched us all in a meaningful way ... we hope to have you back soon...
Harriet Dial, Director, Shiproh Ministries, Belton, South Carolina

... [A] strong, clear voice, a variety of musical styles, and an ability to write songs with a personal spiritual message that will touch listeners.
Doug Trouten, EditorTwin Cities Christian
Cheryl performed before a sophisticated, knowledgeable audience. Offering an enthusiastic standing ovation, hundreds loved her and wished the program would go on hours longer! The feedback received from audience members' evaluations was adi very positive...
Ginny Miller, Wisconsin Association for Family & Community Education

We want to thank you for a job well done. You blessed us , and were a joy to have for our Women's Praise Gathering ... We heard lots of good things from those who attended ....
Louise Sorrel, Chairperson Western Kentucky Women's Praise Gathering, Madisonville, Kentucky
Best women's retreat we've had! ... the comments have all been very positive, and we want to have you back soon...
Cheryl Lingle, Retreat Planning Committee-Brown Deer UMC , Brown Deer, Wisconsin

We deeply appreciate your presence with us ... Your music, words and Christian witness were a blessing to all...
Rev. Paul Tangonan, Linda Vista UMC, San Diego, California




---
Corporate and Association Testimonials . . .
Cheryl's Personalilty Puzzle workshop was just for right our group ... fast-paced, very valuable information. Cheryl was funny, too!
TDS Telecom, Madison, Wisconsin
Cheryl is a talented singer and speaker with a warm personality. She is certain to help make any event a huge success!
Laura Schreiner, Northeast Iowa Community College
Very entertaining, informative, and did 'Tickle' the funny bone of everyone there. Thanks for helping make Able's Spring Show the best ever.
Michael Libman, Executive Vice President, Able Distributing Co., Inc, Wausau, Wisconsin
Your program was wonderfully received! We have had so many positive and enthusiastic comments. You provide a very beautiful program.
Linda E. Brown, Vice President Marketing, Shawnee Regional Hospital, Oklahoma

Excellent! People couldn't say enough good things about you! ... [A]s one respondent wrote, 'Cheryl Kirking was a wonderful breath of fresh air. A great message presented is a unique way!'
Anna Vedra, March of Dimes, Wis. Chapter, Madison, Wisconsin
Your keynote at the conference was a great change of pace. You struck a cord with everyone there (obvious with the standing ovation!).
USDA Rural Development Conference
Cheryl is an exiting, vibrant keynote speaker. She knows how to get and keep an audience's attention. She inspires participants to improve professonally and personally. I have hired hundreds of keynote speakers and Cheryl is by far one of the best and at the top of my list to use in the future!
Jenny Bryson, Clemson University, Clemson, South Carolina
I have heard nothing but great things about the sessions you presented! You did a super job - Your subjects were very timely and much appreciated ... you encouraged us all to "Join the Circle!"
Barb Schlafer, Prologue Program Chair, Aid Association for Lutherans, Appleton, Wisconsin
One of the best speakers in recent times...all the audience comments have been positive.
Simplicity Manufacturing's Management Club, Port Washington, Wisconsin
Cheryl performed before a sophisticated, knowledgable audience. To say they appreciated and applauded her is an understatement. Offering an enthusiastic standing ovation, hundreds loved her and wished the program whould go on hours longer! The feedback received from audience members' evaluations was
all
very positive ... Cheryl has a beautiful voice, moving stories, and perfroming music she has composed herself, offers an original and extraordinary performance! I would recommend her highly and know she can tailor her program to any age group and around a variety of topics.
Ginny Miller, University of Wisconsin-Madison's "College Days"

Many commented about there not being a dry eye in the room...you truly touched our hearts...the standing ovation was well-deserved!
Becky Deidrich, WMOTC Convention Planner, Green Bay, Wisconsin
"I heartily recommend Cheryl Kirking, whether for a keynote, workshop or other gathering. Each time we have asked her to do a program she has done so with substance and style, offering insight as well as entertainment, every program unique. Our evaluations have always come back positive."
- David Amundson, (International Students Program) Westby, WI

Excellent! Cheryl, you touched our very soul. Inspirational, but not heavy...Entertaining, but not frivolous! You have your act together!
Ginny Gauerke, Chairperson, Wisconsin State 4-H Leadership Conference
Everyone wants Cheryl back again next year! Her appeal is based on her down-to-earth approach, using real-life experiences, humor, and her gift of music to bring about a highly successful experience.
Kathe Bogdan, Mount Mary College (Alumni Retreat), Milwaukee, Wisconsin

---
Children's Event Testimonials . . .
Kirking, a petite mother of triplets, sang with the energy of a child and the wisdom of a mother who knows what children are going to like - but also what they need to hear. An audience favorite was "The Dinosaur Stomp", which combined a playful jazz-style tune with a simple dance in which the kids and adults got to imitate dinosaur's movements. For the adults, listening to Kirking's smooth jazzy voice was a welcome way to start the day, while for the children, she spelled pure fun...
The Waterloo Courier
Cheryl Kirking entertained and inspired the families in the audience with crazy "being-silly" songs as well as songs about respecting and nurturing each other. She presents an excellent program, with great variety of musical syles and wonderful values presented in a fun way!
Jeanne Freer, Integrated Student Services, DeForest, Wisconsin

Cheryl, your song A HUNDRED RIPPLES continues to penetrate the hearts and the minds of the four hundred and forty students, their parents and the staff at Sunset Ridge Elementary school. First, we felt the ripples while listening to the simple yet profound words of the song as sung by our schoolchildren at the opening school assembly in September 2000. Our music teachers report that A HUNDRED RIPPLES is still the most requested song in our music classes each week. Second, the ripple effect continued last November, when Ripples of Joy and A HUNDRED RIPPLES CDs were in great demand at the all school book fair. Finally, the Ripplemaker pins worn by teaching staff are a reminder of the positive effects that our words and actions have on each other. Thank you for being a Ripplemaker!
Dr. Ethel Wegner, Principal, Sunset Ridge Elementary School, Middleton-Cross Plains Area School District
I am a preschool teacher and my students are 4-year-olds. We are an employee day-care for a large hospital. My kids ask for your tape every day! They love your songs and stories! I am so pleased to discover your tapes...the music and message is for young and old alike...
G. Pratt Dunlap, Ann Arbor, Michigan

Cheryl Kirking's songs are creative and imaginative and motivate the listener to respond. Her stories and songs have a solid message while her jazz and blues style makes the listener move, clap and sing along ... the lyrics draw vivid mental pictures, capturing the imagination of young people.
M. Duea, Music Teacher, Brown Deer, Wisconsin

Please consider my family among your newest fans. My five-year-old wants to know when is you next tape coming out? We can't wait! You've actually done it...written children's music that parents can enjoy, too. Your lyrics are intelligent and clever, the arrangement catchy. I find myself humming them at work!
Joe Carper, Bethesda, Maryland

Thank you for providing great entertainment at our Healthy Baby Fair at East Towne Mall .... I heard nothing but rave reviews!
Anne Vedra, March of Dimes, Wisconsin Chapter
---
| | |
| --- | --- |
| | If you enjoy songs that appeal to the intellect and the spirit, Cheryl's CD A Hundred Ripples is for you. From the rich mix of dulcimer, fiddle and harp in "Keeper of My Dreams", to the smoky blues guitar in "Hole in Your Sock", Cheryl Kirking's latest CD contains eleven songs in a wide range of musical styles. The title song, "A Hundred Ripples", blends rich harmonies and acousitic guitar and fiddle. Also: "Someone Else's Eyes," "It's Your Song," "Simple Gifts," a sweet rendition of "I Will" (McCartney / Lennon), "Gratitude," and more. |
| | |
| --- | --- |
| | The touching Christmas song "What Can I Give Jesus?" is now presented in this quality gift book with the CD, sung by songwriter Cheryl Kirking, and beautifully illustrated by the artist, Ann Thomas. "A delightful Christmas message for all ages. It asks a question we should all be asking and provides the answer in a way that we all can understand and follow. Wonderful reading and listening" ... Ed Butchart, Professional Santa for 20 years and author of "Red Suit Diaries." What Can I Give Jesus? will open your heart to give and receive! |
| | |
| --- | --- |
| | Teacher, You're an A+ is a delightful gift book of wit, wisdom and warmth to encourage any deserving teacher! Cheryl knows teachers need encouragement...she was a classroom teacher for years ... and she's married to a teacher! |
| | |
| --- | --- |
| | All Is Calm, All Is Bright is a collection of more than fifty true heartwarming stories from the lives of ordinary people which depict hope and peace by showing how struggling characters' lives are transformed by Christmas joy. A book to help you find the true meaning of Christmas this season! The scripture which follows each story ties the message into our lives ... year 'round! Phrases from the carol Silent Night are used to divide the stories into parts: (examples "Heavenly Hosts Sing Halleluia: Angels Among Us", "Sleep in Heavenly Peace: Tranquility Restored", etc.) |
| | |
| --- | --- |
| | Although created for ages 2-9, grown-ups also enjoy the music of Get Mo-o-o-vin'!, which ranges from jazzy blues to foot-stompin' country to sweet lullabyes. The messages of the songs are for all ages, to! Adults especially enjoy the bluesy "Evangeline the Dancing Holstein!". Jokes and riddles are interspersed with the 12 tunes. Songs included are: "Evangeline, the Dancing Holstein", "Howdyado?", "The Dinosaur Stomp", "Grandma's Garden", "Dance Time","I Don't Like Mosquitoes", "The Whistling Farmer", "Old McDonald's Farm Revisited", "I'm Glad I Don't Eat Bugs", "The Sit-down-Stand up-Turn around-Song", "I See the Moon", and "Up In a Swing". (All except the last two are written by Cheryl.) |
| | |
| --- | --- |
| | This eclectic collection was written especially for women, Don't Sweat the Small Stuff! includes eleven songs which have been popular at Cheryl's programs - parodies which poke fun at everyday nuisances and tender ballads to warm your heart:"If I Could Hold This Moment", "Triple the Fun", "Desserts is Stressed Spelled Backwards","Christmas of My Dreams", "Don't Sweat the Small Stuff!", "Dance Time", "The Child In You", "I Wish I May", "I'm an M.O.M. (A Mother of Multiples)", "I Got Those Shouldn'ta-Eaten- All - Of - Those - Little - Baby - Snickers - Bars - Blues", and "Baby Mine". |
| | |
| --- | --- |
| | In your Arms, Cheryl's best-selling debut album of original Christian songs, includes her popular Christmas ballad "What Can I Give Jesus?" along with "Earthen Vessel", "Letting Go and Letting You", "In Your Arms", "The Magic of Love","Joy Comes With the Morning", "Dear God", and Cheryl's original melody to "The Lord's Prayer." |
| | |
| --- | --- |
| | The Wind That Blows Forever includes ten contemporary Christian songs, including "Roses in December", "You Are Here", John 11:25 and 3:16 ("I Am The Resurrection"), "His Precious Child", "It's Time We Come Together", "House on the Rock", "The Child In You", "The Wind That Blows Forever", "Above All Else", and a fresh arrangement of the traditional spiritual "There Is a Balm in Gilead." |
---
Click here to request The Robinson Agency email updates

In order to receive updates that are of most interest to you, please include the state where you live and, if applicable, the type of ministry in which you serve. Please include your email address if it is different from the email address you use to send your request.
---