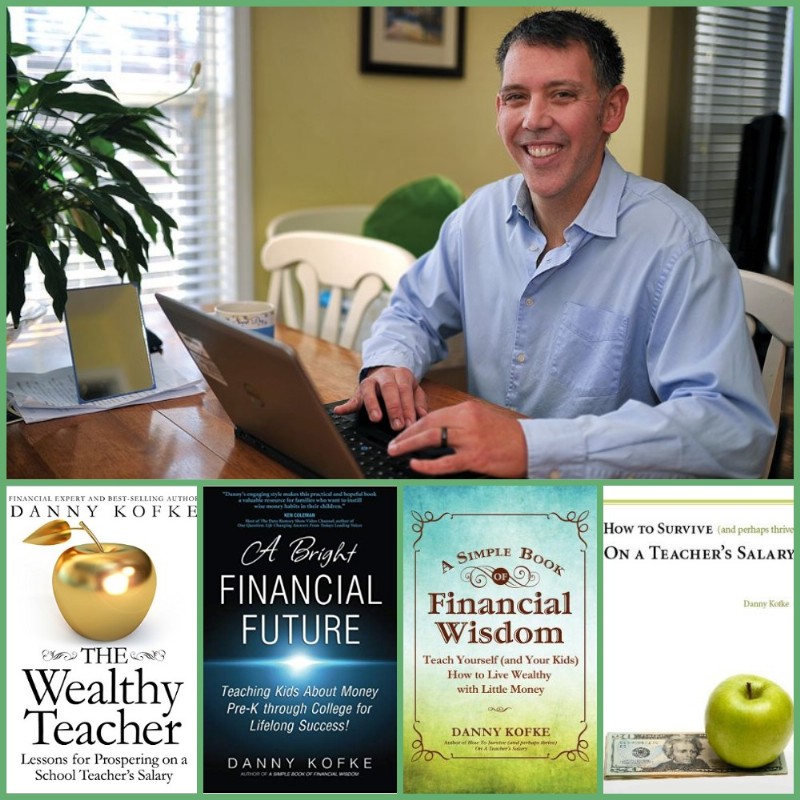 Danny Kofke
"The Wealthy Teacher"
Corporate Conference Speaker
Keynote Presentations for
School Systems and Educators' Associations
Home School Conferences - Women's Conferences
Churches - Leadership Conferences
Author of
The Wealthy Teacher: Lessons for Prospering on a School Teacher's Salary
A Bright Financial Future: Teaching Kids About Money Pre-K through College for Life-Long Success
How to Survive (and perhaps thrive) On a Teacher's Salary
A Simple Book of Financial Wisdom: Teach Yourself (and Your Kids) How to Live Wealthy with Little Money
---
Danny K

ofke is passionate about helping families become financially free. The principles and practices that have helped his family of four reach a point of financial freedom on a teacher's salary are applicable to anyone who dreams of financially thriving instead of barely surviving.
Danny recently returned to the classroom after a couple years' hiatus to help teachers win with their money. O
n behalf of an organization that oversees retirement plans for school districts across the southeastern United States, Danny presented to thousands of educators to help them better manage their money.
Danny's love of teaching and personal finance has led him to write four books. His everyday approach to handling money has led to appearances on numerous television shows, including Fox & Friends, The CBS Early Show, CNN's Newsroom, The 700 Club, and The Clark Howard Show.
He has also been interviewed on over 600 radio shows and featured in a number of publications, including USA Today, The Wall Street Journal, Yahoo.com, Money Magazine, Consumer Reports, Reader's Digest, and The Huffington Post.
Danny's wife, Tracy, was a first grade teacher before becoming a stay-at-home mom to their daughters Ava and Ella. After living on Danny's $42,000 salary for eight years, Tracy returned to the classroom a few years ago and currently works part time. Despite living on a moderate income for years, the Kofkes have no debt except their small mortgage, have a one-year emergency fund in place, invest to ensure they will retire with a sizable nest egg and, most importantly, live wealthy lives on less.
Danny offers presentations for corporate audiences, school systems, churches - - and any organization that wants to help their members move to a new level of financial freedom.
---
Danny's Most Requested Speaking Presentation
Living a Wealthy Life on Less
Most Americans are worried about their financial situation. In fact, according to a poll, 65% are losing sleep over money worries. In addition, just 29% have enough savings to cover the recommended six months of expenses, and 23% have no savings at all! In this program, teacher, financial expert and best-selling author Danny Kofke shows how to
Live a wealthy life on a moderate income

Raise a family on a modest salary

Develop and stick to a budget for good

Build up an emergency fund

Become completely debt free

Invest for retirement

Save money starting today

Live a wealthy life
Danny is living proof that one does not have to have a degree in finance to do well with money. Danny's empowering presentation teaches the "how to's" of living a wealthy life on less and demonstrates that if he can become wealthy on a school teacher's salary, you can too!
---
Testimonials
Danny, thanks for taking the time to talk with our faculty / staff and for taking the time to answer my specific questions. ... I am looking forward to reading the book I received yesterday as a door prize.
Assistant Principal, Emanual County
Thank you, Danny! I appreciate all you are doing to help our employees plan for their future!
I really appreciate your time and advice. You certainly gave me much to consider and a valued opinion.
I want to thank you for stopping by and bringing me the books! ... I plan to order each of my children a copy of your daughter's book. After looking at it, it seems that it would be engaging, even for my six year old! I enjoyed talking with you as well, and I truly appreciate your help and advice.
Assistant Principal, Murray County
Thanks, Danny! I appreciate you guys coming here to talk to me, and I greatly appreciate all the much-needed advice!
Thank you for meeting with us. Planning for the future is important and great guidance is truly valuable and appreciated!
It was great meeting you. Thanks for helping me. May God continue to bless you and your family in all that you are doing.
I just wanted to take a moment and brag on Danny Kofke. He has been absolutely wonderful! We have had more people start contributing / increasing contributions with Danny here this week than we have at any other time when a Lincoln representative has come to Murray County Schools. I truly believe it is all because of Danny and the way he explains the importance of saving for retirement and how he interacts / connects with all of the employees.
Thank you so much for the time you spent explaining things to me. I have shared your presentation with so many people. I also told them about your daughter's book. I am so grateful that you came to our school. It really helped me make a decision about remaining in Georgia. Thank you for listening as well as receiving my spiritual side of things.
Lulila Crawford
Teach, Peach County
I wanted to let you know what an awesome job Danny Kofke did at New Hire Orientation. Danny had a fabulous presentation. He was on our level and was able to relate to the audience because he has been there right where they sat. I think Danny is a very valuable part of your company and I wanted you to know that it is appreciated at Gordon County Schools.
Benefits Coordinator / Workers Compensation