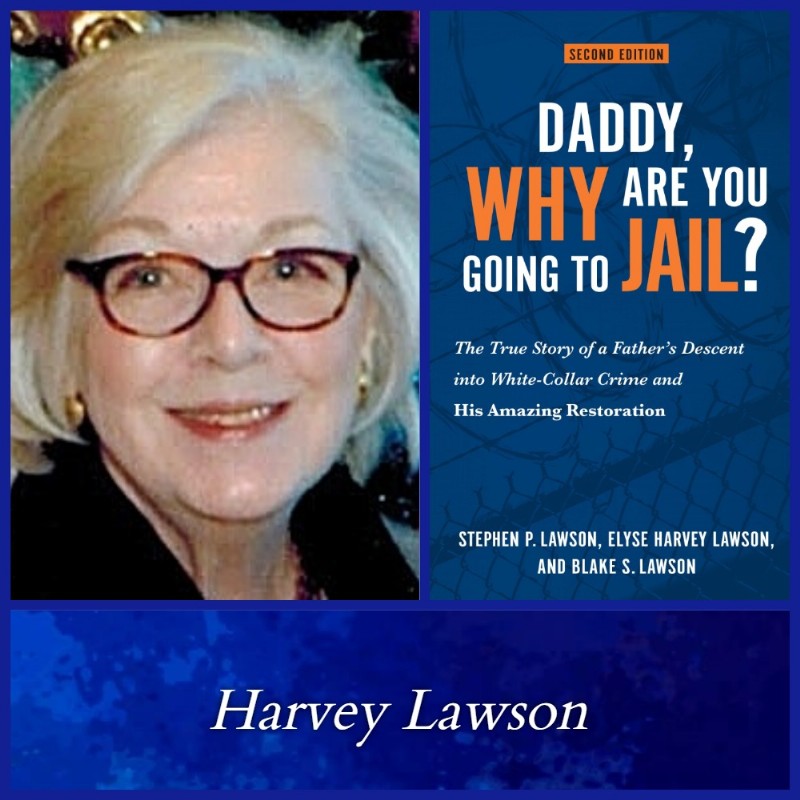 Inspirational Speaker
Co-Author of
Daddy, Why Are You Going to Jail?
The True Story of a Father's
Descent into White-Collar Crime
and His Amazing Restoration
---
Travels from Georgia
---
Our world collapsed. We were shaking with fear ... undone, powerless, immobilized by the words of Judge Warner, "Eight years," he said. The judge handed down two four-year sentences to be served consecutively with five years of probation. My husband was so stunned he turned to his attorney to make sure he had heard the sentence correctly.
Stephen and I had come to faith in Jesus Christ on the same day within the same fifteen minutes of each other in different cities without one knowing what the other had done. We had encountered Christ just ten months before the prison sentence. The story I share is the witness of God who transformed two people who seemed totally unlikely to become sold out for Christ. My husband, Stephen, was Jewish and I an Episcopalian, but one in name only. I was a belonger, but not a believer. I identified with the Episcopal Church but faith in God had never moved down deep in my heart.
I share with a Christian audience a story of brokenness and restoration. It is about the love of God for a family who cried out to him in their pain and anguish; it is about the love of a husband and wife who were committed to Christ and to each other; and it is a story about the love of a family whose bond could not be broken. By the power and grace of God, we found we could "press on toward the goal for the prize of the upward call of God in Christ Jesus." Philippians 3:14
As believers, we have such Good News to share, but often it is quite difficult to make an impact even on the people living next door, let alone our extended family members! Sometimes it takes a total stranger to share their personal story of sin, repentance, forgiveness, and restoration for another to recognize his or her own need for God and His plan for their life. My purpose for sharing our story of brokenness is to bring hope to the one who is stuck or lost in the pain of adversity.
Daddy, Why Are You Going to Jail? Those were the words of a five-year-old boy whose heart was breaking as his Daddy was leaving for Eglin Federal Prison. Those words became the title of the original book.
Several years ago, we were encouraged to republish. Stephen and I decided to add the next thirty-four years after he returned home from prison. The return can be as devastating as the departure. The second edition, published in 2019, includes the original book along with new material which Stephen and I wrote with contributions from our son, Blake Lawson.
These life-changing events took place years ago, but the truth and reality of our story are timeless.
---
Advancing Through Adversity
Adversity and suffering are universal. Adversity is no respecter of persons; it comes to all at some point in life. If you have escaped adversity so far, then hang on because we will explore the benefits of adversity and how to advance through it so that you can end up with an eternal perspective. I speak from a personal point of view and will tell you without hesitation that the trials and tribulations my husband and I encountered were worth it. I am saying P-R-I-S-O-N was a blessing because it radically changed us for the good and for good!
Short Shrift: Make your confession quick and keep it short and pithy!
Why do we need to forgive others who have sinned against us, and why do we need to repent and ask for forgiveness when we have injured someone else? The reasons are basic and obvious, but many people need to fully comprehend the emotional, psychological, and spiritual benefits of handling forgiveness rightly. Additionally, they need to fully understand the unintended consequences when forgiveness is handled poorly or not at all.
The Gift of Perspective
What do you chase? Money, power, position, and success? A little adversity can have a tremendous effect on your life's perspective. Often, we hear the siren call from the world's culture beckoning us to make lots of money, be all that we can be, make a name for yourself. It tells us to maximize pleasure and minimize pain. But does it deliver? I share from our personal story the fact that tremendous financial success isn't all that it's advertised to be. The short-term benefits fade, and the long-term emptiness and overwhelming vacuum can only be filled by the One who is greater than ourselves.
---
Testimonials
"When Elyse Harvey Lawson spoke at our Philoptochos meeting, she held everyone's attention. She spoke from her heart with compassion and sincerity. The presentation ended with all of us desiring more. We look forward to having her again."
Patricia Koutouzis
Philoptochos President
"I am writing to let you know that this past November Harvey Lawson spoke to a Board that I am President of, The Metropolis of Atlanta Philoptochos Board. We are a Greek Orthodox Ladies Philanthropic organization. Havey attends church with one of the Board members and she suggested that we invite Harvey to speak to us. She was a wonderful speaker and all the ladies enjoyed hearing Harvey's life story. It was especially interesting to hear about their journey to find the Orthodox faith and finding God during a most difficult time. You could just feel how important her faith is to her and her love for Jesus Christ! I can say that we could have listened to Harvey speak for a lot longer!"
President, Metropolis of Atlanta Philoptochos
"I was so touched by your testimony. Your courage. Your openness. Your humble spirit. Your message is vibrant and convicting on many levels. Though we don't see too many "Silver Service" status symbols today, there are even more empty "look at me" efforts in the culture today that truly break your heart. You will never know what an impact your story will have on people who hear about it directly or hear it from others. God bless you and Blake as you share your story. May He use it in many hearts in many places."
Marie Alderson
"I want to take a moment to tell you how much I enjoyed hearing your story last night. You are an incredible speaker, and I didn't want the evening to end! You and Blake are so inspirational. What you said about a family's values and moral settings was so interesting ... it's easy to see how we all grew up believing certain things about ourselves and our adult expectations. Your talk also made me think about my own life - its ups and downs - and how I've handled the adversities in my life. I hope that I can utilize your observances and incorporate your responses to life's woes in my own situations. I have "believed" since I was a teen, and I know that it is only because of Christ that I am surrounded by a wonderful family and friends. What you talked about last night only cements that in my mind and heart. Thank you for sharing with all of us."
Barbara Windsor
"This is to certify that I know Elyse Harvey Lawson for more than 10 years. She has presented several times at our parish and is always welcome to do presentations. Her strong and unwavering faith, her light-hearted approach, and her depth as a Christian have been her strong points. My parishioners love her and look forward to her presentations.
Elyse Harvey Lawson is a lady of honor and integrity whose love for the Lord is always apparent. I
highly recommend Elyse Harvey Lawson as a speaker."
Fr. Panayiotis Papageorgiou, Ph.D.
Presiding Protopresbyter of Holy Transfiguration
Holy Transfiguration Greek Orthodox Church
Marietta, Georgia
"Elyse 'Harvey' Lawson is a wonderful speaker and I have been proud to hear her give testimony through several lectures on her late husband's book, Daddy, Why Are You Going to Jail? Harvey co-authored the second edition along with their son, Blake."
Dee Williams
West Vinings Place Events Co-Chair