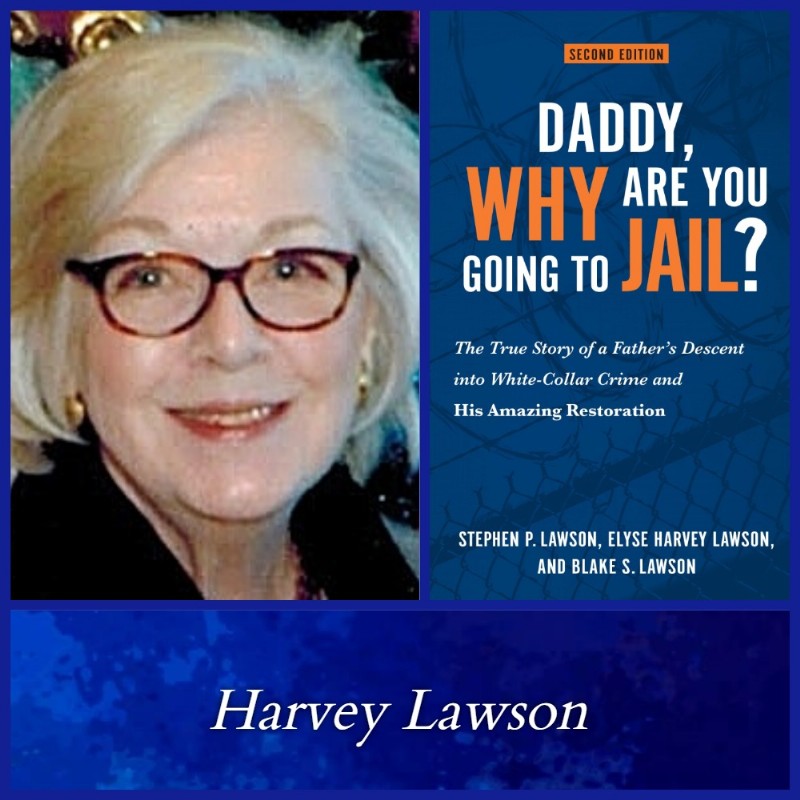 Inspirational Speaker
Co-Author of
Daddy, Why Are You Going to Jail?
The True Story of a Father's
Descent into White-Collar Crime
and His Amazing Restoration
---
Travels from Georgia
---
Greetings and welcome to my bio! I am Elyse Harvey Lawson, co-author of the 2nd edition of Daddy, Why Are You Going to Jail? The book was authored by my late husband, Stephen Lawson, and was originally published in 1992 with a Foreword by the late Chuck Colson, founder of Prison Fellowship Ministry. The second edition was written by Stephen and me with contributions from Blake, our son. It includes the original book plus the next thirty-four-years after Stephen came home from prison.
Born and raised in Atlanta, Georgia, my interests in my youth gravitated toward the arts as a ballet dancer and actress. I danced with the Atlanta Civic Ballet through my freshman year in college at Georgia State and began acting in local theater organizations. My first acting role was in Auntie Mame, playing the ingenue, Gloria Upson, and from there numerous parts; the acting bug had bitten!
I moved to New York City as a twenty-one year old to seek a career in theater and dance. Knowing that it takes at least ten-years to get discovered overnight, I made the decision that I wouldn't consider getting married before my early thirties. However, love struck, and I married the funniest, kindest man and my very best friend in 1966. A native New Yorker and lover of all things New York, Stephen never dreamed we would move to my hometown, Atlanta, but move we did!
After a few starts and stops Stephen found his way commercially and we began chasing success. Stephen achieved commercial recognition and we had financial ease. I loved being Mrs. Stephen P. Lawson with president or chairman of various arts organizations after my name. I had given up a career in theater but found I had real organizational and fundraising abilities and loved every minute of it. I relished being a mover and shaker. The various volunteer positions validated me and gave me a place in the social pecking order in Atlanta. Many of my friends belonged to the Junior League of Atlanta and being invited to become a member was at the top of my list! On the top of Stephen's list was being invited to join a country club where business deals could be consummated on the golf course. Just as we both achieved our individual goals, the bottom dropped out of our world.
Right before April of 1974, Stephen discovered that his attorneys had not filed the 6-J exemptions that were required for private placement offerings by the Georgia Securities Commission. If you were a general partner of an investment offering of twenty-four units or less, the 6-J exemption had to be filed prior to Aril 1, 1974. The Georgia security laws had changed and there was now no savings clause after April 1st. There was no grace; no back dating; no penalty or fee that could alter the devastating effect of having failed to file the paper work.
Our world collapsed in 1974. The eventual outcome from the issue on the non-filing of the 6-J exemptions mushroomed into a full-blown security violation. My husband was a salesman extraordinaire, but he had not paid attention to details and had allowed his business, which had grown rapidly, to become sloppy and he had cut corners. No matter what his attorneys did or did not do, Stephen was ultimately responsible for the mess he found himself in. He now had to account for every mistake he or they had made in the running of his business. He ultimately pled guilty, stood before a judge, and awaited his sentencing. His attorney expected a light sentence of no more than six months, but when the judge handed down an eight-year sentence it took our breath away and left us shaking with fear.
Daddy, Why Are You Going to Jail? is a love story: the love of God for a family who cried out to Him in their pain and anguish; the love story of a husband and wife who were determined to trust God and keep their marriage and family together; and the love of a family whose bond could not be broken.
The book is an account of advancing through adversity. It is the story of God transforming two people who seemed totally unlikely to become sold out for Christ. Stephen was Jewish and I was an Episcopalian but in name only. Stephen began reading the Word of God because of an encounter with God on a highway in Florida but I dug in my heels and wanted no part of a personal relationship with God, Jesus or the Holy Spirit. It was a spiritual battle taking place in our home and time was running out. However, when the Lord begins a work in you or me, He will bring it to fruition.
"I am confident of this very thing, that He who began a good work in you will perfect it until the day of Christ Jesus." Philippians 1:6

Our story and the story I bring to a Christian audience is one of advancing through adversity. It is a story of forgiveness and the power of God in an ordinary person's life. Every Christian denomination has non-believers sitting in the pews. My true motivation is one of evangelism. Time is short for both me and for those sitting in the pews. We have such Good News to share, but often it is quite difficult to make any headway with the people living next door. However, I have found that they show up to church or attend a conference because in their heart of hearts they are seeking the truth, and the one who is the Truth. Sometimes it takes a total stranger to share their personal story of forgiveness, repentance and restoration. This is my heart and purpose as it was my husband's. These life changing events took place over forty years ago, but the truth and reality of our story is timeless.
My husband passed away in 2015. Blake Lawson is our only child. We reside in Atlanta, Georgia, and are members of Holy Transfiguration Greek Orthodox Church. Our journey to Eastern Orthodoxy is an interesting story all by itself which we cover in the second half of our book.
---
Advancing Through Adversity
Adversity and suffering are universal. Adversity is no respecter or persons; it comes to all at some point in life. If you have escaped adversity so far, then hang on because we will explore the benefits of adversity and how to advance through it so that you can end up with an eternal perspective. I speak from a personal point of view and will tell you without hesitation that the trials and tribulations my husband and I encountered were worth it. I am saying P-R-I-S-O-N was a blessing because it radically changed us for the good and for good!
Short Shrift: Make your confession quick and keep it short and pithy!
Why do we need to forgive others who have sinned against us, and why do we need to repent and ask for forgiveness when we have injured someone else? The reasons are basic and obvious, but many people need to fully comprehend the emotional, psychological, and spiritual benefits of handling forgiveness rightly. Additionally, they need to fully understand the unintended consequences when forgiveness is handled poorly or not at all.
The Gift of Perspective
What do you chase? Money, power, position, and success? A little adversity can have a tremendous effect on your life's perspective. Often, we hear the siren call from the world's culture beckoning us to make lots of money, be all that we can be, make a name for yourself. It tells us to maximize pleasure and minimize pain. But does it deliver? I share from our personal story the fact that tremendous financial success isn't all that it's advertised to be. The short-term benefits fade, and the long-term emptiness and overwhelming vacuum can only be filled by the One who is greater than ourselves.
---
Testimonials
"When Elyse Harvey Lawson spoke at our Philoptochos meeting, she held everyone's attention. She spoke from her heart with compassion and sincerity. The presentation ended with all of us desiring more. We look forward to having her again."
Patricia Koutouzis
Philoptochos President
"I am writing to let you know that this past November Harvey Lawson spoke to a Board that I am President of, The Metropolis of Atlanta Philoptochos Board. We are a Greek Orthodox Ladies Philanthropic organization. Havey attends chruch with one of the Board members and she suggested that we invite Harvey to speak to us. She was a wonderful speaker and all the ladies enjoyed hearing Harvey's life story. It was especially interesting to hear about their journey to find the Orthodox faith and finding God during a most difficult time. You could just feel how important her faith is to her and her love for Jesus Christ! I can say that we could have listened to Harvey speak for a lot longer!"
President, Metropolis of Atlanta Philoptochos
"I was so touched by your testimony. Your courage. Your openness. Your humble spirit. Your message is vibrant and convicting on many levels. Though we don't see too many "Silver Service" status symbols today, there are even more empty "look at me" efforts in the culture today that truly break your heart. You will never know what an impact your story will have on people who hear about it directly or hear it from others. God bless you and Blake as you share your story. May He use it in many hearts in many places."
Marie Alderson
"I want to take a moment to tell you how much I enjoyed hearing your story last night. You are an incredible speaker, and I didn't want the evening to end! You and Blake are so inspirational. What you said about a family's values and moral settings was so interesting ... it's easy to see how we all grew up believing certain things about ourselves and our adult expectations. Your talk also made me think about my own life - it's ups and downs - and how I've handled the adversities in my life. I hope that I can utilize your observances and incorporate your responses to life's woes in my own situations. I have "believed" since I was a teen, and I know that it is only because of Christ that I am surrounded by a wonderful family and friends. What you talked about last night only cements that in my mind and heart. Thank you for sharing with all of us."