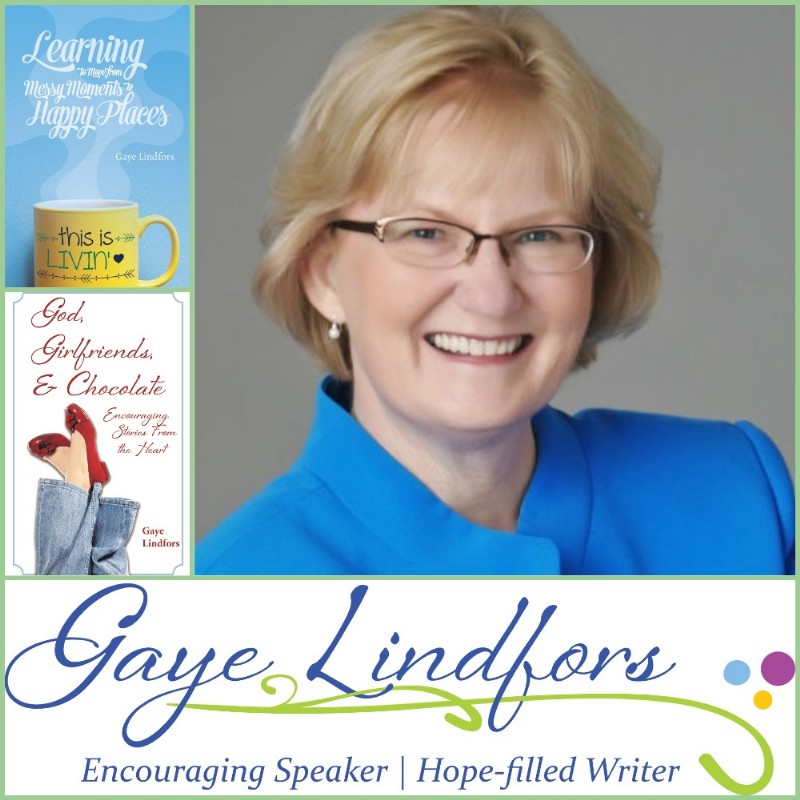 Gaye Lindfors
Motivational / Inspirational Speaker
Conferences, Retreats - Luncheons and Banquets - Women's Ministry Events
Keynote - Master of Ceremonies
Author of
This is Livin'!  Learning to Move From Messy Moments to Happy Places
and
God, Girlfriends & Chocolate
---
Refreshing your faith and bringing you contagious joy!
Gaye approaches life as a front-row observer of celebrations, messy places, and "you've got to be kidding me!" moments.  And through it all she remembers, God is faithful. Always.
Her connection with people's hearts is engaging and authentic.  She laughs and shares tears with women who want to live a faith-filled and joy-filled life. She's asked God to meet her in her good times and not-so-good times.  He's always shown up.
Not afraid to poke fun at her own mishaps, Gaye has a special place in her heart for women who have the laugh lines that prove they have truly lived, and who are brave enough to leave the Spanx at home.  She's a city girl with a small-town heart!  Using scripture as the foundation, her stories and faith lessons learned will refresh your faith and share some contagious joy!  She's passionate about encouraging women to live a full life by believing God and trusting in His promises.
Her successful corporate career includes serving as Senior Vice President/Special Assistant for a college president, providing human resources leadership to a team of 11,000 airline employees, and running her own consulting business.  She is a much-loved guest for media interviews and conversations.
Gaye is the author of This is Livin'! Learning to Move from Messy Moments to Happy Places and God, Girlfriends, & Chocolate.  She served as the Midwest Regional Director for Christian Women in Media and is past-president of the National Speakers Association-MN Chapter.  She is a graduate of the CLASS Seminars (Christian Leaders, Authors and Speaker Services), and has an M.A. in Industrial Relations.
Her favorite thing to do?  Laugh out loud 'til it hurts.  Runner-up activities include music, books, football, pizza, visits to new places, and listening to jazz with her husband Steve.  Life is good!
---
God, Girlfriends, and Chocolate
Life is an extraordinary journey.  We experience sunny days, open roads, beautiful rest stops, and annoying detours, and potholes.  Our trip can go from carefree to You've got to be kidding me! in just moments.  To make the journey more faith-filled and joy-filled, let's share the adventure with God, girlfriends, and chocolate!  Laugh, chuckle, and discover how to enjoy the journey, rather than just going along for the ride.  Learn how to celebrate the confidence that comes from living fully responsive to God's love and faithfulness.
This is Livin'!
Good things happen to everybody.  God is faithful, and grace and mercy are ours for the asking.  And ... messy moments happen, and life doesn't always feel good!  You will giggle and whisper, "I've been there," as Gaye shares stories and faith lessons learned from her own messiness and happy places.  We'll laugh and learn to celebrate great moments, which turn into great days, which turn into a great life.  Life doesn't have to be perfect before we start enjoying it!
Once Upon a Time:  Living a Faith-Based Life in a Fiction-Focused World
Good grief!  If reality TV, personal insecurities, and your neighbor's expectations frame how you live your life, you'll be very confused ... and tired!  It's not always easy to show up with "Faithful" on our name badge in a world that demands so much.  Yet, your heart wants to know that you make a difference for God's Kingdom.  You want to know that your life matters, that your story is good enough, and that the "ideal woman" has many definitions.  With humor, stories, and passion, Gaye will remind you that a "life of significance" is intended for each of us.  You'll laugh, reflect, and laugh some more as you celebrate your story.
Help!  There's a Hole in my Life Jacket!
You know you are loved by an Almighty God.  You know you were created for a divine purpose.  But what happens when the ship takes on water -- and you have to bail?  What do you do when your life jacket doesn't fit?  When your energy has gone overboard?  When there's only one oar to row with?  Whether you're enjoying "Peace Like a River" or seeking a "Bridge Over Troubled Water," you will appreciate Gaye's humor and encouragement as she reminds you of the peace that can only come from Jesus, the Captain of our Souls.
---
Testimonials
"Gaye was the perfect fit for our major annual event.  She was vivacious and humorous, yet eloquent, compassionate, personable, and God-honoring in her presentation and in all interactions.  She is a professional in all she does.  She made the business aspect of it easy from an event planner's perspective.  For anyone looking for a speaker who can hold an audience's attention and inspire women, she's your gal.  You'll love her!  We sure did!"
Melissa Dockum
Live Oaks Community Church
The Villages, Florida
"From my first point of contact with Gaye, she 'had me at hello.'  What a true joy and delight she is!  Gaye was genuinely invested in the success of our event through her support of our marketing efforts and the way she crafted her message to align with our event theme.  She spoke in a full auditorium, but with her warm and connecting speaking style, we felt like longtime friends just chatting over coffee.  Gaye's zeal for life and ease of laughter is surpassed only by her love for Jesus and the way she shines HIS light!"
Kathy Boyes
Prayer Ventures
Eden Prairie, Minnesota
"I wish Gaye was my next-door neighbor!  With the perfect blend of friendliness and wisdom, she makes you laugh, and you leave her presence feeling valued and encouraged.  She lets you know your stories count -- what we do each day has real purpose."
Cheri Buelow
Trinity Lutheran Church
Hudson, Wisconsin
"Gaye's faith-filled message gave all of us encouragement and hope.  She is a warm and engaging speaker and every woman was able to relate to her stories and learn from her presentation.  She has a way of putting everyone at ease, yet her message is clear, direct, and inspiring.  We hope she can join us for other women's events in the future."
Deb Childs
Faith in Christ Fellowship
Eagan, Minnesota
"Gaye has the gift of sharing what is in her heart while helping others learn how to reflect and respond to God's invitation to "come."  Her warmth and ability to make Jesus and His love for us come alive is a treasure."
Barb Grosz
Sioux Falls, South Dakota
"Everyone that I talked to that attended the Spring Brunch had wonderful things to say about Gaye.  She is a dynamic speaker who is very genuine, down to earth and inspiring.  Her sincerity and encouraging words reminded us that God is always with us on our journey.  We were truly blessed to have her as our speaker, and we look forward to having her speak again."
Judy Weiss
"Gaye was fun and engaging, combining her humor with a sincere message of faith and trust in Christ.  Her message resonated with every woman in the room.  I wish I could just get in front of every person who is considering having her speak and say, 'She's amazing!'" 
Megan Bireley
Christ Presbyterian Church
Edina, Minnesota
"Gaye Lindfors is a very talented and accomplished speaker. Her combination of humor, life events and spiritual journey made our event such a great success that we want her back in the spring!  Many of the comments I received were, 'This was the best ladyies' event I've ever been to.'  'She was so much fun.'  'I can't wait to hear her at another event; I'm going to invite all my friends.'  Thank you, Gaye!"
Debi Smith
New Hope Lutheran Church
Grantsburg, Wisconsin
"Gaye brings laughter, insight, words of wisdom, scripture and encouragement to everyone.  She is a dynamic communicator.  Our ladies are still talking about her presentation.  We WILL have her back!"
Marci Larson
MapleRidge Church
Maple Grove, Minnesota
"Gaye had a wealth of experience and ideas to draw from.  Her natural presentation style delighted our guests.  She was funny, Biblical, faithful, and poignant ... our women loved and related to her."
Pastor Sarah Moat
Gethsemane Lutheran Church
Hopkins, Minnesota