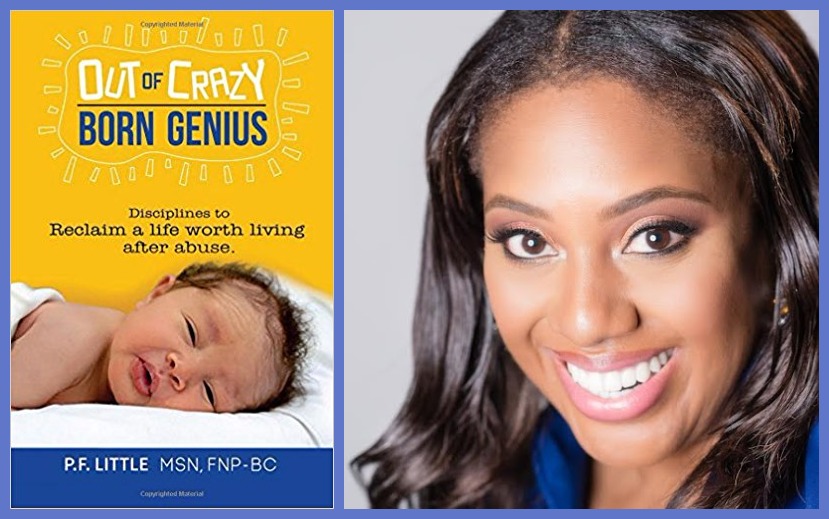 Dr. Patrice Little
A Right Now Message for Today's Challenges
Out of Crazy, Born Genius:
Disciplines to Reclaim a Life Worth Living After Abuse
21 Days of Genius for Everyday Life
Founder and Editor in Chief
NP Student Magazine
Health Professionals - - Correction Facilities
Non-Profit and Private Organizations for Domestic Violence Victims
Women's Ministries and Women's Community Groups
Churches and Faith-Based Organizations
Young Adults (Age 18-29)
---
Patrice Little encourages audiences to "Recognize Your Genius" and to live courageously and purposefully beyond life's challenges.
Patrice's personal journey from victim to victor over child abuse has prepared her to educate audiences who may know someone who is keeping their abuse a secret, as well as victims themselves.
As a board certified family nurse practitioner with masters of science in nursing (MSN FNP-BC) and a survivor of child abuse, Patrice is uniquely qualified to speak to general audiences and to medical and counseling professionals.
As a professional and as a person who lives successfully beyond her past abuse, she speaks to the subjects of generational issues, overcoming adversity, development, women's issues, and work culture / environment.
Prior to becoming a nurse, Patrice taught secondary science for three years and served on committees for the Ninth Grade Academy Retention Program, the Physical Science Curriculum Committee, and Academic Decathlon. Patrice currently provides primary care at a local correctional facility where she is known for her compassion and genuine interest in continuity of care after incarceration and civility.
Her message of resilience and passion for bringing restoration to the community is necessary for the complexities of today. Patrice personally and professionally knows how the restructuring of life after any challenge is a work in progress.
At her suburban Atlanta home, Patrice enjoys freestyle dancing with her family on Friday nights, running road races, eating Jamaican food, and volunteering at various school and community events.
---
Speaking Topics . . .
Patrice Little facilitates dialogue on sensitive topics for adult survivors of child abuse such as coping with physical, emotional, and verbal abuse while pursuing advanced education, establishing a career, building healthy relationships, and parenting. In addition, she facilitates talks on career choices, health promotion, resilience, and self-concept.
You Matter: Enough With the Second Chances
The second chance is for you - not for your abuser. Patrice shares the story of her 23-year-old cousin whose life was taken from a violent domestic relationship, steps her family took while picking up the pieces, and steps to move forward when the system fails you.
Recognize Your Genius: Finding Purpose in Chaos
Are you able to recognize the "big picture" from your day-to-day challenges but struggle with moving forward? When we become consumed with "the issue," we forgo life lessons that are intended to help us grow beyond our circumstances. This interactive talk will inspire you to commit to your life's purpose.
Out of Crazy Born Genius: Reclaiming a Life Worth Living!
Patrice's steps to recognizing the life lessons embedded in dysfunction and in making bad choices begin with her principle belief that "Your next step should be clear and intentional."
Discover daily disciplines necessary to confidently navigate adulthood. Patrice emphasizes how preparation, reflection, and repetition is essential to reclaiming your life. Learn to live abundantly after past trauma, deal with the residue, and transcend the stigma successfully. Patrice's principles to find purpose in chaos are sheer genius!
The Art of Resilience: Turn Your Failures Into Opportunities
Resilience expert Patrice Little shares her personal story of failures in academia, career, and business and how she turned things around and now lives a life full of abundant opportunities.
Don't Forget About Us: Adult Survivors of Child Abuse
What happens to abused children when they become adults? An adult survivor of physical, emotional, and psychological abuse, Patrice shares her inspiring and motivating personal story of triumph.
A Heart For Each Other
Why do we have difficulty appreciating fresh eyes from new workers or graduates? How can we show gratitude to those we work with who help and support us to the next level?
---
Testimonials . . .
"Mrs. Little has spoken to hundreds of my university students. Her presentation includes photos, graphs, as well as engaging videos. She has a very personable speaking style. I truly believe that her willingness to share her heart-wrenching story of abuse, as well as resources to thrive in spite of it, has been life changing for many of my students."
C. Spaniol
Retired Communications Professor
Texas A&M Corpus Christi
"As a STEM community, it is essential that our students are exposed to professionals working in science and engineering careers. You provided an incredible presentation for our students. When evaluating the presentations, the students raved about how engaging your lesson was and how passionate you are about your career as a Nurse Practitioner. The young ladies were especially intrigued by the fact that you are able to balance a career in Science and hold a title such as Mrs. Gwinnett."
C. Cullett
STEM ELA
Rex Middle School
"Patrice, you have an amazing group with UAPRN. The ladies were beyond excited and appreciative of the time spent with them. Thank you for supporting PADV with the health and empowerment lunch and learn. We welcome you all to come back in the fall."
Z. Daniels
Volunteer Coordinator
Partnerships Against Domestic Violence (PADV)