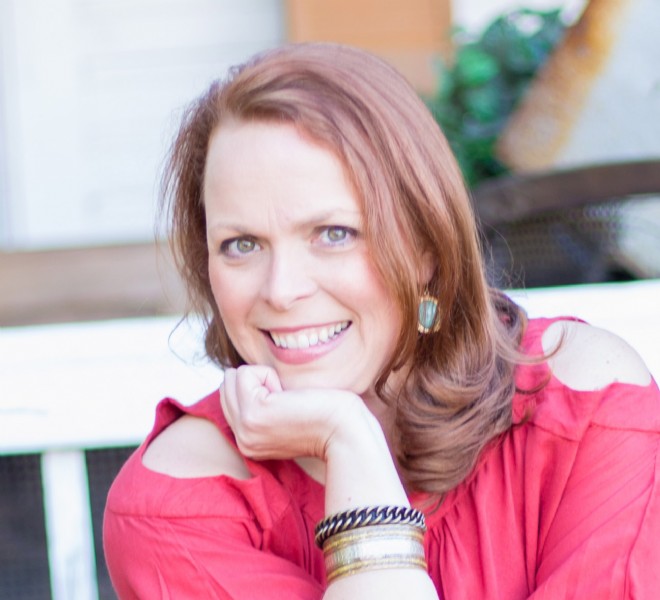 Conference Speaker
Author of
Just RISE UP!
A Call to Make Jesus Famous
and
Stress Point: Thriving Through Your 20s
in a Decade of Drama
Sarah Francis Martin is a wife, mom, friend, mentor, author and wannabe artist. Sarah invigorates women to get up off the couch of complacency and live out their faith with every square inch of their lives!
Reflected in her speaking and in the pages of her books, Sarah looks straight into the hearts of women with her real, raw, and relevant approach. With a vision to spark passion for the fame of Jesus, Sarah desires that women in this generation RISE UP! and do life differently as they step into their God-given purpose and their place in God's kingdom.
Each of Sarah's speaking presentations are birthed from her own interaction with God's Word. She is thrilled at the privilege of coming alongside women and bringing them to a place of confidence that they, too, can study God's Word and apply it to their lives. With a conversational tone to everything she speaks, Sarah leaves women with their own spark ignited to seek after Jesus with renewed excitement.
When she is not writing or working on a teaching message, Sarah can often be found on date nights with her husband, rough housing with her young son, or getting messy with craft paint.

A Note From Sarah:
I would be honored to do life and ministry with you as we work together to make your next event impactful. My passion to make Jesus famous is coupled with an encouraging tone. There is nothing that I love more in ministry than to spend time with women in the presence of our Lord and worship Him together!
---
Sarah Speaks! . . .
"RISE UP!"

B

ased on Sarah's book

Just RISE UP!: A Call To Make Jesus Famous,

she offers a variety of messages (see below) that can stand alone for after-dinner presentatations or when she serves as one speaker among several at larger conferences - and Sarah often combines one or more of these messages when serving as keynote for a conference or overnight retreat. Sarah offers additional messages as well, and she loves collaborating with planners to create new messages to specifically fit an event theme and help planners meet their goals for their event.

Sarah encourages women to

evaluate their lives and to come to a conscious decision to make Jesus famour in every square inch of their lives. Sarah leads her audience in a practical study of

Psalm 145, teaching how to live a life of praise, with a humble heart and a kingdom perspe

ctive. Audience members are ignited to seek after their God-given purpose and to influence others to come alongside as we RISE UP! and proclaim the fame of the Lord.
Do Life Differently - RISE UP! Off the Couch Of Complacency
Sarah loves to take her friends' hand and bring them alongside as they take a look at their life and faith and decide together to make Jesus famous. This is the cure for complacent faith. Women walk away from this message ready to make big and small tweaks in their lives that will spur them off the couch of complacency and into bold faith to make the name of Jesus known in their sphere of influence. This message is delivered in a conversational tone but with a gentle nudge from a good girlfriend like Sarah.
Step Into Your God-Given Purpose
Many women have a desire, an itch, to make their life count for something - yet, they don't know how. They often find themselves frustrated as they seek after a dream instead of seeking after God Himself. Sarah invites women to make God their number one focus and allow Him to usher them into His purpose for their lives.
Standing Firm
As we reside in a shaky-flaky generation, we have the assurance of a firm foundation when we stand in God's kingdom. Sarah digs into the topic of absolute truth of God's Word and how to study scripture in order to stand firm in the kingdom. Life is full of uncertainties, but our Lord gifted us with His promises in the Truth of the Bible in which we can choose daily to trust and obey.
---
Testimonials . . .
"I truly believe not only in what Sarah is doing in her communication through books and the spoken truth, but, I fully believe and support her as a person, a wife, a mother and a great example of living out the love for Jesus and making Him famous with words and actions as a woman of God."
Ryan Peterson, Pastor
Grace Church, Southern Pines, North Carolina

"It was our honor and privilege to have Sarah Martin as our speaker for Ignite. Sarah delivered a message that was fresh, raw, and inspiring, and the feedback we received made one thing clear: Sarah's message permeated the hearts of those in attendance and led to real life change. Her passion for our generation soaked every moment we spent with her, and we are forever grateful for the love, truth, and encouragement she poured out over the weekend. If you have the opportunity to hear from Sarah, take it! Her impact is one that lasts...even once the doors close!"
"I have had the pleasure of hearing Sarah as a guest speaker at 20/30 Ministries, a ministry for people in their 20s and 30s. She taught us an approach to studying scripture and learning how it can apply to us personally. This lesson has had a huge impact on my personal Bible study and has helped me dig in deeper to the Word and really apply it to my own life."
Southern Pines, North Carolina
---