Babbie Mason
Bible Teaching / Motivational / Inspirational
Host of Award-Winning International
Television Talk Show,
Babbie's House
This I Know For Sure: Taking God At His Word (Bible study and book)
Embraced by God: Celebrating Who And Whose You Are (book)
Embraced by God: Seven Promises For Every Woman (Bible study)
I Am a Daughter of the Most High King
Concert Artist /
Singer / Songwriter / Worship Leader
Dove Award Winner - -
Stellar Award Winner
Christian Music Hall of Fame Inductee
Bill and Gloria Gaither Homecoming Concerts & Television Specials
In Touch Ministries Cruises with Dr. Charles Stanley
---
Known and loved for decades for her award-winning, soul-stirring music heard on radio, television, and in churches around the world, in recent years Babbie Mason has been sharing powerful words of teaching, motivation, and inspiration in city-wide arena events, Christian retreats, and churches from coast to coast.
Babbie is an event planners dream - - a 'triple threat'! A powerful keynote speaker, talented concert artist and anointed worship leader!
An award-winning singer-songwrtier of Christian music, her ministry and career have blessed countless thousands for almost three decades. The daughter of a Baptist pastor, Babbie learned to serve others early in life. Demonstrating exceptional musical skill early in life, she became the church's full-time pianist and choir director by age nine. She often accompanied her father, the late Rev. George W. Wade, as he preached at home and at churches across the Great Lake States.
Those humble beginning paved the way for a ministry that has taken Babbie Mason around the globe where she has encouraged the hearts of young and old alike in churches, conferences and corporate conventions.
Gracing the stage in numerous Billy Graham Crusades worldwide, Women of Faith conferences, The Grammy Awards, and Carnegie Hall, and sharing her gifts as singer and speaker on Christian cruises, including several hosted by Dr. Charles Stanely, Babbie's gifts and talents have allowed her to share the platform with such notable people as Presidents Carter, Ford and Bush, Former First Lady Barbara Bush, Lady Margaret Thatcher, NBA legent Michael Jordan, General Colin Powell, Steve Forbes, and Jeff Foxworthy.
An award-winning singer, songwriter, teacher, motivational speaker, and TV talk show host, Babbie Mason shows no signs of stopping!
Taking the message of God's love to an audience of women has led Babbie to author the book Embraced By God: Celebrating Who and Whose You Are. Over the course of twenty-one days, Babbie encourages the reader to delve deeper into a love relationship with God and discover the heights, depth, length, and breadth of His love and acceptance. A companion to the book is Babbie's twenty-fourth music project, the CD entitled Embrace. With every song, most of them skillfully written by Babbie herself, she underscores the book's timely message ... you are loved by God and He has a wonderful plan for you.
Babbie's compelling passion for women's ministry is ever increasing. A sought-after women's conference speaker, Babbie takes the Embraced by God message to the stage, teaching women from the Word of God that they matter and are able to overcome any adversity they may face.
She also sets music to the book's encouraging themes to lead women in an exciting worship concert called Embrace: A Worship Celebration for Women. With a relevant and life-changing message for women, Babbie leads women in every season of life in this 90-minute worship concert with a purpose. Women all over America and abroad have encountered Jesus Christ in an atmosphere of encouragement, acceptance, forgiveness, and love. At each Embrace concert women worship together, rejoice together, hear the stories of other women, and are encouraged by the fellowship of Christian sisterhood.
A favorite guest at Women of Faith conferences, Kay Arthur's National Women's Conference, Beth Moore conferences, and Ann Graham Lotz' Just Give Me Jesus conferences, Babbie encourages heart of all ages with her warmth, wit, and wisdom. She is the host of her own television show, Babbie's House, seen all over North America, Africa, the British Isles, and the Caribbean islands.
Babbie Mason's heartfelt lyrics and singable melodies have been translated in over twenty languages. She is the recipient of two Dove Awards for her singing and songwriting talents, and a host of other awards and recognitions line her walls .. eleven Dove Award nominations, nominations for the Grammy and the Stellar Awards, including nominations for Female Vocalist of the Year and Songwriter of the Year. In 2010 Babbie was recognized for her contributions in Gospel music by being inducted into The Christian Music Hall of Fame.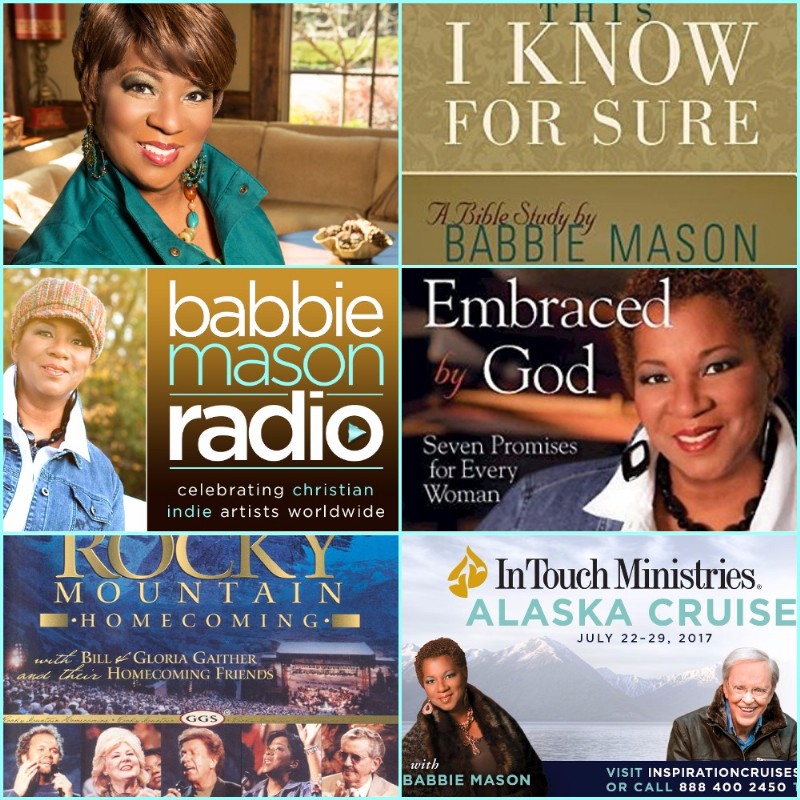 Contact Stacy Robinson about speaking topics
and how Babbie's variety of gifts and talents
may be implemented to help you
reach
your goals and vision for your event.