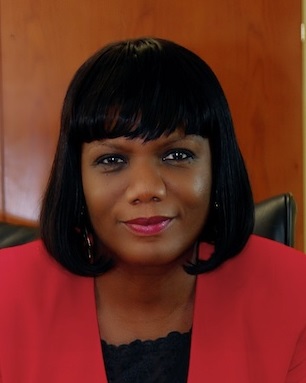 Removing The Stigma ... Breaking the Chains of Silence
Mental Health in The African American Community, Inc.
Motivational / Eduational / Inspirational
Conference Speaker / Corporate Trainer
Start-Up Businesses and Non-Profits
---
Carolyn McKenzie is on a mission to increase understanding of early warning signs of mental illness and teach strategies to overcome associated stigmas that are particularly pervasive in the African American community.
"It is imperative that we take a leadership role and appropriate action-oriented steps to avert the deleterious impact of untreated mental illness among African American individuals, families, and communities." To this end, Carolyn McKenzie founded Mental Health in The African American Community, Inc.
Carolyn's passion for mental health in the African American community was born out of her own personal tragedy. Her niece, whom Carolyn considered more of a daughter, repeatedly stabbed her in a schizophrenic episode, then tragically took her own life in what started as a routine morning in the summer of 2011.
"Early that morning I was getting ready for work. My niece and I hugged before I got into the shower. Minutes later she opened the shower door and had a large butcher knife in her hand. This was clearly a schizophrenic episode, and I had become her target of attack."
McKenzie struggled to take the knife from her niece. She was slashed and cut in 28 places and was trapped underneath her niece on a wet slippery floor filled with water and flood, unable to remove herself from the situation or simply to stand.
"I am certain that a combination of miracles occurred because she was lifted off me and went out the door," Carolyn recalls. "I crawled and slid to the door and locked it. She told me not to come out because people would come looking for me when I did not show up for work. I believe she thought I would bleed to death, and so did I. What was the combination of miracles that caused her to get up and leave me? I say the love that she had for me was much stronger than the voices that were telling her to kill me."
Severely injured, McKenzie had surgery and was hospitalized for several days, followed by several weeks of physical therapy.
The resilient businesswoman is not ashamed to add that she is also seeing a mental health professional and plans to continue this beneficial therapy indefinitely.
Despite this brutal attack and her niece's tragic death, Carolyn says she and her niece - whom she lovingly recalls as a precious, beautiful, educated, articulate, loving wife, mother, and successful daycare owner - were inseparable from the day she was born. "I knew that our souls were connected for a lifetime - and then some. I made a promise to take care of her emotionally, financially, and in all other ways that would ensure her safety and success in life."
Carolyn has maintained that promise even though her niece is now gone. In 2011 she vowed that when her health was restored, she would honor her niece by committing to developing an international awareness and educational initiative on mental health in the African American community - - thus the birth of Mental Health in The African American Community.
No stranger to successfully spear heading grassroots efforts and rallying entire communities, Carolyn is a former Atlanta Hawks cheerleader who founded the internationally acclaimed Soccer in the Streets (1989-1999), the first and only premiere soccer program for inner-city children. She is also president and CEO of BusinessSmarts, a one-stop shop that provides an array of professional services for start-ups and small businesses, including assistance with IRS 501c3 tax exemption filings, LCC incorporations, public relations. and more.
Carolyn's speaking presentations cover a range of topics appropriate for faith-based groups and churches, government agencies, mental health and general healthcare organizations, corporations, college students, and community organizations.
---
Speaking Topics Include . . .
Pain to Purpose - Mental Illness is Real
Carolyn McKenzie shares her personal story of the psychotic break of her beloved niece who stabbed Carolyn several times and then killed herself. Carolyn brings
her audience a deeper understanding of what mental illness really looks like, while providing important facts and descriptions of various types of mental illnesses and their warning signs. This powerful, inspirational, and educational presentation is appropriate for governmental and healthcare organizations, as well as students and faith-based audiences.
Turn Your Contacts to Cash
Carolyn shares proven, effective tips for people involved in start-ups and small businesses who are ready to identify people in their networks who can help finance their business, purchase their products or services, and help turn their business into profit in a variety of ways.
Turning Your Passion Into Profits
It has been said "Do what you love and the money will follow." Carolyn's strategies will help you recognize your strengths, explore the profit potential in your passion, and make money doing what you love.
How to Start a Non-Profit 501c3 Business
Carolyn personally established two successful national 503c3 agencies and is qualified and passionate about teaching others who are just starting or who want to learn how to start their own non-profit. This presentation covers board recruitment and training; how to get the media to cover your events; how to raise funds for your programs; how to get corporations to 'buy in'; and how to develop 'program equity' so corporations can see your non-profit's value as well as the 'win-win' for their own bottom line.
Turning Your Dream Into a Strategic and Viable Plan
Dreamers just dream - - but true visionaries conceptualize, plan, and execute. Carolyn tells you where to start, how to enjoy the process, how to embrace the process so that you can enjoy the outcome. The old saying is true ... "You must eat the elephant one bite at a time." Carolyn shares a 'bite by bite' plan that you can use to make your dream a reality.
A Thin Line Between Faith and Foolishness
Sometimes people think they may be operating in faith - but they really need to learn the difference between faith and foolishness. Faith is developed over a period of time. The increase of faith is a process, and your success is contingent upon your level of faith. Faith is not simply thinking and believing - faith involves action. "Faith without works is dead." Foolishness is when you do something on a large scale before you start out small. When starting a business or a ministry, it is important to understand and respect the fact that a slower start will get you there faster.
A Thin Line Between Determination and Pride
Carolyn shares from her knowledge and personal experience a powerful presentation based on the following principles:
Pride is making decisions based on ego fulfillment; making the same decisions that have negative outcomes and expecting a different result each times; making decisions that hurt others; and making correct, smart decisions that only serve to help. Determination is making decisions that have a clear and concise outcome; making decisions that are based on research and input from professionals in a similiar field; going through the process of trials and tribulations and learning from each one so you won't repeat the same mistakes; listening to people who genuinely love and support you.
You Are Just Beginning (For 50+ Seniors)
This presentation is ideal for senior communities and ministries, as well as government agencies and organizations that service senior adults. Carolyn explores the many advantages to being a senior, particularly relating to starting a new business or turning a hobby into a business. Seniors have the powerful advantage of life experience, education, work history, sources of income, availability and flexibility of time, and lifelong networks of former co-workers, church friends, neighbors, clubs, classmates, etc. Carolyn helps awaken new visions and dreams that can make your 'second act' even more exciting than your first!
---
Testimonials . . .
"Carolyn McKenzie is a dynamic, purpose-driven, and moving speaker. She exudes love, care, passion, and purpose. Her presentations are grounded in life experiences, and her words convey reality in a way that touches and stirs the human soul."
Mina Wilson
Founder and President
Community Engagement Initiatives
San Francisco, California
"Carolyn is such an engaging speaker. She connects with her audiences seemingly from the onset. That big smile is always genuine and inviting. She has a way about her that causes you to just relax ... yet while sitting on the edge of your seat ... wanting more. Her topics are always relevant. She has great insight yet such an humble spirit. Not being biased or anything; however, she is the best!"
"Carolyn McKenzie is remarkable! She uses words to tell stories of strength, passion, and resiliency. She is a powerful speaker with an unmatched commitment to excellence."
Associate Professor of Psychiatry & Behavioral Health
Deputy Director of Satcher Health Leaderhip Institute
Morehouse School of Medicine
"Ms. Carolyn McKenzie was one of the twenty speakers to be featured at our women's speaker showcase at Agnes Scott College in 2014. She was, without a doubt, the most energetic and passionate of all the speakers. Ms. McKenzie was also an audience favorite. We highly recommend her to any organization that is looking for a speaker on mental health issues in the African American community. She is helping women succeed in Atlanta."
Anthony "Spark Plug" Thomas
Publisher of Atlanta's People You Need to Know Magazine
"Carolyn is a dynamic, compelling, and knowledgeable speaker. She is charismatic and has a knack of being able to pull in her audiences. Carolyn is articulate, and she has good awareness of her environment. She comes off as polished but personable. I can assure you that any audience to which she speaks will be appreciative. Her words will resonate with them."
David Dixon
Senior Engineering Manager
Denver, Colorado
"I have had the distinct privilege of being a colleague of Carolyn McKenzie for over three years. I assisted her in the establishment, promotion, and fundraising for Mental Health in the African American Community. I moved around with her as she communicated the concept of this worthy project to which she is totally dedicated and imminently creative when she communicates its virtues. I observed her as an excellent and engaging orator who relies more on her life experiences and wisdom in her delivery. She is versatile, organized, and natural in her approach. She has a great sense of humor, and she is keenly aware of the best way to reach her audience. She is compassionate and links her mission with the goals of her audience in a personal way. She has a clear and commanding voice with confidence to match. She communicates in a highly professional and educated manner. Her greatest asset as a speaker is that she cares, and she is always bubbling over with enthusiasm and positive expectation for everyone. She makes lemonade when given lemons. This appears to captivate her listeners. I have encountered trainees all over the worldl who remember her sessions with a sense of good report. Fear does nto enter her world so I recommend her for any speaking engagement without reservation."
---
Association of Christian Ministers of Clayton County
Health & Wellness Community Service Award
Wells Fargo Community Service Award
Sports Illustrated for Kids Good Sports Award
National Soccer Coaches Association Honorary All-American Award
Fulton County Government Comunity Service Award
Jaycees Ten Outstanding Young Americans Award
Jefferson Award
U.S. Department of Justice Community Service Award
Hank Aaron Rookie League Award
Budweiser's Strong Achiever Award
WAGA Trailblazer's Award
Southeastern Boys and Girls Club Key Award
Georgia Exemplary Prevention Program Award
Abraham Baldwin College Outstanding Young Alumnus Award
Spelman College Community Service Award
Soccer Industry Council of America Leadership Award
Fitzgerald, Georgia Centennial VIP Award
Sporting Goods Business Magazine Woman of the Year in Sports Award
NAACP Community Service Award
Eckerd's Drug Store Salute to Women Award
Who's Who in Entrepreneurs
Who's Who in Business Award
Who's Who Among Professionals Award