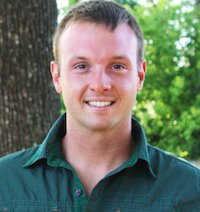 "You will know the truth, and the truth will set you free."
"Therefore, if anyone is in Christ, he is a new creation;
old things have passed away; behold, all things have become new."
---
In 2010, the Lord delivered Matt Moore from the gay lifestyle, a struggle with lust and homosexuality that he says began in childhood. Matt has spent the past few years educating others about the Biblical way to respond to those who struggle with homosexual feelings.
He knows that God has called him to speak to a generation that often exchanges God's truth for what feels good. Matt knows the work that has been accomplished in his heart is nothing short of a miracle because of the presence of the Holy Spirit.
Since Matt gave his life to Christ, God has continued to open doors for him to be able to communicate to others who Jesus Christ is, what saved him from his lifestyle, and what the Bible says about homosexuality.
You can connect with Matt on his blog, MooreMatt.com, as Facebook (Facebook.com/MooreMatt89) and Twitter (twitter.com/mattmoore89). Matt writes often for The Christian Post (www.ChristianPost.com) and Church Report (www.TheChurchReport.com).
MATT'S STATEMENT OF FAITH
---
Speaking Topics Include:
Matt's Testimony
In this talk, I share my testimony, from childhood to conversion, and communicate the reality of the brokenness that we are all born into as a result of sin. I also point out the things in my environment that contributed to the development of my homosexual feelings. But more importantly, I share the redeeming work of God that has taken place inside of me and that can take place in any homosexual (or any sinner for that matter) who will completely give their life over to a passionate pursuit of and relationship with Jesus Christ.
Church Response to Homosexuality / Homosexuals
One goal of mine is to help The Church understand homosexuality and those who struggle with it so that they can in turn be equipped to help people around them (children, family, co-workers, etc.) understand their same-sex feelings, biblically, and point them to Jesus Christ. I desire to help remove the fear and confusion many Christians have of homosexuals. Through the communication of the Word of God and my experiences, I strive to inspire a compassion for those who struggle with same-sex attraction, which will motivate God's people to share and advance the gospel rather than retracting in fear or confusion.
The Christian Struggle with Sexual Sin
We live in an over-sexualized (and many times perverse) culture. The idea of sex is constantly surrounding all of us, and, as a result, many genuine born-again Christians face a gruesome battle on a daily basis with sexual temptation in many forms. Pornography has made its way, through the weakness of men, into almost every church in America ... if not every church in America. Perverted desires are manifesting in the hearts of people abroad and the only thing that can counter the growth of sin is the grace of God in the truth of His Word. Sex can't be your "god," and I seek to deliver this truth to a people who need to hear it.
American Christianity
Although we are blessed to live in such a comfortable and liberating area of the world, the over-individualized and self-centered mindset of our culture has infiltrated it's way into the Church and sadly, the gospel of Jesus Christ has been watered down without many people even noticing. It's like we've made ourselves into God and turned God into our celestial butler, expecting Him to provide whatever we ask from Him at our beck and call. Our Father does love and provide for us, but have we forgotten the concept of self denial and sacrifice? We are all called to deny ourselves, pick up our cross daily, and follow Jesus Christ ... no matter what the cost. He gave His life for us, we must now lay down our lives in service to Him. This is where joy, the true joy the Bible talks about, is found.
---
Testimonials . . .
"Reading Matt's articles, I'm reminded of the power of sound doctrine combined with honesty, clarity, and vulnerability. I've been impressed with his adherence to Biblical authority, and appreciative of his unapologetic, no-nonsense approach. I believe his voice is a needed one, as are his contributions to church and culture."
Joe Dallas
Author of The Game Plan, The Men's 30-Day Strategy for Attaining Sexual Integrity (Thomas Nelson), and Program Director of Genesis Counseling (Tustin, CA), a counseling ministry for men dealing with sexual addiction, homosexuality and other sexual / relational problems. Pastoral counselor, conference speaker, author of five books on human sexuality from the Christian perspective, including Desires in Conflict and A Strong Delusion (updated version released under new title: The Gay Gospel? How Pro-Gay Advocates Misread the Bible [Harvest House[)
"Matt Moore's story of redemption and forgiveness stands out in a world of fallen and broken sinners. Matt demonstrates that when someone finds themselves consumed in unhealthy circumstances - that with Jesus' help - it is never too late to start anew. His incredible story will be an example for others who want to find the freedom and blessings from the strongholds of our modern society."
Paul Stanley, Former U.S. Senator, writer, speaker, reporter for The Christian Post
"Matt Moore is an anointed communicator of truth in an age where his voice is desperately needed. When I talked with Matt for the first time about his past, I had a list of "church" questions for him. Since I was raised Southern Baptist, I had a lot of pre-conceived ideas about his new found faith. Was his salvation from homosexuality authentic? Would it be short-lived like so many others who declare faith and are found in same-sex relationships soon after? From my very first talk with Matt, which I expected to be uncomfortable, I felt at home. Matt was the friend I felt I'd had for twenty years, yet the stranger I'd spoken with on the phone for only twenty minutes. I knew his testimony was authentic, as the word of God, a gratefulness for God's deliverance, and an honest heart was communicated to me. It blessed my life. Matt's truthfulness is a breath of fresh air for anyone struggling with sexual addiction. I've now known Matt for a while and his knowledge of the Bible, God's heart for the broken, and his honest introspection about temptation are honorable. He is a picture of true manhood - a man after God's own heart. Matt Moore is a champion for Christ, who he credits for breaking the bondage of lust in his life. I highly recommend him as a speaker and Bible teacher; your church will be blessed in hearing his testimony of healing and redemption"
Jessica Kirkland
Owner of Christian Apps for Kids, LLC, Writer, and
Literary Agent at The Blythe Daniel Agency
"I am certain that the Lord has placed a calling on Matt's life. Thinking back to the day he posted his very first blog, I am nothing short of amazed. God has worked so mightily in Matt's life. He and I were saved around the same time, and he has been one of my closest friends ever since. It has built my faith to watch him navigate the trials that come with the voice of opposition to such a delicate topic. God's hand has been undeniable. It has enabled Matt to overcome. I have seen him find the Lord's voice in the midst of opposition. He isn't perfect, but he's real. I think people can relate to that. I frequently see people disregard and accuse him, never taking the time to understand his heart. It's in our weakness that God's strength is made perfect. I have no doubt that this is the case for Matt. He will touch many lives, of that I am sure."
Taylor Vlahakis
Children's Bible Teacher