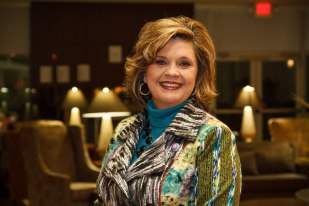 Cherie Nettles


"Growing My Divine Shrine"
Cherie Nettles

was diagnosed with a lifelong disease at the age of 17 and was told that by the time she was 21 she would live the rest of her life in a wheelchair in chronic pain.

After 33 years, six surgeries,

and continues to take high-risk long-term medications, the Lord had other plans.
God has chosen not to heal Cherie completely of Rheumatoid Arthritis, but He gives her the grace and strength to sustain her daily.

In 2002, Cherie was diagnosed with ovarian cancer, and her journey is one of God's Divine Healing.

Cherie's miraculous story of her journey with ovarian cancer will leave you awe-struck at the miraculous Hand of God.
Cherie Nettles was dubbed by her audiences back in 1998 a Christian comedienne and without any plans to ever pursue such a career that name has stuck!

Cherie is also a Bible teacher, motivational and keynote speaker, author and a newly Certified Laughter Leader (CLL). She believes Laughter is the Best Medicine, and firmly believes a laugh a day reminds her to pray - and hopes it will you too!
Cherie has co-authored three Bible Studies, a devotional book, a comedy DVD, a children's book and her own story, Growing My Divine Shrine: Your Way to Live, Love and Laugh Through life.

She has written for multiple magazines including LivingReal, Reach out Columbia, WMU web-magazine My Missionfulfilled, and was recently featured in Lexington Woman.
She is a gifted speaker who has been blessed to entertain many different audiences.

Cherie has inspired such audiences as businesses, government, corporations, law firms, educational institutions, hospital groups, and other medical groups such as The Ovarian Cancer Foundation, the American Cancer Society, and various support groups. Cherie has entertained audiences from volunteer staffs to their executives, youth groups, and churches from the bottom tip of Florida to three islands of Hawaii.
As a keynote speaker, Cherie has spoken for such audiences as

the Christian Comedy Association Southeastern Regional Conference, Carolina Cash-Financial Officers Organization, women's retreats, conferences and dinner events across the country, The South Carolina Ovarian Cancer Foundation, the American Cancer Society, multiple hospital administrations and medical staff, Pastor Conferences, and many denomi
national worship services.
Cherie has been a comedy writer and skit writer for churches, businesses, retreats, conferences and the South Carolina Southern Baptist Convention and has written speeches and
messages for other colleagues in ministry.
Cherie serves on several foundation boards such as the Lexington Medical Center Cancer Care Advisory Board, the Brookland-Cayce High School Education Foundation, Healthy Learners Friends Board, and the South Carolina Ovarian Cancer Foundation Board-Riverbanks Region.

Cherie feels her service to her community is one of her greatest ministries.
Cherie and Mike, her husband of twenty-four years, are the proud parents of 21-year-old Alex and 19-year-old Ashleigh.

Cherie and Mike "emptied their nest" this year - and even though tough to let their children go, they feel they are really going to enjoy the college years!!!

Cherie and Mike also enjoy spending time with the youngest member of the family, Stuffy, their ten-year-old Yorkie-Poo.
Cherie believes her greatest accomplishment is that at a very young age she said "Yes!" to Jesus Christ.
---
Cherie's Presentations Are Appropriate For . . .

Comedy concerts
Church services
Women's conferences, retreats, and other ministry events
Mother-daughter events
Schools staff / parents
Corporate events
Sales conferences
---
Che

rie's Comedy Presentations / Concerts Include . . .
Growing My Divine Shrine
I Corinthians 3:16 -Cherie brings humor to spiritually growing in Christ while the aging process has us growing in our hips.
Lettin' It All Hang Out!
Cherie comically encourages audiences to 'just be yourself.
Shape Up!

Cherie brings a humorous look at how psychology bases our personalities into three categories while God has made us each a masterpiece unique in every way.
Don't Leave Me This Way!
Overcoming the loss of your ovaries or at least the function of your ovaries. Living through menopause.
Other topics include . . .
From Gerber to Grace
Cherie weaves her cancer testimony through the Holy Scripture LUke 1:26-35. Cherie compares Mary, the Mother of Jesus, to our own lives based upon the fact we both carry Jesus Christ. Cherie bases this message around one question: Does the world see you carry Jesus?
Daddy's Home To Stay
Understanding God as the father to the fatherless based upon Psalm 68:5. Cherie shares the trials of being fatherless as a child, yet brings triumph through tracing God, the Father's hand in her life - even as a small child.
The Rearview Mirror View
This message teaches Cherie's audience how to bring the trials of your past to your triumphs of today. This message deals with making peace with your past and learning to forgive and move with God into your future.
Ladies in Waiting
Being the bride of Christ.
Go Tell in on the Soccer Fields, Over the Malls and Through the Grocery Store Aisles
Sharing Jesus Christ with others.

Hope Floats Mother/daughter message - based on the story of Moses.
Life: Is This a Multiple Choice Test?
Making Godly decisions.

Love Languages For the Classroom Message for educators.

---
"Cherie's humor inspired our membership, creating an enthusiasm that was completely contagious for all in attendance!"
Timothy M. Jones, President
South Carolina Law Enforcement Officers' Association
"Cherie Nettles is a program planner's dream come true!"
Wayne and Joy Clary Brown, Diversidied Ministries, a Global Evangelistic Outreach
"Cherie Nettles will not only tickle your funny bone but she will make you laught in your heart."
Cindy R. Poole, RN, BSN
Assistant Executive Director / Midlands Coordinator
Healthy Leaners, Columbia, South Carolina
""I was moved and encouraged by Cherie Nettles - she is comedic excellence!"
Audience member
---
---
In order to receive updates that are of most interest to you, please include the state where you live and, if applicable,the type of ministry in which you serve. Please include your email address if it is different from the email address you use to send your request.
---