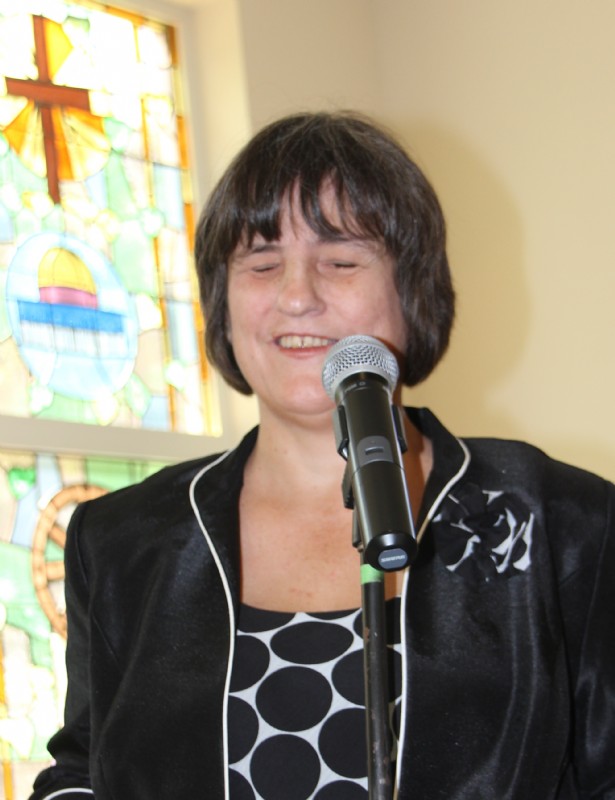 Rhonda Partain
Inclusion / Diversity Expert
Conference Speaker
---
In her own words ...
"First Lady Pat Nixon was my first audience as a public speaker when, at 9 years old, I was selected from 100+ children to make a presentation on behalf of the Atlanta Braille Project. What a way to get started!
"Fast forward to 2016 when I toured 12 cities, speaking in time-honored theaters such as New York's prestigious Lincoln Center, often to audiences of over 2,000. My presentation included an audio-visual blitz of images supported with a live orchestra. I shared my personal story of growing up blind from birth, including triumphs as well as challenges. The overriding message was 'never quit, regardless of the struggle' - - and to use your talents, whatever they may be, to overcome life's roadblocks and obstacles.
"
The response from this national speaking tour sparked a fire in me to continue sharing my story and lessons I've learned along a path that many envision as dark and depressing but, to me, is a journey that is joyful and full of light.
"My blindness is simply an inconvenience. My choice is to inspire and motivate audiences. The word I have coined for this is "INSPIRAVATE!"
"I offer powerful and positive messages of diversity and inclusion in the workplace, society, and life in general. I love to laugh, so my talks are often peppered with humor, and I share stories about how an 'adversity advantage' can help anyone succeed.
"My wide range of topics (see a few listed below!) are well received by corporate, community, and church audiences."
---
Believing is Seeing
Like Thomas of the Bible, most of us are doubters that live
in a world that demands proof. We want to see before we believe. I am blind, so to me belief is seeing. We walk by faith and not by what we see, think, or feel!
No Such Thing as Normal
Diversity is important if a business or any organization wants to create an inclusive culture. Everyone brings unique talents to the table and everyone has a disability of some sort. For many people, that disability is hidden - - mine just happens to be noticeable. A primary take-away from this presentation is that differences do not mean weakness. There really is no such thing as normal.
Do It Afraid
Fear can be crippling or it can be motivating. The choice is yours. Your reaction and your next steps in a fearful or challenging situation are your choice. My entire life, I have faced situations that could easily cause crippling fear and retreat. I've learned that the best choice is to forge ahead and do it afraid!
Let It Go
Forgiveness has been misunderstood. Forgiving a person does not include allowing them to continue mistreatment and harm toward us, and when we forgive, we forfeit our right to make another 'pay' for the wrong they've done us. Forgiveness is not a natural human characteristic but it is a trait worth developing because forgiveness benefits the forgiver as much as the one forgiven.
Love is a Verb
It has been said 'actions speak louder than words.' This is true in many situations, including love relationships. Our words and our actions must line up if our words are ever to be truly believed.
Cinderella and God
Answers to prayer can be be nerve racking! Is this too good to be true? Do I really deserve this? When life is working out - - we get the great job, the spouse we've wanted, the children we've prayed for - - it can be easy to fear that this fairy-tale life we're living can end at any moment. But God is faithful to finish what He has started.
Speak Life
We can build up or tear down with the words we speak. Words have been used to create peace, to hurt, to share love, to forgive, to encourage, to harm. The old rhyme is wrong - - words can hurt us deeply. God SPOKE and the world was formed - - formed by His WORDS. Words are full of power. We choose whether to build up or tear down with every word we speak. Make the choice to build up - - speak life.
Fight the Good Fight
My 30+ years of marriage, with all its ups and down, have taught me that there is a right and a wrong way to fight. Learn from my mistakes, my friends! I finally figured out I'd been doing it all wrong and I am happy to share what I've learned about fighting the GOOD FIGHT!
I Didn't Sign Up For This!
The honeymoon was great, then came babies, job changes, loss, health issues, and relationship challenges. It all became overwhelming and not what I expected. When I said, "God, I didn't sign up for this!" He reminded me that I did and today I know that there are lessons in my story that can be applied to so many different situations.
What You Think Is What You Get
Ever wonder why things aren't going the way you planned? The truth is, thoughts affect our mood, our mood impacts our thoughts, and thoughts impact our actions. Simply change what you think and just wait and see what happens!