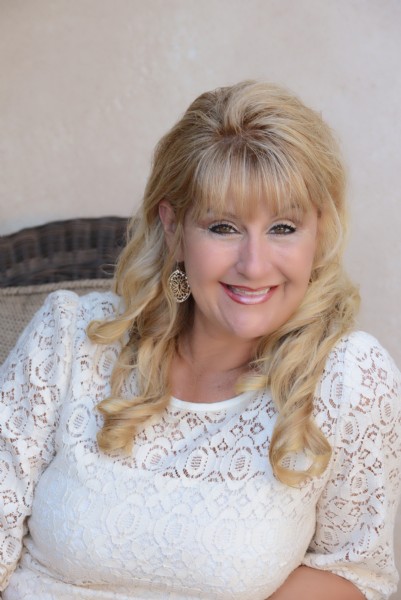 Shannon Perry
Conference Speaker
Women's Conferences - Mother-Daughter Events - Purity Conferences
Concert Artist - Worship Leader - Recording Artist
Author - TV and Radio Host
---
Shannon Perry is an event planner's dream. She is an anointed conference speaker who can make you laugh until your cheeks hurt while bringing you to a point of heartfelt reflection and spiritual decision. She is also a gifted soloist and worship leader who is not a performer but a true minister.
Shannon's multiple gifts do not end there. She is a prolific and renowned writer / author. Shannon is a contributing writer to Crosswalk.com, one of the largest Christian websites in the world with over 24 million page views per month. Shannon's book Grace in High Heels was quoted to the 5 million readers of Guideposts Magazine. Shannon has also written articles for Charisma Magazine, Believe.com, EvreydayChristian.com, Christian Women of Today magazine, Christian Voice magazine, The West Side Story, and others.
Shannon's latest book, The Overlooked General: Parenting Teens and Tweens in a Complicated Culture, is endorsed by renowned author Josh McDowell and is used as a school counseling resource by one of the fastest-growing school districts in Texas. The book is based on Shannon's mother-daughter event entitled In Her Shoes.
Shannon's new television show, Grace in High Heels, airs on the GEB and NRB networks three times a week to more than 64 million homes.
Shannon had the distinct privilege of performing in Carnegie Hall and with the Houston Symphony, and she performed the National Anthem for 70,000 fans at an NFL football game.
Shannon hosts a syndicated radio vignette called Does the Shoe Fit? which airs in several states with an audience of over half a million.
Shannon's women's conference If The Shoe Fits has donated over 2,000 pairs of shoes to disadvantaged women seeking economic independence and the professional tools and professional wardrobe basics to thrive in work and in life.
Shannon has led praise and worship for many ministry events, including LifeWay conferences held annually in North Carolina and New Mexico.
Shannon has a Master's Degree in Education with an emphasis in counseling and worked in the public school system for over fourteen years.
Shannon has achieved national radio chart success with her past recordings. Her latest CD was produced by LifeWay Christian Resources' songwriter and Producer of the Year, Paul Marino. Her latest music video entitled Overlooked was directed by Jeffrey Kubach, known for his work on the hit reality television shows Burn Notice and Survivor.
In addition to women's conferences, retreats, and banquets, Shannon offers a mother-daughter event called In Her Shoes which brings life-changing results to lives of women and their daughters and receives rave reviews from both generations.
For More Information or Scheduling, Contact
Stacy Robinson - 1.800.782.2995
Stacy@TheRobinsonAgency.com
---
Shannon Speaks!
Conferences / Retreats / Banquets
Shannon gladly works with planners in selecting the topic
or combination of topics most appropriate for any given event.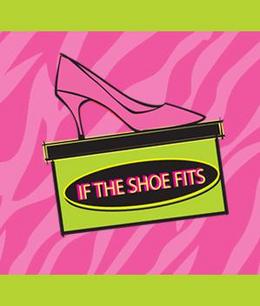 The fun and motivating four-part series for women
entitled If The Shoe Fits can be

broken down
to work for a banquet or a full weekend retreat.
Goody Two Shoes
Walk A Mile In My Shoes
Is There A Hole In Your Sole?
Lacing Up The Tongue
Women of all ages, cultures, and backgrounds respond to these faith-filled
messages that demonstrate the powerful truths of God's Word and how to
practically apply these truths to what matters most - real life!
If The Shoe Fits provides practical and biblical
answers in the following areas:
Finding Balance and Purpose
Taming our Tongue for God's Glory
Overcoming Past Hurts and How to Move Forward Into God's Exciting Plans
How to Live a "Holy" Life in the Real World
A unique and exciting added bonus is
the songs that Shannon has written especially for
If The Shoe Fits (and for Purse-uing God) with one of LifeWay Christian Resources'
staff writers. Not only will you receive powerful teaching, but
songs that reinforce the truth of each topic.
Special Note to Event Leaders ...
Looking for easy planning? With ready-made promotional materials,
If The Shoe Fits is like a 'conference in a box.' Spend less time
planning and more time on what matters most - the lives of women.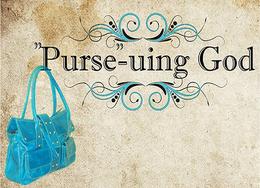 Packed full of humorous stories and solid biblical teaching,
"Purse"-using God is a women's conference that
tackles topics that

women of all ages can relate to, including:
"Purse"-uing Poise ... Carrying Confidence Only God Can Give
We will take a look at the word 'confidence' and how to have, and keep,
the kind of confidence that God intends for us to have through Him.
"Purse"-uing Position ... Toting Burdens to the Cross
We will look at overcoming adversity through the power of God's Word
and how to manage our emotions when the going gets tough.
"Purse"-uing Our Prince ... Packing Personalities of Purpose
What it really means to be a daughter of the king
and how it applies to every area of our lives.
'"Purse"-ing Purpose ... Handling God's Perfect Plan for Our Lives
We know God has a purpose for our lives, but how can we know what His
purpose is for us? We will look at spiritiual gifts as defined in God's
Word, how to find our gifts, and we will discuss ways that those gifts
may be used throughout the seasons of our lives.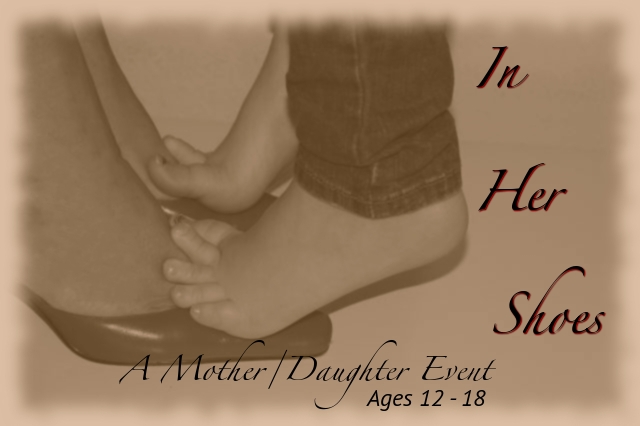 "In Her Shoes" mother-daughter event addresses the question 'what is truth?'
and talks honestly about purity in dating. Shannon shares a powerful
self-esteem message with music, and she teaches on how to talk to a bully.
The conference is designed for girls aged 12 through 18 and their moms
(or influential women in their lives) and includes a fun 'what not to wear' fashion show
and teaches girls and their moms how to stop negative self-talk.
Shannon holds a Master's Degree in Education & Counseling and
is a Certified Instructor for Parenting Classes & Crisis Counseling.
She is qualified and called to expound on the following topics covered in this conference:
Body Image / Self-Esteem
Bullying: How to Identify and Respond to Bullies (physical, verbal
& cyber-bullying), plus Practical Prevention Methods
Purity & God's Promises
Relationships - Dating, Parents & Friends
Social Media / Communications
---
Books . . .
... entangled yourself in a toilet paper holder in a public bathroom?

... had a horse use your car hood as a salt lick?

... left a sandwich in your purse for over a month?

... gotten your car stuck in the middle of a wedding reception on the bride's front lawn?

These are just a few of the hilarious snapshots in the life of Shannon Perry. By sharing real-life moments of amusement and awkwardness, Shannon manages to find spiritual lessons in the midst of everyday life.

Grace in High Heels: Real-Life Reflections of Humor, Hope & Healing offers 28 upbeat stories to help you live out your walk of faith. By taking an honest look at the absurd, sad, comical, and mundane things that women face on a daily basis, Shannon offers practical, scripture-based advice on how to face life's challenges with grace by walking on the path marked by God's heel prints.
Reviews ...
"For women who aren't perfect and can no longer hide it ... Perry opens up her life to readers with the hope they will be encouraged by the spiritual lesson her experiences have taught her, and that hope is not in vain ... true spiritual wisdom and encourage ... well worth reading." - - Phantom Tollbooth
"Through a humorous yet honest look at life's everyday moments, Shannon Perry helps readers know that God's grace abounds in every situation." - - Gospel Music Channel
"'Grace in High Heels' is a choice pick for any Christian woman who struggles to understand why things happen the way they do." - - Midwest Book Review
"What a pleasure to read this book. With real life events that I could personally relate to [Shannon] writes with gracious wisdom and a sense of humor ... she reminds us that God is truly in control and that He promises to walk alongside us." - - Christian Stay at Home Moms
"'Grace in High Heels' entrances the reader with 'girl glory' stories and a deeper relationship of God's unending grace. Ready for a taste of extreme faith? This adventure through searing honesty will bring laughter, tears, and a renewed sense of God's humor and overwhelming enchantment with His ladies of all ages." - - Bonnie Keen (best-selling author and founding member of the award-winning vocal group First Call)
"This book is a funny, delight-filled, and soul-refreshing read. It's like having coffee and a good old-fashioned heart-sharing with your best firend." - - Anita Higman (best-selling author of Love Finds You in Humble Texas)
"Shannon writes as she talks, which makes you feel like you've known her all your life. This book will lift your spirits while reassuring you of the one true God who loves you and provides for you in all life's circumstances." - - Gloria Ruppel (Women's Ministry Director, St. Timothy Lutheran Church)
"Perry is so funny! While her stories are full of humor, they also offer deep reflections on life, healing, and finding peace through trials. My favorite story is one of the few that includes no humor. It's the story of how in a matter of hours, Shannon received news that her father had a heart attack, her husband had cancer, and Hurrican Ike was barreling towards them. She talks about how all she could pray were four words - "God, I trust you." This story touched me deeply. Each story/chapter also ends with a few reflective questions and space to write in your own answers. This is a must read, and a book that I will be recommending to the special women in my life for sure!" - - My Four Monkeys
"[Shannon's] a funny lady!" - - LOLwith God.com
"Combining informative information with scriptural principles, Shannon Perry offers parents practical yet timeless advice on how to raise teens and tweens in an ever-evolving culture." - - Josh McDowell

"['Shannon] has the knowledge and experience to address bullying and other difficult issues that include eating disorders, drug use, and other problems that today's tweens and teens must address and avoid. Well researched and filled with good advice, I would recommend this book for any parent of a young girl and boy who wants to deal with these issues." - - BookReviews

Shannon's brand new book, The Overlooked Generation: Parenting Teens and Tweens in a Complicated Culture, has garnered attention from national media outlets. The book is endorsed by popular speaker/author Josh McDowell whose ministry is a division of Campus Crusade for Christ. To coincide with this book, Shannon co-wrote the new song Overlooked with LifeWay's Songwriter of the Year, Paul Marino.
---
Testimonials . . .
"We have had such speakers as Priscilla Shirer, Sheila Walsh, Lisa Harper, and Lisa Teurkurst. This year we had Shannon Perry and I have already scheduled her to be with us again next year. Our ladies love, love, love her! I would highly recommend her for your upcoming retreat or one-hour event."
Julie Adcock
Women's Ministry Director
The Woodlands United Methodist Church
"I could talk about Shannon's ability to communicate a powerful and inspiring message to her audience through her music books and speaking! Which she does with great effectiveness. After all, that is what great communicators do. What Shannon also brings is that authentic uncomplicated message that can only come by someone who is called and anointed by God to do so. When you have been at an event where Shannon is sharing, you will take something with you when you leave that is God breathed!"
Paul Marino
Producer / Songwriter
LifeWay Music Group
"Shannon has been voted as one of our favoriate speakers. She knows how to apply the Word to real life, and she has done it in a way that has forever changd the lives of those who attend our events. We absolutely love her and I would highly recommend her for your upcoming event."
Vicki, Women's Ministry Director
Woods Edge Church
"I have received such GREAT feedback from all of the women about the weekend. They LOVE Shannon. She will be back to do our event next year."
Gloria, Women's Ministry Director
St. Timothy Lutheran Church
"Shannon is one of a kind, and we are still talking about how great the retreat was. My team felt she was the best speaker we've ever had, and I would have to say "amen' to that! I will gladly pass her name on to other women's ministries who are looking for a Godly speaker. She is in it for all the right reasons. Love her!"
Dianna Gross
Women's Ministry Director / Pastor's Wife
West Conroe Baptist Church
"Shannon is like watching Chonda Pierce and Beth Moore on stage at once!"
Women's Ministry Leadership Team Member
Second Baptist Houston, Texas