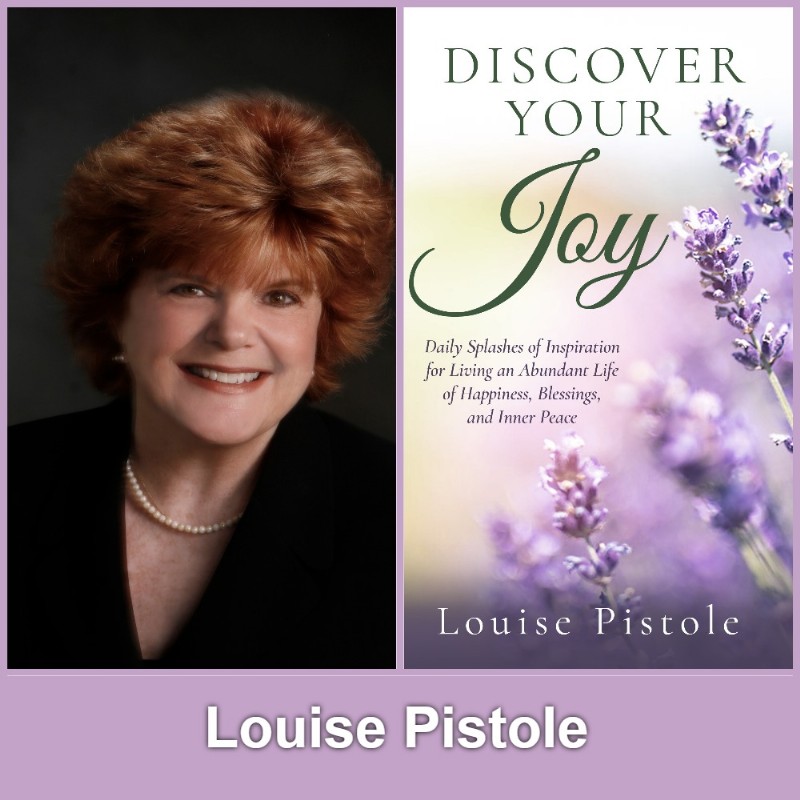 Louise Pistole
Motivational / Inspirational Speaker
Author of
Discover Your Joy:
Daily Splashes of Inspiration
for Living an Abundant Life
of Happiness, Blessings,
and Inner Peace
Travels from North Carolina
---
Louise is a JOY-fanatic! She brings her Southern charm and joyful inspiration as she encourages others to discover their own joy no matter where they are on their journey.
As Louise navigated her own difficult valleys in life, she
emerged with a strong message of joy to share with other women. Her inspiration comes alive with real-life stories of hope, love, and faith. JOY really is her superpower!
After a career of over 30 years in the financial industry, Louise made a decision to leave the business world and pursue her passion of writing. Her book, Discover Your Joy, was published in 2021. She shares her personal stories of love, laughter, holidays, kids and grandkids, along with all the good and not-so-good that life has to offer.
With her writing, coaching, and speaking, Louise offers encouragement and inspiration to women worldwide. Using both practical wisdom and Biblical truths, she guides others to seek what they are missing in life and to become the best version of themselves.
Louise spends many hours in her flower gardens. Here she finds the tranquil peace and serenity to fill her soul. Among all the plants and paths, there are numerous seating areas to give her places to ponder and write. It's no surprise that she uses flower images throughout her writing and on her website.

After 45 years apart, she recently reconnected with her high-school sweetheart. They married on the beach and found their joy in a vacation home at the coast. Click to read their love story as printed in Sasee Magazine (April 2019).

Louise's life has come full-circle and she is grateful every day!
---
Choosing Joy During the Storms of Life
When you're living life on the hilltops, it's easy to sparkle with joy. But life will sometimes find you in the valley. Choosing to be joyful as you weather the storms in your life is definitely not easy. Those are the times we need to seek God and the joy He provides for us. I Thessalonians 5:16 reminds us to "Be joyful always." Learn the lessons of praising God in the valleys and restoring your place to sing from the hilltops.
3 Ingredients of Joy -- Love, Hope and Faith
Living in joy is such a beautiful experience. Walk with me through love, hope, and faith as we discover how these three ingredients lead us down the path to a more joyful and fulfilling life in the presence of God.
Living a Positive Life in a Negative World
How do you maintain positivity when faced with all the negativity in our daily lives? Let me help guide you to making a plan to stay grounded in faith and joy as you navigate each day. Gratitude, affirmations, journaling, and devotions head the list to living a more positive and joyful life. The Fruit of the Spirit lines the path you traverse. Align your heart and center your thoughs. A joyful, positive life can be yours!