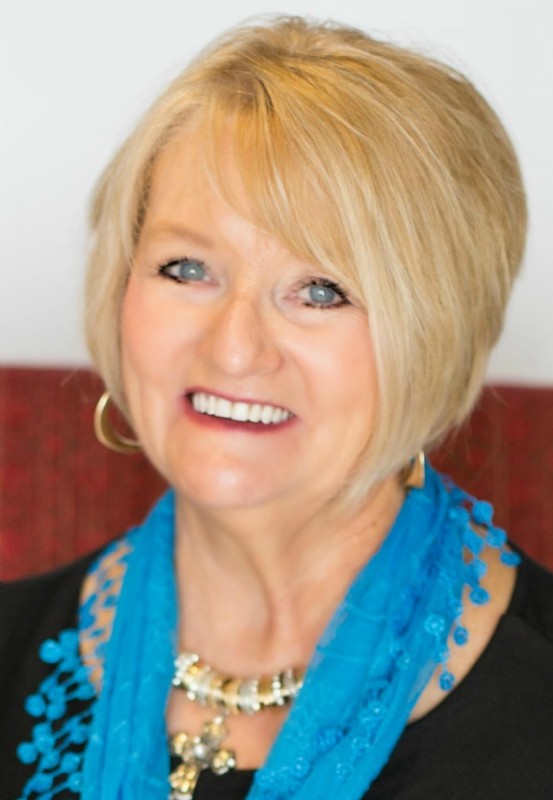 Sherry Poundstone
Christian Conference Speaker
Bible Teacher
Author ...
Becoming a Woman of Character
Becoming a Woman of Power With God
---
"For I know the plans I have for you," says the Lord.
"They are plans for good and not for disaster,
to give you a future and a hope."
God has allowed Sherry Poundstone to touch the lives of thousands of women through conference speaking, teaching Bible studies, writing, and mentoring.

She is the author of Becoming a Woman of Character and Becoming a Woman of Power with God.

Sherry is the co-owner of Christian Communicators, a conference for established and aspiring professional speakers, as well as a member of Christian Women in Media, Christian Women Alive and Advanced Writers and Speakers Association.

Above all else, Sherry's most valued role is that of wife to her husband John. Together they are founders of Bethesda Reno-Tahoe Ministry and John serves as a pastor.
---
What's in Your Spiritual Handbag?
As women, we carry all kinds of goodies in our handbags! But what's in our spiritual handbag? Through humor and the Word, we will explore the items and tools we carry around with us in our spiritual handbag - - and the impact they have on our lives!
3 Steps to Living a Positive Life!
LIVE with JOY! Learn the three steps you can take today to approach life with a positive attitude. Follow God's insturction for a rich and satisfying life as based on John 10:10.
Spend Some Time in Her Shoes
Every woman has a story; a story that involves challenges and victories, pain and joy, fear and peace. But what if we were able to spend some time in her shoes? Would what we see, think or feel about her change?
Live It Out Series
The Live It Out Series: A Life of Prayer, Study the Bible with Purpose, Can You Hear Me Now? Each of these teachings can be a stand-alone topic or combined for a retreat or a multi-session conference.
Becoming a Women of Power with God
Becoming a woman of power does not mean becoming a woman who controls and dominates. It does mean becoming a woman who influences her marriage, home, family, workplace, and faith community in a positive and edifying way. A woman of power builds up rather than tearing down.
Becoming a Woman of Character
This presentation will take you through the steps of Becoming a Woman of Character. This series covers how to become an authentic woman who is honest, full of integrity, reliable, loyal, forgiving, kind, and compassionate. Don't copy the behavior and customs of this world, but let God transform you into a new person by changing the way you think. Then you will learn to know God's will for you, who is good and pleasing and perfect. Romans 12:1-2
What Are You Saying? The Power of Words
"Sticks and stones may break my bones, but words will never hurt me." Unfortunately, this childish chant is not true. A stick may bruise our body for a few days, but words can bruise our spirit for many years. This series will teach us to speak words that build up rather than tear down ourselves and others.
Trash Your Past!
We all have a past, but we do not have to allow it to dictate our future! No, dear brothers and sisters, I have not achieved it, but I focus on this one thing: Forgetting the past and looking forward to what lies ahead. Philippians 3:13
Climbing Out and Staying Out!
How easy it is for us to fall into the pit of offense! Through this teaching, Sherry will provide you with an understanding of offense, how we get into the pit, and how to allow God to pull us out! Jesus warned us of offense in Luke 17:1. Then He said to the disciples, It is impossible that no offenses should come, but woe to him through whom they do come!
Embrace Change
One thing we can count on is ... change! But how do we adapt, and even embrace, change as it comes? In this teaching, Sherry will lead you through God's word about handling change, life's interruptions, and unexpected circumstances. You will leave strengthened and even excited to EMBRACE CHANGE! Perfect for a weekend retreat or conference.
Holiday and Special Topics
A Season of Hope
Sharing the hope of Christ in unique ways.
Twelve Days of Christmas
The top twelve ways we can bless others during the Christmas season.
The Greatest Gift
Unwrapping the greatest gift with humor and the Word of God.
Back to the Table
Bringing your family back to the table based on scripture and practical instruction.
Wedding Plans
The Jewish wedding customs as they relate to communion.
The Ultimate Reward
Creating a loving and peaceful mother-daughter relationship.
---
Testimonials
We loved Sherry's gentle, engaging manner as she presented biblical truth. Her prophetic words were very encouraging, and we recommend Sherry.
Shell Cowper-Smith
Women's Pastor
California
Sherry came to share with just over 100 women in Kimball, Tennessee, and she was wonderful! I am confident that she was the woman God had for our confernece. She shared relevant and practical truth with style and fun!
Cythia Skidmore
Womens MInistry Leader
Kimball, Tennessee
Sherry has a phenomenal presence as a speaker. She has written study books for women that are biblical, engaging and memorable. She is extremely well versed in the Bible. I would strongly recommend Sherry as a "key" speaker for any Christian event.
Elizabeth Schultz
Palm Desert, California
I would highly recommend Sherry Poundstone for speaking engagements. The Word she shares is applicable for everyday living and is biblically based. The wisdom she brings is easily entreated. Anyone who attends will leave hopeful and inspired.
Jino Kelly
Minister
Reno, Nevada
Sherry has an anointing to inspire, challenge, and educate the body of Christ. I have found her walk and ministry to be fully guided and equipped by the Holy Spirit. She shares with clarity and spiritual wisdom through her teachings to the women who attend her Bible studies, listen to her radio show, and who attend her speaking events. Sherry has a crazy passionate walk with God and enjoys helping women gain focus and insight into their divine purpose in the Kingdom of God. Sherry has been a mentor in my speaking ministry and an inspirational example on how to be a faith-guided woman of character!
Shelli Wenschlat
Christian Speaker
Reno, Nevada
I recommend Sherry as a conference speaker, Bible teacher and mentor to women.
Devi Titus
Kingdom Global
Colleyville, Texas
Sherry is a dynamic speaker who bases all of her teachings on the word of God. She relates to women of all backgrounds and ages and speaks truth to all who attend her conferences. She is loved!
Alice Mendez
Pastor
Sparks, Nevada
Sherry Poundstone is one of the most gifted speakers I've had the privilege of listening to. Her knowledge of the word and her presentation of the material set her apart from many other speakers.
Sherry Poundstone is a Holy Spirit-gifted teacher, whether one-on-one, in a small group setting, or a large congregation. She is a valuable asset for any speaking event!
Sherry is a profoundly gifted speaker. She has a way of connecting with the audience and drawing them in to her teachings.
Sherry Poundstone is a dynamic, gifted, anointed, powerful and compassionate speaker. Her passion to see believers grow into the full knowledge and love of Jesus Christ is evident in her teaching and her compassion for the people God has entrusted to her.