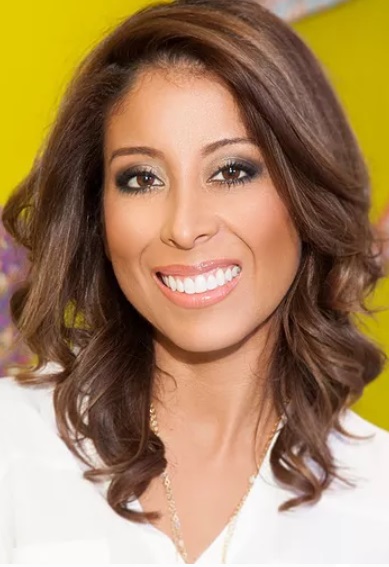 Carime Randolph
Illuminating Divine Beauty From the Inside Out
Keynote Speaker and Workshop Leader
Presentations may include make-over
of a model or audience member
Professional Makeup Artist
Creator of DLu Cosmetics
Fluent in Spanish and English
---
Carime Randolph is a mother, an artist, teacher of makeup artistry, media personality, conference speaker, and the creator of DLu Cosmetics with a philosphy about makeup and beauty that is far beyond surface beauty.
Carime really enjoys sharing her gift of makeup artistry as a form of ministry to help women regain their confidence, realize their self-worth, and embrace their God-given beauty. While she has ministered as a speaker and makeup artist in various ways, one of her most valued experiences was a volunteer ministry event at a women's shelter.
She brought a team of makeup artists to the shelter to share love and encouragement, providing valuable education on self-makeup application to help them prepare for future job interviews.
This experience sparked a cry in Carime's heart for ongoing ministry in this area as she recognized the opportunity to help women whose life experiences had negatively impacted their perspective of who they were made to be.
As Carime continued with her makeup artistry, her passion for makeup, coupled with what she learned through her own personal victories related to self-perception, grew into a ministry message of "Beauty from the Inside Out."
As a Christian, the heart of Carime's DLu Cosmetics brand is to enhance the beauty ALL women already have. She encourages women to fully express themselves without comparison, to confidently allow their unique beauty to shine from the inside out, and to see themselves the way God sees them - - beautiful, fearfully and wonderfully made.
DLu ... The Meaning. "DLu" is Carime's personal abbreviation for "Divine Light." The "D" in DLu stands for Divine. "Lu" stands for Luz, which means light in Spanish. The inspiration for the name DLu came to Carime while meditating on God's proclamation that we are carriers of His light within us. When we know and embrace who we are and see ourselves through the eyes of God, we will walk in freedom to fully and confidently radiate His light, love, and true beauty.
Another inspiration came from Matthew 5:13, 14. We are defined by the One who made us and designed us to be as salt and light. As salt, we add our own special flavor to this world, and as light, we manifest His nature which is to illuminate the world around us and the lives of the people we touch.
The Vision ... To inspire women and young ladies to discover their true God-given beauty and identity through transformational beauty products and services, inspirational and motivational speaking, and training to fully live out their royal destiny.
A professional makeup artist since 2003, Carime is one of the A-list makeup artists with Makeup Artists of Atlanta and currently serves on their leadership team. Her professional makeup experience includes film, television, runway, bridal, theater, special FX, and print photography.
---
Beauty From The Inside Out

Carime enjoys sharing not just the art of makeup application, but also the truth about your beauty! She has a heart for women and young ladies who may be stuck, believing lies about their self image, as she did for many years. She believes the truth in that we are ALL fearfully and wonderfully made and designed to add our own flavor and light to this world! We are beautiful, precious, one of a kind, and of great worth! During this session, you will learn the truth about your beauty, receive tips on how to enhance your natural beauty, and see a brief makeup demonstration focusing on enhancing natural beauty.

Makeup Demonstration / Workshop

Focusing on enhancing your natural beauty for women and teen girls.
Embracing Your God-Given Beauty
Too often we see ourselves through our negative experiences instead of how God sees us. Let's talk about how to embrace the beauty God gave us. This presentation incorporates my story of perceiving myself in a self-destructive way; my testimony which is a journey of discovery; how I have learned to see myself today; and how to identify traps of incorrect perceptions of your beauty and how you can embrace the truth that God made you beautiful.
Merging Ministry and Makeup! ... What is your special sauce?
Every woman was designed by God with a plan and purpose for their life. I share my personal testimony and the birth of DLu Cosmetics to inspire women to go after what God is saying to them individually. My business and ministry story, which revolves around makeup and beauty but includes a ministry that goes so much deeper than 'skin deep,' is shared to inspire women to know that God does not put limits on any of us. We reveal to women that God has put a desire in everyone's heart and, in sharing my own story, I am reveal a path to discover one's own heart's desire given by God.
Carime's Beauty Philosophy ...
Eyes ...
Your personality, the essence of who you are, shines through your eyes!
Cheeks ...
The best way to add radiance to your smile is to smile from within!
Lips ...
You can move mountains with your words! Release the treasure that is inside you with the words you say!
---
Professional Credits Include:
Television & Film
Say Yes To The Dress (TV)
Stand Your Ground (Movie)
Emory Hospital (Commercial)
Studio makeup artist for 2-1/2 years for three-time Emmy Award Winning News Anchor Judith Martinez
Interviewed as one of the makeup artists in a segment titled Nuestro Maquillaje y las Bacterias, Carime discusses makeup and makeup product safety.
Speaking Engagements & Makeup Demonstrations
Professional Makeup Artist Convention (PMAC)
Atlanta Institute of Aesthetics
Conducted a demonstration for middle school and high school-age ladies focusing on enhancing their natural beauty
Allstars Performing Arts Academy
Makeup Artists of Atlanta, media makeup demonstration
Professional Airbrush Foundation Instructor
Boys and Girls Clubs of Atlanta