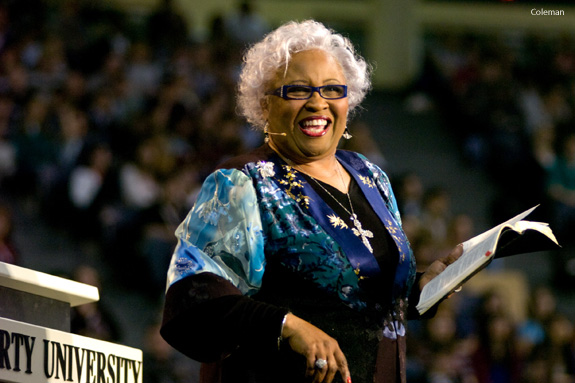 Thelma Wells
A Crowd Favorite at "Women of Faith" Conferences
Mama T Says ... In Christ, You can BEE the Best!
Faith-Based and Corporate Conference Speaker
---
Thelma Wells Travels from Texas
For More Information: Call 1.800.782.2995 Or
---
Known as "Mama T," Thelma Wells is a feisty 70+ year old who has been featured in Southern Living, D Magazine, The Dallas Business Journal, Significant Living, and many more publications and television shows including Dr. Phil, The Joanie Show, Life Today, and The 700 Club.
She is sought after by corporations, women's groups, and governmental entities. She's no stranger to the stage, having presented to over a million people in her 35-year career and spoken on stage with the best, including Zig Ziglar, Max Lucado, and Kay Athur - and, of course, her Women of Faith porch pals ... Luci Swindoll, Sheila Walsh, Patsy Clairmont, Anita Renfroe, and Marilyn Meberg.
Thelma is currently speaking on Women of Faith's Final "LOVED" tour -- traveling to 18 cities and reaching a quarter of a million women. Her passion is to tell everyone that they can "BEE" their best in Christ - a mission she's carried out for over 35 years.
In 2001, Thelma received her Masters of Divinity from Masters International School of Divinity in Evansville, Indiana. And in 2006 she was ordained upon receiving an honorary Doctorate from St. Thomas Christian School and Theological Seminary in Jacksonville, Florida.
And if that doesn't keep her busy enough, Thelma hosts her own television show for the NRB networking, a program offering a fresh perspective on today's issues for women through dialogue and teaching. She has written many books, including Don't Give In - God Wants YOU to Win!, Ready to Win Over Depression, Mama T Say ... Rise & Shine, God Give Me Victory Over Anger! and her latest book, Listen Up Beloved.
Thelma's start in life did not foreshadow her future successes in business and ministry.
From times of singing in a dark closet to the founding of a national women's mentoring ministry, Thelma Well's life has been a courageous journey of faith.
The name on her birth certificate read simply: Baby Girl Morris. Thelma's mother was a severely deformed teenager with no husband and no place to go, since her own abusive mother insisted that she take the baby and leave the house.
So when the baby was born, her unwed teenage mother found work as a maid cleaning "the big house" while living with her baby daughter in servants' quarters. Eventually, the baby went to live with her great-grandparents, who called her Thelma Louise Smith and loved her dearly. They took little Thelma to church, where she learned to love the hymns and praise songs.
On those occasions when Thelma was taken to her grandparents' home, her grandmother abused her, just as she had tormented Thelma's mother. She was locked in a dark, smelly, insect-infested closet until just before her grandfather came home when her grandmother would bring her out of the closet, clean her up, and act as if all was well. In spite of her deep fear, little Thelma spent her time in the closet singing every hymn and praise song she could remember. She would sing herself to sleep in that closet, and the Lord received this little girl's innocent praise and rewarded it with an abundant life of joy, protecting her from feelings of anger or bitterness.
Thelma grew up to become a trailblazer for black women, a prominent international speaker and author, and a wife, mother, grandmother, and great-grandmother. As a student at
North
Texas
State
University
in
Denton
,
Texas
(now the
University
of
North Texas
), she was a member of the first group of girls to integrate the school's dormitories. She earned her Bachelor's degree and eventually received a Master's of Ministry from Master's International School of Divinity in
Evansville
,
Indiana
.

In 2002 she became the school's first black female professor.
In 1980 Thelma became the first black woman in the South to organize her own international speaking and consulting corporation. Her natural talent for public speaking and storytelling attracted the attention of the Women of Faith Tour, and in 1996 she became the first black core speaker for the organization.
Thelma says her greatest accomplishment has been her family. She has been married to George, her childhood sweetheart, for over 54 years, and her three children, nine grandchildren, and four great grandchildren look up to her as "Grammy - A Woman of God" who they can turn to for love, support, and wise advice.
---
Thelma Wells' Speaking Topics Include . . .
God is Not Through With You Yet

Based on Thelma's book, God Is Not Through with Me Yet, Thelma tells of her battle with cancer and two surgeries that almost took her life.Mixing personal stories and solid biblical teaching, she encourages you to develop a deeper faith and desire to follow your Lord...even through life's most turbulent storms.
A Formula for Success: B+E+E=S
By wearing a bumblebee broach every day, Thelma reminds others of the formula for success she teaches in this seminar:
B - Be aware of who you are - Psalm 139:13-17
E - Eliminate the negatives in your life - Philippians 4:6
E - Eternal value is what counts in life - Matthew 15:2
S - Success is a decision - 3 John 2
*This material can be covered in a keynote or two consecutive sessions of 1 hour each.
Bumblebees Fly Anyway
In this topic, Thelma teaches strong principles gained from her personal life story of racial bias, humble beginnings, and a sense of personal inadequacy.As Zig Ziglar said, "Thelma calls on us to exceed our own limitations, to go beyond the expected, the routine, the ordinary, in all our pursuits.Because that is what she demands of herself."
God Will Make a Way
Thelma identifies specific promises from Scripture, followed by inspiring testimonies from her own experiences, to offer fresh insights into ways that God answers prayer, offers guidance, and restores hope in the midst of trial and hardship.
What's Going on Lord?
When the circumstance of our lives raise more questions than answers, where do we turn?According to Thelma, that's when it's time to take God at His Word.With insight and humor, she directs us to God's Word for teachings about our need for safety, peace, provision, guidance, and wisdom.Then she applies those teachings to all that we fear.
Girl, Have I Got Good News For You!
Thelma offers God's comfort, wisdom, and perspective to help you heal and move on after such occurrences as depression, abuse, failing health, or a hurt seemingly too deep to forgive.Speaking from her own life experiences, she blends humor, compassion, and a cheerleader's commitment to encourage others through God's Word and prayer.
Customized Keynote:
For over 20 years, Thelma has addressed audiences of all types and sizes.With information YOU want and need to hear, she will take your theme and ask God to impart the message.HE never fails. Combining years of experience, practical advice, and humorous stories with the Word of God, she creates a tailor-made message that will speak to your heart and challenge you to be your best.
---
Corporate Speaking Topics Include . . .
You Can Be The Best of What You Want to "BEE"
We all have the ability to be the best of what we want to be in any situation.Every day we are faced with family, career, religious, community, health, financial and/or other decisions that affect our very existence.This speech is dedicated to the proposition that we can have anything we want in life if we have the physical ability, mental aptitude, and motivation to do so.When people tell us what we cannot do, we must believe that the only limits we have are the limits we put, or allow to be put, on ourselves.Thelma says, "Don't believe the lie that you can't fly!"
Customer Servanthood - The Golden Rule in Action
The various roles of the Customer Service Representative include being part host and hostess, part teacher, part detective, and part psychologist.Customer Service Reps have one of the most stressful jobs in the United States.This seminar is designed to share the latest techniques for dealing with customer service opportunities that can delight your customers and help you put the golden rule into action.
Self-Esteem is a Matter of Choice
Everyone suffers from low self-esteem at one time or another.But, nobody has to be victim of low self-esteem.This seminar is designed to help you gain and maintain a high level of self-esteem in spite of life's difficulties.You will learn techniques that can help you be the best when all around you seems to be caving in.
L.E.A.D.
Managers, supervisors, group leaders, coordinators and the like are faced with the awesome responsibility of leading people in a complex and revolutionary business climate in the 21st century.Many people find themselves in management positions without any training or former experience.This program is designed to teach the principles of L.E.A.D.:
L - Lend a Helping Hand
E - Excel at Menial Tasks
A - Accept Responsibility
D - Demand More of Yourself than Others
Defying the Odds at Work and Home - A Formula for Success
Bumblebees are not designed for flying.According to the laws of aerodynamics, in fact, they should not be able to get off the ground.Yet every day millions of these little creatures defy the odds-they do fly!This program is about collaborating in the creation of opportunities, progress, and change in your career and personal life.By wearing a bumblebee brooch every day, Thelma reminds others of the formula for success:
B - Be Aware of Who You Are
E - Eliminate the Negatives in Your Life
E - Eternal Value Is What Counts
S - Success Is a Decision
Note: This material can be covered in a keynote or two consecutive sessions of 1 hour each.