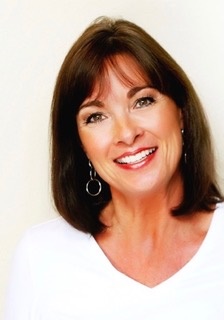 Pray With Purpose ... Live With Passion
---
Debbie Taylor Williams Travels from Texas
For More Information: Call 1.800.782.2995 Or Click Here to Send An Email
---
Debbie's passion for Christ is evident in her energetic style and insightful personality. Her spiritual beauty and willingness to be led by God bring a relevant message to women of all ages, backgrounds and denominations.
Diagnosed with ovarian cancer at age 29, Debbie is an authentic servant of Christ with a focus to encourage, challenge and inspire her audiences to become women of passion, purpose and prayer.
Debbie's passionate focus to help others know God's life-changing power has led her to author eleven Bible studies, teach and lead retreats and conferences and serve as keynote speaker at numerous events throughout the United States.
| | |
| --- | --- |
| Her teaching ministry is broadcast weekly on Power Points, a local television program. Debbie has also appeared as a guest on James and Betty Robison's "Life Today" television program, as well as "Atlanta Live" Christian talk show. | |
Before establishing Hill Country Ministries in 1999, Debbie served as the Teaching Leader for Bible Study Fellowship, where she led a class of 450 women. She later co-founded and taught Women's Bible Study at her church involving more than 300 multi-denominational women.
As a member of her church's state convention Women Reaching Texas team, Debbie served as a seminar leader and speaker at state, regional and local events in Texas, New York, and New Mexico. She has been a featured columnist for the Women Reaching Texas newsletter and has served as a guest panelist at the Women's Leadership Conference at Southwest Theological Seminary in Ft. Forth, Texas.
Debbie's spiritual investment in others was acknowledged by her community when she was recognized as the 2000 Woman of the Year.
Her trademark, signing the words of a worship hymn, has become a requested blessing by the groups to whom she speaks.
Debbie is a graduate of Texas Tech University with a BS in Human Development and Family Studies. She has been married to Keith Williams for 30 years. They are blessed with two children, Taylor and Lauren.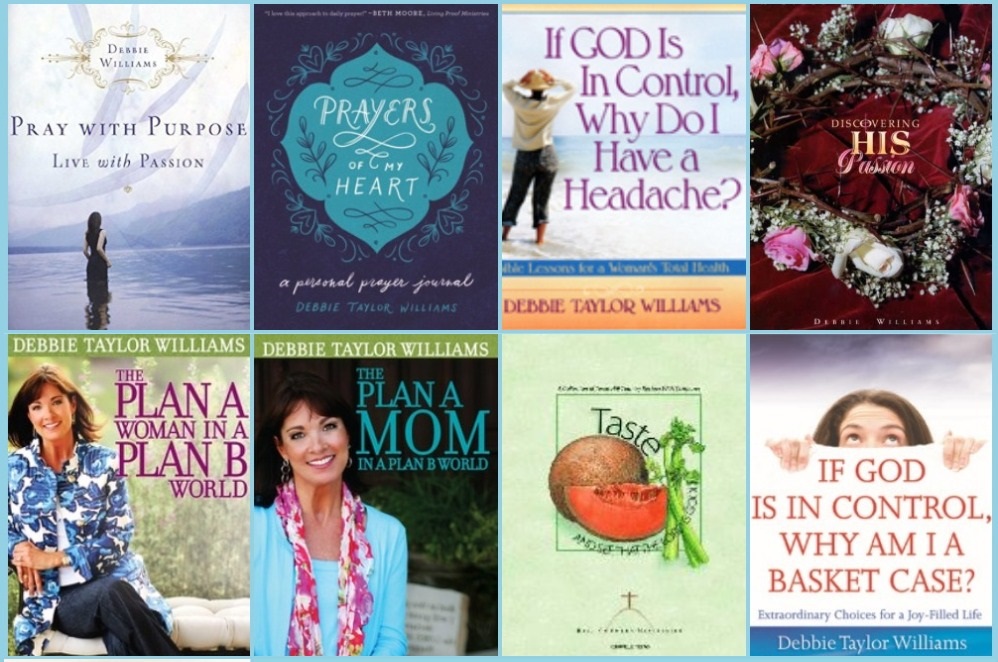 ---
Popular Topics Include . . .
Pray With Purpose ... Live With Passion
Debbie's fresh and practical approach in Pray With Purpose helps shake the stiff out of our language toward God and cleans the religious wax out of our ears so we can hear His voice more clearly. She effectively reminds us that prayer is an intimate communion with our Creator instead of a stilted, formal monologue catapuled toward a 'faraway God'! You'll take home key prayer tools you'll use whether you're driving carpool, leading a corporation, being caregiver to a loved one, or battling cancer. Join women throughout the United States who are praying more purposefully and living more passionately for Christ.
If God is in Control, Why Do I Have a Headache? Bible Lessons for a Woman's Total Health
God cares about our eternity. God cares about our soul. But have you ever wondered if God cares about your body? In this teaching, Debbie brings insight and inspiration from her experience of being diagnosed with ovarian cancer 21 years ago at age 29? Be encouraged and inspired through her study of women of the Bible and how God cares not only about our spirit, but also about our body. Discover how God wants to release His peace and power in and through you.
Becoming a Woman of Passion
What is passion? From where does passion for God come? How is passion for God sustained? Discover renewed passion and joy as Debbie answers these questions and more. Find out how you can become a women who is passionate for God!
When the Spirit Speaks
Since the beginning of time God has spoken to man. But how does God speak to us today? What did Jesus mean when He said He would send another Helper to His followers: the Holy Spirit? What was Jesus saying when He told the disciples that the Holy Spirit would teach them? Does God still speak? Does He speak to believers today through the Holy Spirit? Is so, how can we learn to better hear and obey His voice? Be inspired and equipped in Debbie's in-depth study, When the Spirit Speaks.
The Extreme Makeover
Reality television has captured the nation's attention with the fact that people can be made over on the outside. But has Christ captured out attention with the reality that we can be made over on the inside? Be blessed and challenged by discovering how you can have an extreme makeover on the inside!
Preparing Our Hearts for Christmas

Preparing our hearts for Christmas can be a challenge in our fast-paced society. In fact, we may be more mindful about preparing our homes and meals than we are our hearts. Debbie will show you how to keep the true meaning of Christmas at the forefront of your mind. You will leave equipped to live out the true meaning of Christmas before family and friends.

Have you ever thought about the journey Mary went on when she left Nazareth? Her journey didn't end in Bethlehem. It continued. But how did she and Joseph know where to go and what to do? Come and find out as we explore Mary's journey - and our own.
---
What Others Are Saying . . .
"My staff and I are crazy about the Prayer Journals! Thanks, Sister!"
Beth Moore
"As engaging in print as she is in person, Debbie Williams bring practical and memorable tools to infuse your prayer life with purposeful energy. This is a book sure to help every women add dimension and energy to her prayer life."
Cheryl Green, Director, UpWords Ministries with Max Lucado
"In her newest book Pray with Purpose, Live with Passion, Debbie Williams leads us to a more intimate encounter with The Almighty. No matter where you are in your prayer life, the encouragement and wisdom you will find in this book will take you to a deeper and more passionate walk with Him."
Karol Ladd, author of The Power of a Positive series
"We were blessed to have Debbie speak at our Women's Leadership Appreciation Dinner. She brought a message from the Lord that was both affirming and inspiring. Debbie has a gift for presenting the truth of God's Word with a joyful spirit and great wisdom."
UpWords with Max Lucado & Women's Ministry
"As you know, Proverbs 31:30-31 says, "Charm is deceitful, and beauty is vain, but a woman who fears the Lord is to be praised. Give her of the fruit of her hands and let her works praise her in the gates."
I would like to recommend such a woman as this. Her name is Debbie Taylor Williams and she is beautiful! What an incredible speaker and conference leader she is. She was our lead conference speaker at the New Mexico District Women's Retreat of the Church of the Nazarene with nearly 500 women in attendance. God used her to refresh, restore and nail down salvation through her awesome revelation on prayer and bible teaching. She has a unique ability to communicate and apply scriptures to everyday life. She is dynamic! I encourage you to seek her out, you won't regret it! We want to have her again. Our women loved her and you will too.
There's a song, maybe you've heard it, and it goes like this; "Give me revelation, tell me what to do, I can't seem to find my way, I haven't got a clue..." I believe God wants to give us revelation about His purpose for our lives, our families, our church and our nation. He wants to show us the great and mighty things we do not know. Debbie is one of God's servants commissioned for this time to carry out His revelation."
Cindy Speicher
NM Women's Ministry Director, Church of the Nazarene
"Debbie was absolutely wonderful. In the beginning our team wondered how we would ever get 200 plus ladies to attend a Prayer Conference since the prayer service at church is the 'least' attended service at any given time. Well, to our amazement over 500 ladies signed up to attend. Comment after comment was about their need to learn more about how to pray with purpose and effectively. And that we did with Debbie's use of personal stories and very creative visuals. Many of our very mature adults told us how for the first time in their lives, they have the tools to pray passionately. Everyone loved the unique and easy way to praise God using His attributes from A-Z. This conference meets all needs from the new believer to the very mature in Christ. Your prayer life will never be the same!"
Women's Ministry Director
North Phoenix Baptist Church, Arizona
"Debbie, I wanted to let you know again how much we enjoyed having you for the Listen UP Retreat! The ladies just adored you, and we so appreciate your down to earth style and gifted teaching of God's Word! I enjoyed our few minutes together at dinner, (wish it could have been more...) and I pray that the Lord continue to bless your ministry. Thank you, again. We would love to have you back in the future!"
Grace Family Church, Florida
"Debbie Taylor Williams was the greatest choice as a keynote speaker for our women's
retreat. We so enjoyed her great communication, her humor, but mostly her spirit that was so energized by our heavenly Father. She came and connected with each person she interacted with, unlike some speakers who come, do their responsibility, and leave. Not Debbie. She came with all her gifts and abilities ready to be used by God both on and off the podium. Our church is richer and wiser because of her time here."
Director of Assimilation and Women's Ministry
"Debbie Williams is a woman whom God has wonderfully gifted in sharing His Word. She
teaches in parables and ways that bring God's Word to life for others. Ladies under her teaching learn in such a way that they are challenged in their walk with the Lord while being greatly encouraged and blessed all at the same time. Long after retreats are over where she has spoken, ladies continue to talk about the truths they learned under her teaching, which are very applicable to the daily lives of women in all walks of life.

After the most recent retreat where Debbie spoke, many ladies have shared the desire to have her come for a city-wide women's event so all their friends and women of the city can receive the blessing of God's Word through her teaching. Her books and writings continue to encourage women in their Bible study time and in their lives after returning home from retreats. It is refreshing and inspiring to see how God is using Debbie for His purposes in sharing His
word with so many women and the amazing result is that He receives all the glory. I am very thankful to know Debbie Williams, a gifted and godly woman whom I trust to share God's love and Word with the women of my church in a way that blesses and encourages them in their walk with the Lord. I encourage everyone to invite her to come and share God's love and teaching with women."
"Debbie Williams brought her P.R.A.Y. conference to almost 400 women in my home church. The women loved her easy communication style, enjoying and personally relating to her like two friends over a good cup of coffee. She brought principles on prayer to light with a fresh delivery that was eye-opening, even for the long-time Bible student, while remaining easy enough to grasp for the newest believer. Debbie's warmth and humor made the Bible come alive in ways that meet today's woman where she lives, and show her Jesus in the midst of her everyday reality. What more could you ask of a Christian speaker?

Here are a few of the responses from the women who attended:
I just wanted to thank you so much for your obedience in bringing today's conference to Grace Family Church. I cannot tell you how eeply this message spoke to my soul, and how my spirit has been renewed through it. This last year has been a struggle for me, and audibly hearing from God today has closed that chapter for me, allowing me the freedom to seek Him with certainty.
This conference is wonderful! This is my first event I have attended other than church and church plays. I think this was the best thing I could have done with my Saturday. Debbie is a wonderful speaker. I love that she doesn't sugar coat everything and that she is honest. I felt so close to God. I want to thank you so much for this wonderful event."
Grace Family Church, Florida
---
---
In order to receive updates that are of most interest to you, please include the state where you live and, if applicable, the type of ministry in which you serve. Please include your email address if it is different from the email address you use to send your request.
---