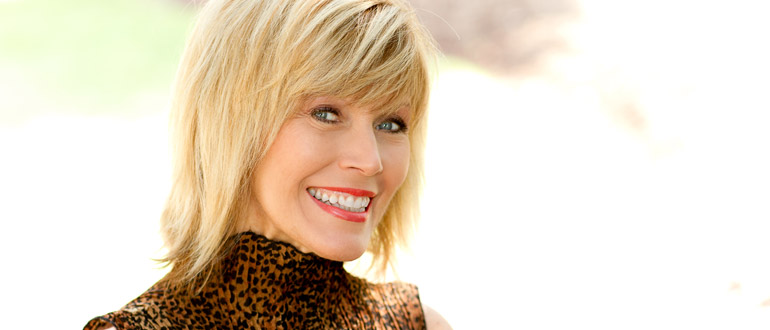 Cindi Wood
"The Frazzled Female"
Cindi Wood Travels from North Carolina
For More Information: Call 1.800.782.2995 Or Click Here to Send An Email
---
Cindi Wood teaches the "strung-out and frazzled" woman how to creatively manage the stresses of life. Frazzled Females is Cindi's term for today's schedule-scattered, brain-strained women of the new millennium!
Even Christians (who are supposed to have it all together, right?...) are victimized by the pressures and the unrealistic expectations of daily life. But these same Christian women also have within them a wealth of spiritual and mental resources to rise above the battle and emerge . . . well, at least "victoriously frazzled!"
Through her popular Frazzled Female seminars, Cindi leads women to develop practical strategies to deal with daily pressures. With insights and humor, her anointed teachings point participants to the vibrant love that is experienced as you hear from God through Bible study and spending time with Him.
Cindi believes that God is pursuing a love relationship with each of His children, and that He has specific designs for each of us as we go about our daily living. Her passion is to help women to discover that a growing intimacy with Jesus Christ is the key to dealing with all areas of life . . . including the daily stress that often gets the best of us.
Her seminars and keynote addresses have been the focal point for national, state and area conferences, church groups, businesses, schools and government agencies. Cindi has appeared on The 700 Club and many other television programs. She also produces the 90-second Frazzled Female Moment, which airs on a number of Christian radio stations.
---
Cindi's Book Titles and Most Requested Speaking Topics Include . . .
I've Used All My Sick Days - Now I'll Have To Call In Dead

The Frazzled Female

The Frazzled Female Bible study

Victoriously Frazzled Bible Study

Too Blessed For This Mess
Too Blessed For This Mess: The Frazzled Female's Guide To Overcoming Stress (B&H Publishing Group)

You were designed to live a life - not free from stress - but victorious in the midst of it. Too Blessed For This Mess will help you begin your journey of personal peace and joy as you tackle the daily hassles of living!
The Frazzled Female: Finding God's Peace In Your Daily Chaos

(B&H Publishing Group)



Definition:

Frazzled Female
(fraz-eld-fee-mal) n 1: a woman of the twenty-first century who is stressed, frayed, challenged, frenetic; 2:YOU?
Victoriously Frazzled: The Frazzled Female's Guide To Restoring Her Sanity (Lifeway Press)

There's victory in stress through a relationship with Jesus Christ.
The Frazzled Female material can be adapted to a variety of women's events, such as dinners, luncheons, brunches, overnight retreats, and day conferences. Cindi's Biblically based teaching is always laced with humor and practical applications. Her goal is for each participant to leave with a fresh understanding and commitment to grow a deeply personal relationship with Jesus Christ.
---
---
Testimonials . . .
"The Frazzled Female studies have been a wonderful resource for women and among our best-selling and most used Bible studies."
"The consummate encourager, Cindi Wood blows a fresh, sweet breeze of faith into my heart's sails. Her delightful yet thorough way of teaching God's Word always leaves me wanting more. I'm honored to journey along side her in ministry and sisterhood."
Singer, Songwriter, Author
"There is so much that could be said about Cindi Wood. She ushered our ladies into the very presence of God with the anointed teaching of His Word. Her teaching was exceptional. She is personable, practical and very real. Not only do I recommend her and her ministry, I can guarantee that she will bless you and your people beyond words. She is the epitome of what Paul wrote in I Corinthians 11:1, 'Follow my example, as I follow the example of Christ.'"
Balancing Life's Demands Retreats
"A comprehensive handbook for any woman who feels stressed out, over-worked and just plain "fed up" ! Cindi Wood shows you how to tap into the power that give life meaning! Sign me up as a member of The Frazzled Female Club!"
Marabel Morgan
Best selling author of The Total Woman
"Our ladies responded enthusiastically to Cindi's ministry during a recent Women Of Faith event. In a day when so many speakers talk ABOUT Jesus, it was so refreshing to hear her point us TO Jesus, and to a closer relationship with Him. This is, after all, what the abundant, non-frazzled life is all about-resting and trusting in Jesus alone. Thanks, Cindi for a powerful message, beautifully conveyed, that went right to the heart."
Jeff Renn
Worship Pastor, Putnam Baptist Church, Shelby, North Carolina
"Two friends and former co-workers and I started going through the workbook about two weeks ago. Each day is so simple and short, but packed with so much! I have literally been stressed and sat down to read the day's lesson and peace would settle over me in just a few minutes. Something about sitting down and seeking the face of God is so very powerful. Thanks for the study!"
Comment from Cindi's message board

---
---