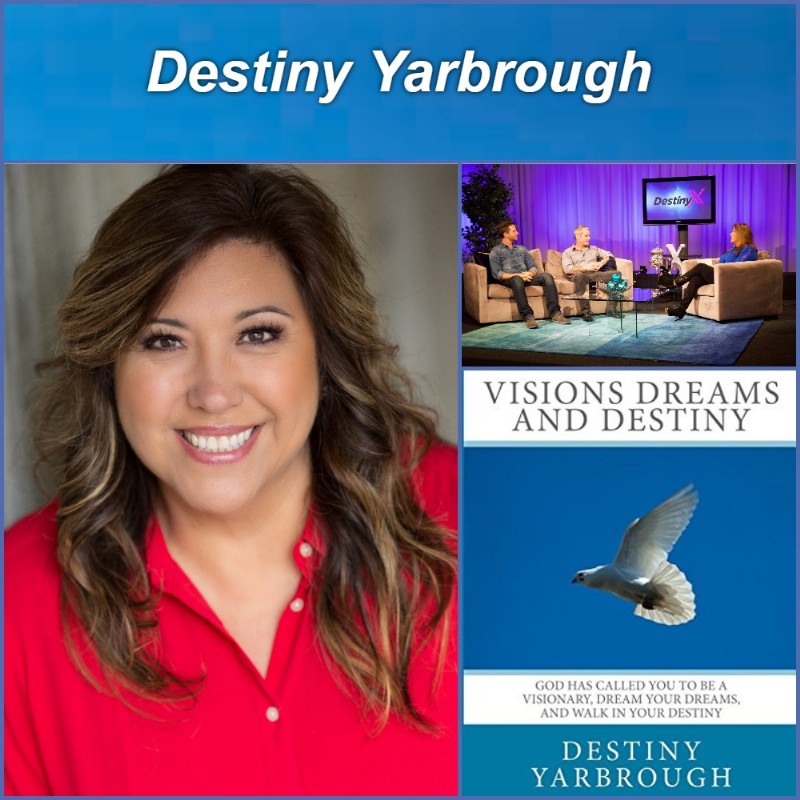 Destiny Yarbrough
Ministering Deliverance, Hope & Joy!
Host
'Destiny X'
Television Talk Show
Author
Visions, Dreams and Destiny

:
God Has Called You To Be A Visionary,
Dream Your Dreaams, and Walk in Your Destiny
Atlanta Connect Leader for
Christian Women in Media Association
Founder/Editor of
Salt and Light Christian Lifestyle Magazine
Founder / Host of
Daughters of Deliverance and Hope
Conferences
---
Travels from Georgia
Information / Scheduling:
---
Destiny Yarbrough is on a mission to reach the world for Christ!

Her television talk show Destiny X reaches millions worldwide with a message that is real, raw, and redeemed. The program speaks to the hearts of the next generation, boldly addressing topics such as addictions, dangers of social media, peer pressure, bullying, arts and entertainment, business, family and relationships, abuse, dating, education, self esteem, and the courage to change. Destiny X is committed to the fact that choices matter and each individual matters.

In addition to television host, Destiny is editor and founder of Salt and Light Christian Lifestyle Magazine. Packed with a wide range of content, from everyday living to deeper spiritual issues, all from a Bible-based perspective, the magazine touches, moves, and inspires readers through the word of God.

Daughters of Deliverance and Hope is Destiny's conference ministry created to bring Christ's deliverance and healing to women ... women who are beginning a relationship with Jesus and women who are in church every Sunday yet need a spiritual breakthrough to take their faith walk with Christ to the next level.
| | |
| --- | --- |
| | Destiny also shares her message through her book Visions, Dreams and Destiny: God Has Called You To Be A Visionary, Dream Your Dreams, and Walk In Your Destiny. Destiny says, "This book is my personal testimony of what addiction can do to a family or an individual. Many people who are affected by addiction do not know how to deal with it. As I share how I overcame the hurts and pains that come with an addicted loved one, the book becomes a ministry tool and a guide for anyone in a relationship with an addict. Questions and journaling opportunities are included to challenge you to look deeply into yourself. I pray that the book is a blessing and a help to everyone who reads it. I pray that my pain will be your gain and that God will be glorified and honored. God will give you your promises out of your pain. God gave me a vision and a dream of the life that He called me to have and He can do the same for you." |
Destiny is co-founder of Legendary Leaders, a ministry and a next-level networking organization for established and rising leaders in many arenas, including ministry, publishing, speaking, and the many facets of the arts and entertainment.
Before becoming an author, a conference host, and a magazine editor, Destiny always knew that her love of people was more than simply 'being a people person' but indicated a call to minister to people. Her gifting has been used in her former career in property management where she met and ministered to people in the marketplace, and many opportunities for ministry through her church's small group ministry. She has also ministered to her community in a variety of ways, including feeding and praying for the homeless and counseling ministry.
Destiny brings a fresh approach to speaking, magazine publishing, and conference ministries, meeting people 'right where they live' and offering deliverance with hope and joy!
---
Testimonials . . .
I have the great honor to pastor Destiny Yarbrough, her husband Wes, and their son Spencer. It is not often that a family comes into a congregation and has an immediate positive impact. Destiny has this ability. Through her loving heart displayed through her mannerisms, her actions, her words, and her humble spirit, she o motivates, encourages, and inspires those within our ministry. Destiny has an incredible ability to think outside the lines and dream bigger than the average person. She gets her mind set on achieving something and no matter what obstacle stands in her way, she will overcome it and achieve her goal. She is versed in the Word of God and brings great revelation to a conversation or a congregation. Whether in literature or verbal address, Destiny has excellent giftings and a strong attraction of God's Presence to bring healing, freedom, and equipping to the body of Christ. It is my privilege to recommend Destiny to be a blessing to any person, group, or ministry.
Pastor David Edmondson
Founder / CEO, Covenant Connections Church International
Founder, Covenant Life School of Ministry
Senior Pastor, Covenant Connections Church
Flowery Branch, Georgia
I have served beside Destiny Yarbrough on various ministry functions, including her annual women's conference and her women's retreat. I am amazed at Destiny's level of enthusiasm, commitment, and determination to excel in everything she puts her hands on. When she adopts a cause, Destiny pursues it to its highest level and the outcome is guaranteed to manifest remarkable results. Many good things have come out of Destiny's call to pursue God and lead others in to salvation. I highly recommend Destiny for any task that is courageous.
Debra Ferrell