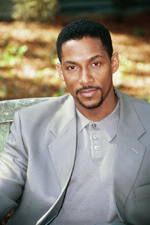 CAMY ARNETT
Motivator, Mentor

Camy Arnett Travels from Georgia
For More Information: Call 1.800.782.2995 Or Click Here to Send An Email



Camy Arnett is a pastor, teacher, and visionary who ministers in many arenas of the church and corporate worlds, as well as 'in the streets.'
Pastor Arnett has a heart for mentoring young men and boys as leaders and entrepreneurs. He was a founding member of the Leadership Circle, a group dedicated to raising leaders from the inner city of Los Angeles. Observing the need not only for leaders but also for entrepreneurs, he developed Forerunners Mentoring and Kingdom Club: The New Paradigm – organizations focused not only on the dissemination of information, but also practical application and implementation.
Pastor Arnett has since devoted much of his time to equipping and empowering the leaders of tomorrow as well as those who will create employment and opportunity for others.
A native of Port-au-Prince, Haiti, Arnett experienced his first taste of the entertainment industry while in the pre-med program at the University of Miami. He answered an ad for "Models Wanted" which led to his participation in several competitions. In the midst of his many victories, his talents were discovered and very soon rewarded. While an EKG technician at Jackson Memorial Hospital, the demands of his newfound talents increased and forced a decision that would change his life forever. At nineteen, with a series of commercials and fashion shows as his only foundational experience, he founded his first company, Camy Arnett Productions.
An entrepreneur at heart, it was not long before Camy Arnett Productions was turning a profit with models and actors of its own. With a string of personal successes in Miami, the next logical step was New York where he signed with the famed Wilhelmina Agency and Feuer and Ritzier Casting.
Among his numerous television appearances are Search for Tomorrow, Miami Vice, Doogie Howser MC, and Star Trek: The Next Generation. NACP Best Supporting Actor and Dramalogue Best Actor Honors are among his awards for his work on the stage.



Camy and BJ Arnett are hosts of the television ministry program "BYOBB" (Bring Your Own Bible, Baby), and they also co-host the Christian talk television program "Atlanta Live." Pastor Camy also hosts a daily Christian radio program on Atlanta's Praise 1040AM.


---
Camy Arnett Travels from Georgia
For More Information: Call 1.800.782.2995 Or Click Here to Send An Email


---

Click Here to send an email to request The Robinson Agency email updates
In order to receive updates that are of most interest to you, please include in your email the state where you live and, if applicable, the area of ministry in which you serve.


---