Donna I. Douglas
Prolific Writer of Award-Winning Songs,
Screenplays, Teleplays, and Children's Book

Author of ...
God Stories - They're So Amazing
Only God Could Make Them Happen

---
For over twelve years, Donna I. Douglas has been writing songs for artists such as L
arnelle Harris, 4 Him, Babbie Mason, Susan Ashton, Margaret Becker, and many more . Her songs have also been recorded by Billy and Sarah Gaines, Vernessa Mitchell, The Christ Church Choir, and The Brooklyn Tabernacle Choir. In 1999, Donna received a triple-platinum album for co-writing The Hard Way recorded by country artist Faith Hill.

Donna has had over 200 songs recorded in 21 different languages. Songs like: He'll Find a Way, All In Favor, God Is Good (All the Time), Jesus Is His Name, In All His Glory, Pray On, What Can Separate?, The Only Hope, He Still Came, Life Goes On, and No Other. Many of Donna's songs have reached the Top 5 position on radio charts and have been heard on The Billy Graham Crusades, Hour of Power, and other international television broadcasts.

The youth musical "Who Me?" which Donna co-wrote with Andy Stanley has been performed by thousands of pre-teens and teenage children all over the world. It has been said that "Who Me?" has done more to build self-esteem and positive self image in children than perhaps any other work of its kind.

Donna recently put her creative talents to work in a different forum - writing. Her first book, God Stories (Starburst Publisher) is a collection of short stories from the author and famous personalities that recount the amazing and undeniable experiences of God's love, compassion, care, concern, and power in our lives.

When asked the question, "Does everyone have a God Story in his or her life?" - Donna responded ...
"Definitely! Everyday and all around us there is evidence of God's love, care, power, and presence in our lives. The key is in learning how to "notice" - once you do, it will forever change your perspective and the way you view the purpose and plan for your life here on planet Earth."

---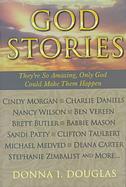 What People Are Saying About God Stories ...

"These heartwarming, faith-filled stories may move you to nod with recognition and affirmation, shed a tear or two, or shout, Amen!"
Yolanda King, daughter of Martin Luther King, Jr./Actress/Writer/Producer

"God Stories is a book that amazes, encourages, brings smiles of recognition, and equips the reader to look for fundamental blessings and miracles every single day."
David Goodnow, CNN/Headline News

"God sure writes good stores. He has style, moves everything along without ever boring you, and just when you think a tear is developing in the corner of your eye, He makes you laugh; so does Donna I. Douglas."
Dean Jones, Actor
---


Donna's Speaking Topics Include ..

God Stories: They're So Amazing, Only God Could Make Them Happen
Audience members are encouraged to develop their own journal of God Stories as Donna Douglas shares her own stories, as well as those of some of the celebrities from her book. God Stories center on the power, presence, and assurance of God in everyday life. After hearing Donna share God Stories, audience members become more in tune with His fingerprint on every phase and facet of their lives.

Single and Sound
Being single can be a calling and a blessing. Learn how to value and appreciate your singleness. Singleness is wholeness.

The Power of Words
As women, we express ourselves at every turn. How are your words affecting your life? Learn about how what you speak is what you walk in.

Preparation Before the Prize
Our journey here on planet Earth and the myriad of things we learn along the way.

Sharing the Love of God with Our Actions
Many people are intimidated at the thought of sharing their faith. Learn how to be effective verbally or without saying a word.


---


Donna receives 'rave reviews' wherever she speaks. Here's just one example ...


Dear Stacy:

I cannot THANK YOU enough for suggesting Donna Douglas for our retreat. SHE WAS WONDERFUL AND SUCH A BLESSING TO ALL OF US! God certainly was at work when things worked the way they did for her to come. She was JUST what we needed. Her geniune faith, even in times of trial and the JOY she exhibits was such a powerful testimony!

She was everything you had said; funny and light-hearted, yet sincere and powerful in her witness --- and can she ever sing!
Thank you again. Your ministry is such a blessing also. It is so good to have a resource for Women's Ministry events. I know we'll be coming to you again soon for help.

God bless you,
Sandra Ward, President
Mount Carmel Christian Church Women's Ministries
In order to receive updates that are of most interest to you, please include the state where you live and, if applicable, your type of ministry or business. Please include your email address if it is different from the email address used to send your request.
---