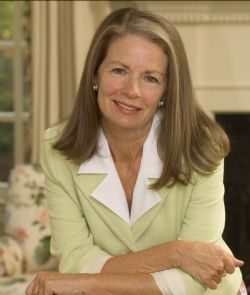 Nancy McGuirk
"Helping Women Take God at His Word"
My New Life In Christ
Rest Assured: Finding God's Rest in a Restless World
Touched by God
---
W
hen women hear Nancy McGuirk speak, lots of words come to mind: authentic, Biblical, transparent, passionate, committed, and enthusiastic. If listeners are "on the fence" about Jesus Christ and the Word of God before they hear
Nancy
speak, they aren't by the time she finishes. Everyone who hears
Nancy
comes away thinking, "The Christian life
Nancy
talks about is the one I want to live."
In 1985 God used a Bible teacher on television to jolt
Nancy
out of spiritual complacency. Because what he said was easy to understand, she developed a burden for helping other women understand the Bible and move from "passive" to "active" in their relationship with God.
That burden led to a small group Bible study for women in her church. The initial group of 14 women has grown to over 500 today who meet weekly at the Women's Community Bible Study of Atlanta for worship, teaching, and discipleship training. The hundreds of women who attend meet as a large group for worship and
Nancy
's message before breaking out into more than 50 small groups for prayer and application-oriented discussion of the message.
Nancy
is not just a teacher, she's a Bible teacher. Every message she shares is firmly rooted in the Word of God, knowing that His Word never returns void. As a result of her no-compromise commitment to Scripture,
Nancy
's video and audio messages are used by other groups in
Atlanta
and beyond who benefit from her boundless enthusiasm for Biblical exposition.
Besides speaking, Nancy has written two books of her own — My New Life in Christ (2003) and Rest Assured: Finding God's Rest in a Restless World (2007) — as well as editing two books published by the women of WCBS — Touched by God and Changed by God.
Nancy
also speaks frequently for women's groups, churches, schools, and civic groups around the country. Whether it's speaking before tens of thousands of women in
Atlanta
's Georgia Dome, in a television or radio interview, in a small group in a living room, or one-on-one with an individual,
Nancy
's message is always the same: knowing Jesus intimately is the most important priority in any woman's life.
Nancy
has learned that the promises of the Word of God are the bedrock of faith and the anchor for the soul — and that is her message to audiences wherever she speaks.
Regardless of the subject, those who hear
Nancy
speak are encouraged, challenged, and motivated to live more passionately for Jesus Christ.
Nancy and her husband, Terry, make their home in Atlanta, Georgia, where they raised their four college-aged children. Nancy is an elder at Atlanta's Peachtree Presbyterian Church,

a Trustee for Presbyterian College, a board member of Ruth Graham and Friends, an advisory board member of the Atlanta Children's Shelter, a member of the Advanced Writers and Speakers Association, and a graduate of Christian Leaders, Authors, and Speaker Services.
---
Nancy McGuirk's Speaking Topics Include . . .
Finding God's Rest in a Restless World
Nancy
takes the audience through her own attempts to "do it all" for God and how she learned to find rest in His promises and sufficiency. This is a stress-relieving message for those who struggle to make Christ more than a Sunday-morning appointment.
Lord, Can You Hear Me Now?
This message focuses on what happens when we don't seem to hear from God; on learning to speak to, and hear from, God in prayer. Using modern cell phones as a metaphor,
Nancy
explains what it means when God doesn't answer prayer immediately.
How Can a Martha Have a Mary Christmas?
A humorous approach to the busyness and stress of Christmas, this message uses the story of Mary, Martha, and Jesus to focus on putting Christ ahead of all else. A timely message to help audiences prepare for the holiday season and
deal with the commercialization of the world's most important birthday celebration.
Living a Prioritized Life
Struggling with being over-booked and over-burdened is common among women. Balancing life as wife, mother, friend, and employee leads women to live a reactive rather than a proactive life.
Nancy
shares practical techniques for finding and following God's priorities in the midst of a "To-do List" world.
The Secret to a Powerful Prayer
Who doesn't want a more effective and deeper prayer life?
Nancy
shares Biblical principles for prayer that bring the Christian into alignment with God's expectations and that lead to His answers.
Stepping Out of Your Comfort Zone
Nancy
challenges her audience to say
"Yes" to God even when life's circumstances might be shouting "No." Using Biblical and personal examples, she shows how and why God blesses the obedient life and why God's priority for His children is "character before comfort."
"What Child is This?"
Based on the story of William Dix and how he came to write the words to this beloved Christmas hymn,
Nancy
weaves in the wonder of the
Bethlehem
baby whose birth two thousand years ago has altered the course of history.
---
---
In order to receive updates that are of most interest to you, please include the state where you live and, if applicable, your type of ministry or business. Please include your email address if it is different from the email address used to send your request.
---