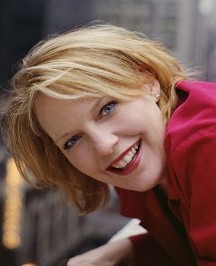 Donna East
Comedian - Actor - Writer

Donna East Travels from New York
For More Information: Call 1.800.782.2995 Or Click Here to Send An Email

Not many comedians can claim they've made people all over the world laugh, but Donna East can!


| | |
| --- | --- |
| From Iceland and Norway to Puerto Rico and Honduras, Donna has brought laughter to our troops in 11 countries. Three tours for the Army, Navy, Air Force, and Marines brought the houses down and left thousands of troops holding their bellies at her comedy. Donna also appeared recently on the national television show "Bananas" - you might still catch this show on Direct TV, Time Warner, INSP, and TBN, among others. | |
Straight from her hometown of Detroit, this crazy girl hit the comedy clubs in New York City big! From Caroline's to Stand-Up NY to Gotham, Donna cracks them up. She's even performed with the best of the best - comedians like Bob Nelson (HBO), Al Lubel (Letterman, The Tonight Show), Horace H. B. Sanders (Sinbad tour, Star Search), and Chonda Pierce.
Donna's material is original and straight from her wacky life - strange experiences, staying healthy, being a newlywed, her crazy family, and life's funky stuff. "Toys have really had an influence on my life. I mean, I'd be playing with my Barbie and think I should be beautiful and skinny, but then my Easy Bake Oven would screm from the corner, 'Hey! Make a chocolate cake!'"
Donna shares her act by weaving in some wacky characters, including her most popular character Norma from K.I.S.S. (Keep It Simple, Stupid) School of Driving. This instructor teaches one audience member how to drive an invisible car in simulated elements. "Uh oh, folks, it looks here like we got ourselves some rain. You better roll up your window, buddy, or you gonna get the shower you need!"
Sometimes the characters even like to take over the act - like her children's talk show host: "You see, kids, sugar is like little people's coffee. It perks you up and keeps you awake long into the night. And that's why my show's on at 2am!"
Donna produced the first-ever clean comedy night at Stand-Up NY debuting the fall of 2001 with top national comedians. She has also created a comedy workshop
with Martha Bolton (
Bob Hope's first female staff writer) called "A Time to Laugh." The workshop has made stops in New York and Houston. Donna is a contributing writer to Bolton's book
Living It Down By Laughing It Up: Life's Most Embarrassing Moments
,
Saying

Goodbye Even When You Don't Want To
, and Scriptwriting. She has also opened for Sandi Patti and written for and toured with Chonda Pierce.

Donna has also co-hosted a morning show in New York City and Detroit and has written comedy segments, commercials, and performed numerous voice-overs in radio.

Oh, and by the way Donna's an accomplished playwright ("She's Made From Man, But All Of Woman"-Lamb's Theatre, Times Square) and a successful actress (NBC, Lifetime).


---
Labeled by media as "NYC's Queen of Clean," Donna's comedy is appropriate for:

Theaters
Conventions
Comedy Clubs
Corporate Events
Women's Ministry
Children's Ministry
Church Special Events
---
Donna's been dishing it out in New York City at places like . . .



Standup New York
The New York Comedy Club
Caroline's Comedy Club
Don't Tell Mama's
Rose's Turn
The Lamb's Theatre
The Duplex
The Boston Comedy Club
Trinity House Theater
The New Life Bookstore
and her studio apartment's kitchenette

... and nobody knows what direction East will head next!
---

"People came home from our first all-church retreat talking about one person: Donna East! Her kid's laugh clinic was a hit with the children and her family-friendly comedy hour had all ages nearly falling off their chairs in silly delight. We have invited Donna back. She's great fun and full of faith, too."
Rebecca Laird, Associate Pastor
Central Presbyterian Church, Summit, New Jersey


"Donna East is a consummate pro and a very funny person. She is a delight to work with."
Steve Arons, New York Comedy Club
"Donna East makes me laugh right out loud! Her comedy brings forth the reality that laughter is healing medicine for the soul. It's evident she's committed."
John Calhoun, former Director Lamb's Theatre
Times Square, New York City


"She's one of the club's most popular comics. Time and time again, at Stand-Up NY we recommended her comedy to callers booking comedians."
Richard Brooks, Club Manager, Stand-Up NY
"Donna East is a gem. Not often do you find someone with her kind of exposure to be so personable and easy to work with. Her humor and her way of relating with the audience made it seem like we were sitting in the living room visiting. She is inspiring and hilariously funny. We called her back for a second year because we loved her so much. You will find her words inspiring and her personality a delight!"
Laurie Yost, Chairperson, Deeper Life Retreat
East Michigan Conference of the Free Methodist Church, Clio Michigan

"Donna East was the comedian for a women's ministries retreat with The Salvation Army this past weekend, and she was great! ... [S]he was warm, personable, ... funny, able to relate to many of the ladies. ... She had us not just giggling, but laughing and crying! I would love to have her back at an event - and I've planned retreats and events for over 6 years now. Not only was she hilarious to experience, her testimony was a blessing and she wrapped up the evening on a beautiful note."
Dianne Madsen
Salvation Army
"
Donna East brought her humor to the Becoming Beautiful Conference in Windsor, Ontario, Canada. She was hilarious. Her humor had the ladies laughing so hard - she truly was a hit. Along with her clean humor, she also brought a positive inspirational message. I would highly recommend Donna because she is delightful."
Wendy Taylor
President and Founder of Becoming Beautiful Conference
Windsor, Ontario
---
Professional Credits:

Pax's Bananas Comedy Show (National)

3 Military

Tours

(

Honduras

,

Cuba

,

Puerto Rico

,

England

,

Iceland

,

Norway

,

Belgium

,

Netherlands

,


Germany

)

Wrote and voiced comedy segments on Detroit radio station

103.5 WMUZ

Caroline's Comedy Club, NYC

Standup

New York

, NYC

The

New York

Comedy Club, NYC

The Lamb's Theatre, NYC

NBC, Lifetime Television (National)

Toured with Chonda Pierce (National)

Opened for Sandy Patti (Salvation Army Theater, NYC)

Contributing writer for Martha Bolton (3 books)

Numerous churches, retreats, benefits, corporate and clubs
... and nobody knows what direction East will head next!


STRANGE BUT (mostly) TRUE FACTS ABOUT DONNA!
Donna's favorite color: Green... because all the other little girls in kindergarden said pink and so Donna said green, just had be different.
Donna's favorite food: Nachos.. . My mother said I should've been born in Mexico.
Donna's favorite TV channel: The Food Network. She claims she can gain 30 pounds in thirty minutes just by watching Rachael Ray. Now that's talent!
Donna's favorite holiday: Thanksgiving... due to Grandma's famous cranberry jello with nuts. "The nuts are eating nuts! Sometimes we wonder which is the family and which is the nuts."
Donna's favorite flower: Sunflowers. just a couple can look like a whole bouquet. (She's cheap!)



---
Donna East Travels from New York
For More Information: Call 1.800.782.2995 Or
Click Here to Send An Email
---

Click here to request The Robinson Agency email updates
In order to receive updates that are of most interest to you, please include the state where you live and, if applicable, the type of ministry in which you serve. Please include your email address if it is different from the email address you use to send your request.


---