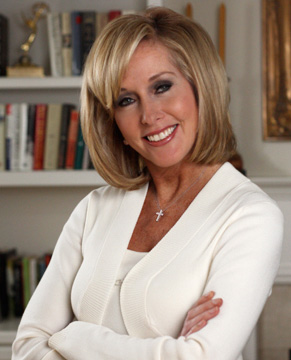 Kimberley Kennedy

Emmy Award-Winning Journalist and Producer
Keynote Conference Speaker
Left at the Altar:
My Story of Hope and Healing
for Every Woman Who Has Felt the
Heartbreak of Rejection
---
Kimberley Kennedy is known for her perfect balance of professionalism, warmth, wit, and engaging personality. In addition to being a top-tier keynote presenter, she's an expert interviewer, discussion leader, and event host - perfect for conventions and meetings that want to incorporate into their program panel discussions, get-to-know-your-leaders interviews, Q&A sessions, and an emcee who ensures seamless flow and continuity throughout a single meeting or a multi-day conference.
Emmy Award-winning journalist and television personality Kimberley Kennedy's presence on any program instantly takes that event to a whole new level.
Kennedy started her career at the McNeil-Lehrer News Hour in Washington, D.C., before landing her first reporting job at WRBL-TV in Columbus, Georgia. She quickly moved up as weekend anchor and reporter for WSB-TV in Atlanta. She left Atlanta in 1992 to be the noon and 6 p.m. news anchor at KDFW-TV in Dallas. Two years later, she returned to Atlanta as the 5 p.m. news anchor and reporter at NBC affiliate WXIA-TV. During the 1996 Centennial Olympic Games that were held in Atlanta, she hosted her own daily talk show.
In 2000, Kimberley took a break from television and returned the next year to host and co-produce Hot Topics, a popular news and entertainment magazine show which aired weekly opposite Saturday Night Live and consistently beat SNL'S ratings.
Born in Norfolk, Virginia, Kimberley grew up in the tiny Georgia town of The Rock. She attended Agnes Scott College in Atlanta and graduated with a double major in English and Political Science. Kimberley's volunteer work includes her service as a member of the Georgia Arthritis Foundation Board of Directors, an advisory board member for Prevent Child Abuse Georgia, a board member for Buckhead Christian Ministry, advisory board member of Real Women, and a member of the Board of Elders at Peachtree Presbyterian Church.
Kimberley comes from a family of broadcasters. Her sister, Kathleen, is a former anchor at CNN Headline News and her brother, Arch, is a meteorologist in Nashville.
---
Left at the Altar:

My Story of

Hope and Healing

For Every Woman Who Has Felt

The

Heartbreak of Rejection

by

Kimberley Kennedy

Kimberley Kennedy was twenty-four hours away from being the women who had it all.

She was about to marry her perfect man - until, on the eve of the wedding, her fiance uttered five words that crushed her perfect world: I just can't do it.

Suddenly her life went from blockbuster love story to a Lifetime movie gone bad. But her story doesn't end there. Through her numbing pain, public humiliation, and extreme anger at God, Kimberley found a hope for her life that she wasn't sure she'd ever have again.

Left at the Altar

is for all women who have felt

the pain of disappointment and rejection -

whether you are divorced or have never been married,

whether you feel rejected in your marriage

or rejected in the dating world.

Kimberley wants you to know that you're not alone

and shares her perspective on ...

How not to let rejection define you

Tools for healing and moving on

How to shape your future story
And in a unique twist,
Kimberley goes straight to the source
and lets the men
(a.k.a. The Rejectors)
speak from their perspectives on breaking up.
This is not a story of a woman and her man -
---
Ministry:
Women's Events
---
"Kimberley Kennedy's presentation at a women's event at our church was so successful and her story so powerful, that we invited her to return and speak to our teen girls. Our girls opened up to her during Q&A in a way that was totally unprecedented and, we believe, was life-changing for many. Kimberley is a delightful, funny, and encouraging speaker. Her story may sound sad at first, which it is; however, her delivery on how this event changed her life is amazing. She brings humor to her story and encourages those who may be struggling with unresolved issues. Kimberley is a delightful speaker who touches the hearts of both young and seasoned women in understanding their full potential as an individual and not as part of a couple."
Bobbie Kern
Women's Ministry Director, First Baptist Snellville
Executive Director, Pregnancy Resource Center of Gwinnett
---
The following have featured Kimberley's story:
ABC's Primetime
ABC's Good Morning America

The 700 Club

People Magazine

Christian Singles Magazine

Woman Magazine (UK)

Living Light News (Canada)

Time.com

Atlanta Magazine

Atlanta Journal Constitution

Radio programs across the country
---