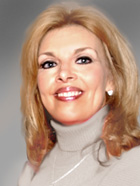 Susan Brewer
America's Heroes of Freedom
patriotically,
unselfishly and heroically
risk their lives for our freedom
---
America's Heroes of Freedom, AHOF, was the vision of founder Susan Brewer who was touched and moved by the families left grieving after the attack on the Pentagon. In April 2002, she incorporated America's Heroes of Freedom and moved to the Washington, D.C. area to plan a tribute that would honor the heroes that helped save lives on September 11th and allow other family members a venue for healing. Susan put up her own money first and received matching sponsorship that allowed her organization to be the one that provided all the buses and food at the Pentagon on the first year anniversary memorial.
Susan, a seasoned speaker and leader in the business world and in her 20-year career as an interior designer from Texas, uses her ability to be creative in implementing the message of hope and exhortation of encouragement to a nation. She successfully produced and hosted the televised event, "Women are Heroes Too" at Arlington National Cemetery/Women in Military Service to America Memorial, on May 2003 with Brigadier General Wilma L. Vaught. This event honored women and encouraged our nation to go the journey beyond tragedy by presenting women who displayed acts of heroism in their lives.

Brigadier General Wilma L. Vaught

(left) speaks at

the Women are Heroes Too event
America's Heroes of Freedom continues to provide, support, and implement very much-needed supplies to our wounded and ill service members who return from Iraq and Afghanistan through the worthy project called Operation Life Line. This project serves the many service members who arrive each month at military hospitals for healing and rehabilitation.

With the new millennial threats to our safety and our security, it has become evident that there is a need for a state of the art facility to properly train our canines and their handlers. AHOF is dedicated to the completion of such a worthy and necessary project, which will serve countless security agencies, educators, and future generations.

Susan Brewer, President of America's Heroes of Freedom, continues to be the visionary and implementer of cutting edge concepts that allow us to keep our nation educated on lessons learned from tragedies, to serve as an invaluable resource to the needs of all people, and to keep America's hopes and dreams alive.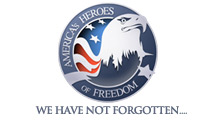 ---
---
In order to receive updates that are of most interest to you, please include the state where you live and, if applicable, your type of ministry or business. Please include your email address if it is different from the email address used to send your request.
---