Sololist & Worship Leader
---
---
Carole Brewer passionately reflects lasting expressions of God's love. Her unique presentations are a seamlessly interwoven blend of dynamic, heartfelt messages and Carole's beautiful songs of worship. Audiences will connect with Carole and take with them hope, encouragement, life-transforming truths, and a rekindling of love for our
Lord, Jesus Christ

.
Born cross-eyed and legally blind in her left eye, Carole was ridiculed in elementary school for her outward appearance. Her eye was straightened through surgery at age nine, but her heart was not. Carrying past hurts from childhood into her early adult years, Carole lacked the self-confidence and sense of purpose that only a personal relationship with Jesus Christ can bring. During her senior year of college, Carole opened her heart to the truth of God's Word, surrendered to His will, and received her esteem as an heir in Christ. Today, using her gifts of speaking, writing, and music, Carole beautifully expresses the new life she has found in Jesus Christ, greatly encouraging the hearts of others.
With effervescence, Carole has shared her speaking and music on Christian television programs, with speakers Carol Kent and Joni Eareckson Tada, and for church ministries in Canada, Germany, Denmark, Iceland and in many regions of the U.S. As a singer and pianist, Carole's wide variety of music styles and songwriting are represented in her four solo CDs: Celebrate the Lord, Everything Began With You, New Life, and The Work of Your Hand (Servant's Heart). Also a creative writer, her stories have been published in WT Online, Inspired Women Magazine, Jubal Magazine, iLevite, and in three books: Give Thanks! (Essence Publishing), Kisses of Sunshine for Teachers (Zondervan), and Conversations on Purpose for Women (Zondervan). She is also the author of Cookin' Up a Song (JW Brewer Music), a very popular and inspiring self-help manual for singers.
Carole has a BA in Music, an MA in Education, four teaching credentials, and a Diploma in Professional Modeling. Her Biblical studies include training from Bible Study Fellowship, Community Bible Study, Women of the Word, and Capital Bible Institute.
Carole and her husband, Jan live in Sacramento, California serving together in their home church and in a variety of ministries under the guiding hand of our Lord, Jesus Christ.
---
Describing music as "the breeze on which God's truth can soar", Carole's purpose for presenting a concert is to exalt the name of our Lord, minister God's word, touch lives, and encourage others to walk each day in the newness of life.
Carole is a songwriter and an accomplished musician who ministers in a wide variety of musical styles. Even those not familiar with the Gospel message will be blessed by her beautiful four-octave range and vocal varsatility. Carole leads the congregation into the presence of the Lord from the piano and with CD accompaniment tracks.
Enjoy the brief demo below and
---
Speaking Topics . . .
SPECIAL NOTE! . . . Carole brings both the message

and

the music!
Shopping for a Bargain
Shop for Good Deals and then, Heavenly Deals! Enjoy seeing the marketplace of Old City Jerusalem; learn from scripture how to "dress for success" when facing life's difficulties; and receive the bargain of a lifetime!
A Friend for Life
Jesus, your truest Friend, is completely able to fill the empty spaces of your heart and give you abundant life. Relate to Him as your closest friend and reflect His love towards others.
Remembering Bethlehem
Take time during the Christmas rush to pause and reflect on the true story behind the holiday. Walk with Carole through the Church of the Nativity as it appears today and compare the setting to the time of Christ's humble birth.
The Joy of His Presence
Experience the refreshment and renewal
of worship and consider God's life-transforming truths.
Songs from the Heart
Hear the touching stories behind five beautiful songs and be inspired by each songwriter's faith and triumph over adversity.
Educational Seminars . . .
Carole has been a speaking guest on Christian television programs, an advocate for people with disabilities in a variety of public forums, a public school teacher, and a minister of the gospel in her concerts. She has a BA in Music and an MA in Education.
Serving People with Special Needs in Your Church Family
Do you have a heart for working with people who have disabilities? Here are the basics you'll need to reach-out to the handicapped through your church ministry. Carole includes some great ideas on how to start and further develop an effective Sunday School program. Come and be blessed!
Cookin' Up a Song -- Basic Recipes
Got air and prayer? Carole shares concert-tested "recipes" from chapters in her voice "cookbook" including Well-baked Breathing, Relax al dente, and Goooood Vibrations. All great singing starts here!
Cookin' Up a Song -- So Much Is In the Presentation!
How does your song look on the outside? Get the best out of your musical instrument, your body! Here are some great recipes for effectively communicating the gospel and for getting the best tone possible.
Cookin' Up a Song -- Serving Suggestions
Do you have a heart for ministry? Don't miss these important suggestions for rehearsing, using the microphone, developing
your
ministry, and looking simply marvelous!
Cookin' Up a Song -- Diction Delicacies
Singing is not like speaking! Carole shares many gourmet "recipes" for being understood while keeping a beautiful tone.
Cookin' Up a Song Voice -- Choral Workshop
Carole directs a rehearsal for the retreat choir and/or worship team. She emphasizes (1) seeking the Lord first, (2) working together as an ensemble, and (3) being worship leaders to the congregation. Easy and beautiful music is prepared for presentation at one of the conference general sessions. The only requirement is a heart to sing for Jesus. Whether you've been in a choir for years or this is your first choral experience, come and enjoy! (Visit Carole's
Cookin' Up a Song - Voice Training
page for information about Carole's voice manual and 90-minute audio voice workshop on CD or cassette)
"I learned more from Carole Brewer's one hour presentation than I learned in six years of voice lessons."

Phyllis Regester

"I attended Carole Brewer's "Cooking up a Song" seminar at the ACSI Teachers' Convention. I learned so much valuable information that I am still digesting it. I put several tips to work in the classroom--both in teaching high school Speech and in elementary Spanish, where we do a lot of singing. My sound is much clearer, and Carole saved my voice from being over-extended by the end of the day!"

Brenda Moore
---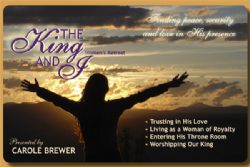 "The King and I"
Is A Life-Transforming Weekend for Women!
Carole brings both the message and the music.
She also works closely with each event planner,
offering helpful options for decorating,
skits, prizes, and a 'Royal Banquet.'
Speaking Topics for this Retreat:
Trusting in His Love
Deepen your understanding of Jesus, the Shepherd King who unconditionally values and loves you.
Living as a Woman of Royalty
Discover the heart-healing truths that establish your unquestionable identity as an heiress in the Kingdom of God.
Develop a closer bond with Jesus, the King of Peace. Be refreshed and re-assured in His presence during a Concert of Prayer.
Give honor and glory to the Eternal King; sing His praises, and consider new ways to worship Him every day.
---
Testimonials . . .
"I can't find the words to express all my thanks to Carole for the incredible job she did of leading us in worship. Her singing is truly a gift from God. It shines through her songs, through her smile, and through her special gift to lead people closer to the Lord."
Joni Eareckson Tada
"I'm so glad Carole was able to share her testimony as well as her anointed ministry in song."
David Mainse
"What a privilege to be in worship where God blesses so powerfully through Carole and her gifts. But even more thrilling, is to know the kind of ministry to which God has called Carole and her husband."
Dr. Bruce Larson
"In addition to an obvious God given musical talent, Carole is blessed with a warm spirit. When she sings and/or speaks, there is a sense that God is working through her. Carole understands people and relates well, both from "up front" as well as one on one. She is well organized, prepared, gives a quality presentation, and is committed to doing the Lord's will. She is a blessing."
Dr. Leon Skinner
"She is one of the unusual gifts and talents that we have in the church today. Her ministry has always provided a rich blessing and value to our television programs. Consistently, I hear the highest reports from pastors in churches where she has ministered."
Ron Haus
"Carole is gifted with extraordinary musical talent, but more than that, the radiance of Christ permeates the room when she uses her giftedness for His glory! Carole gives Christian leaders everywhere an example of integrity, excellence, and faithfulness."
Carol Kent
"I would like to unconditionally recommend Carole and her ministry of music and inspirational speaking. Carole and her husband, Jan, are wholly devoted to Christ and Carole has a unique and excellent way of ministering. Carole's voice is beautiful and well-trained. Her messages are inspirational, personal, and very spiritually uplifting. Carole has been part of the Capital Christian Center family for many years. In the past, before she started traveling, Carole was active in music ministry in our church. More recently, Carole has been a leader in our women's ministry program called Women Of The Word."
Carole's Pastor, Paul Thompson
Capital Christian Center, Sacramento, California
"Carole Brewer is the real deal. She has top-quality skills with a heart of gold. I have known Carole in a professional capacity for over ten years and have found her to be faithful. I highly recommend her to you."
Marnie Swedberg
"

We appreciate Carole's ministry and her heart to serve Jesus."

Duane Clark, Worship Director

"Thanks again to Carole for leading us in worship. It's been awesome."
Joanne Cole, Women's Director

"The joy of Carole's relationship with Jesus Christ was so evident and moving."

Pastor Doug Johnson

"Carole sang with sincerity and conviction while the love of God showed through her music"

Neva Penner, Worship Service Director

"We felt the love of Jesus through the songs Carole sang and the testimony she gave. We are excited about those commitments to Jesus that took place."

Pastor Don Ardrey

"Sure glad we made the time to embrace Carole's ministry - she blessed us greatly!"

Don L. Stavros, Associate Pastor

"Carole blessed the hearts of our people. Her willingness to allow the Lord to use your voice in

real ministry

impressed me the most."

David R. Mulder, Senior Pastor
"Your presence radiates the love and joy of our Savior. You have a special gift of using laughter and real life to share the message of God's word."
Retreat Attendee
"Thank you for all you've given to me over this weekend. I have been praying for Christians that are a joy and fun to be around. Obviously, He brought me here to meet you and be with the wonderful women. God has blessed you and you allow HIm to flow thru you."
Retreat Attendee
"Our Women's Ministries Director said that she has also received many compliments on this retreat, not only on the message but on the professional worship time as well. Truly, many women's hearts were touched because Carole was open to Christ's direction."
Patti Bragg, Retreat Director
"Working with Carole was such a blessing; I could not have done it with out all of her help and support."
Kara Levario, Retreat Coordinator
---
Carole's CDs Include . .

.
| | | |
| --- | --- | --- |
| | | |
| New Life | The Work of Your Hand | Everything Began with You |
---
Carole's Books Include . .

.
Spend a ten-week journey with a friend and discover God's purpose for your life! Conversations on Purpose for Women, a companion book to Pathway to Purpose for Women, is specifically for women who want to find another woman to serve as their purpose partner. Written by Katie Brazelton, it's filled with great conversation starters, Scripture verses, questions, and specific self-assessment exercises to help unpack God's dream on your journey toward purpose-filled living. You'll find Carole Brewer's testimony in one of the ten conversation appointments! Published by

Zondervan.

The Day the Student Became the Teacher and The River City Good Time Band, written by Carole Brewer, are two delightful stories included in this salute to teachers! No matter what the situation, nobody can make it through a typical teacher's week without the sunshine of God's love and laughter pouring its light on his or her life. Kisses of Sunshine for Teachers written by Vicki Caruana and edited by Carol Kent is a hardbound "gift-quality" book containing lighthearted and inspirational stories, thought-provoking quotes, and relevant verses from Scripture.

Published by

Zondervan.
---
In order to receive updates that are of most interest to you, please include the state where you live and, if applicable, your type of ministry or business. Please include your email address if it is different from the email address used to send your request.
---