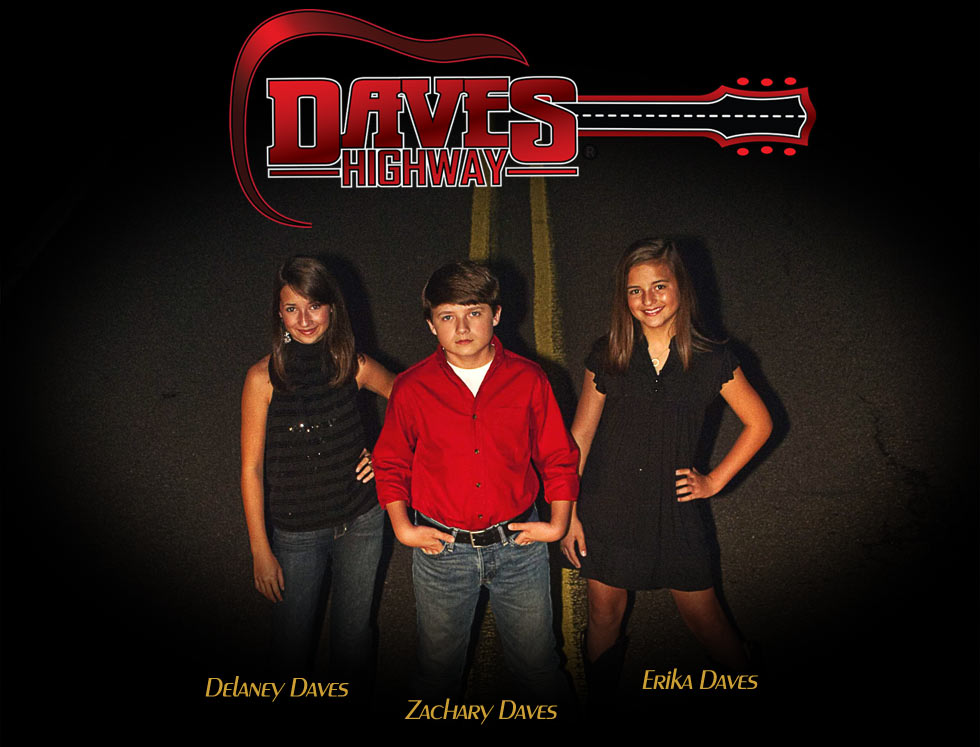 Daves Highway
Internet Singing Sensations
Incomparable Sibling Harmonies
---
---
Internet singing sensation Daves Highway is the young Mississippi-based trio comprised of siblings Delaney, Zachary and Erika Daves. Thanks to fans who solicited the attention of three major influencers, Daves Highway is an emerging act in the worlds of both country and gospel music.
In early 2009, the children's parents posted home videos of the three kids singing Little Big Town's country hit "Boondocks" and the gospel song "Jesus Messiah," originally recorded by Chris Tomlin, on YouTube. The children's genre-bending three-part harmonies quickly captivated thousands of fans, and soon, one of them tipped off popular comedian Anita Renfroe.
Renfroe, who regularly appears on ABC's "Good Morning America," responded with a September 9 blog entry on her web site featuring a Daves Highway YouTube link and this remark: "OK - seriously ...
Whoever these kids are - call me ... go on tour with me." Thousands of Renfroe's fans flocked to the link with many of them posting profuse thanks to her for the introduction.
Even as Daves Highway sought to take the comedian up on her tour offer, one of the trio's fans told Chris Tomlin, the influential writer/performer of "Jesus Messiah," about the children's cover of his song. Tomlin was floored. With a blg entry entitled
"Astonishing Sibling Video...MUST SEE," Tomlin thanked the fan who gave him the link and told others on his site, "Here is the video I recently came across. This made my day ... year! If you know these kids, please send them my love. And they must sing this with me if I am ever traveling through their town. Are you ready?"
As a still-amazed Delaney, the eldest sibling, explains, "We recorded 'Jesus Messiah' in our living room. ... Chris Tomlin found it, and he posted it on his Twitter and his website.
People saw it and just kept sending it to their friends, and it just exploded. We got like 10,000 new fans in one week." (Today, Daves Highway has well over 20,000 Facebook fans.)
Within days, Daves Highway had its first plug on a national broadcast as the K-LOVE Radio Network's "20 The Countdown Magazine" show highlighted the kids' growing popularity. At about the same time, a Daves Highway fan in Denver, Colorado cued the attention of yet another major influencer-Grammy Award-winning producer Charlie Peacock (Switchfoot, David Crowder Band). "As soon as I watched the first video on YouTube, I was hooked," says Peacock. "You have to have a pretty guarded heart not to be thrilled by children singing perfect three-part harmony!"
Peacock, who discovered Switchfoot, among others, e-mailed Daves Highway with a simple but career-sparking question-"How may I serve you?" The children's father wrote back: "If you are the 'real' Charlie Peacock, it's an honor to hear from you." By mid-November, the Daves family was in Nashville for an all-day recording session with the producer which resulted in the children's new 6-song EP titled Just For You (Twenty Ten Music). The EP includes new recordings of the YouTube favorites "Boondocks," "Jesus Messiah" and "Amazing Grace."

"I couldn't believe how hard these kids worked in the studio," says Peacock, who - as Sr. Vice President of A&R for Twenty Ten Music, an artist development and publishing company - signed Daves Highway. "They were such pros. And they coached and corrected each other really well. I barely had to do anything except hit the record button."

Daves Highway's first date with Anita Renfroe, meanwhile, not only put the group in front of the comedian's enthusiastic audience, the kids received a special invitation from one of Atlanta's leading radio stations and local television. Just before Thanksgiving, Daves Highway visited 104.7 The Fish's "Top 5 at 5" afternoon drive show to serve as guest DJs and offer in-studio performances. The trio then performed on the "Atlanta Live" television show on WATC TV 57.

A month later, the Peacock-produced recording of "Jesus Messiah" was made available for sale as an Amazon MP3 download and immediately appeared on both the site's Country and Christian sales charts. The song has reached No. 25 on the Christian chart while entering the Top 75 Country songs. ("Jesus Messiah" is now on sale at iTunes and other key download sites.)

Daves Highway closed out 2009 with The Martins as the gospel music legends invited the young trio to perform "Jesus Messiah" at their New Year's Eve concert in Southaven, Mississippi. "The Martins were so nice to us," says Zachary Daves. "We love them! We went to see their concert, and they knew about us and asked us to perform impromptu."
| | |
| --- | --- |
| The Brandon, Mississippi-based trio has been performing together for four years. The self-taught trio's voices combine to create a remarkable musical blend, which can only be created by what's known in the South as "blood harmony." Prior to becoming the internet sensation Daves Highway, the young siblings began singing in church and school and then won the 2006 Mississippi State Fair Talent Competition. | |
Regional notoriety resulted in invitations to perform on local television in nearby Louisiana, Tennessee, Georgia and Florida and sing "The Star-Spangled Banner" at games hosted by the NBA's Memphis Grizzlies and various minor league baseball and hockey teams. The versatile trio which effortlessly jumps from one genre to another cites its primary musical influences as the Eagles, Stevie Ray Vaughan, The Martins, Martina McBride and Lady Antebellum, among others, and especially enjoys performing country, classic rock and gospel. Delaney, who is 15, plays guitar, mandolin and sings alto; 14-year-old Zachary plays acoustic and electric guitar and sings tenor; and 12-year-old Erika plays piano and sings soprano.
---
Daves Highway T

ravels from Mississippi
---
Click here to request The Robinson Agency email updates
In order to receive updates that are of most interest to you, please include the state where you live and, if applicable, the type of ministry in which you serve. Please include your email address if it is different from the email address you use to send your request.
---