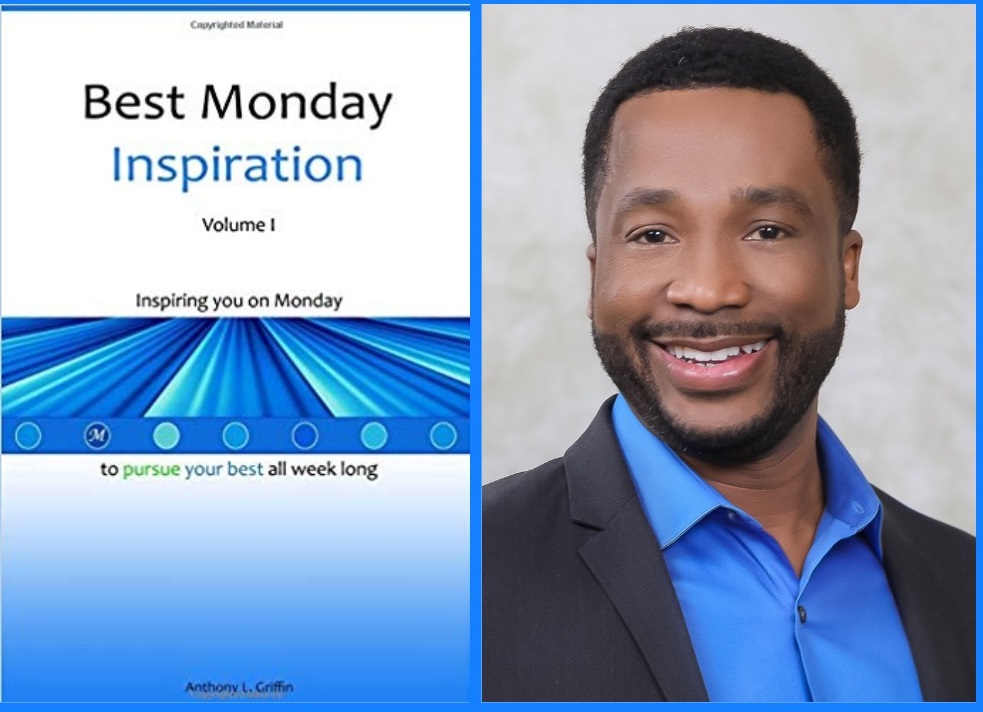 Anthony L. Griffin
Author of
Best Monday Inspiration:
Inspiring You On Monday to
Pursue Your Best All Week Long
---
"There is beauty and power in change.
Change is the device we have that takes us
to the positive places we would never see
Anthony Griffin's passion is to help people understand themselves better, see a concrete pathway for change, address the "why" behind their current thinking, and create a new "why" for new thinking.
Frankly, in this day of information overload, most adults are familiar with many of the facts that Anthony offers. However, this masterful communicator's presentations go beyond the simple facts and the momentary emotional buzz to the ultimate goal of activating audiences in a way that gives them a long-lasting understanding, a concrete plan of action, and ultimate change.
Whether presenting to audiences of corporate executives or church leaders or congregations, Anthony speaks in ways that help his audience step back and truly self examine and deal with concrete thoughts and behaviors that are either helping or hurting their pathways to success, whether in business, ministry, or family.
As a Certified Brain Health Coach with Dr. Daniel Amen Clinics, Anthony's presentations often include a focus on what's going on in a person's brain to further help them understand themselves and take valuable steps toward positive change.
Anthony helps organizations align business performance goals, proficiency-based training, neuroscience, and technology-assisted learning, achieve targeted and measurable training and business performance outcomes while intricately developing and inspiring individuals and teams to enthusiastically be their best. He possesses unique and extensive experience in developing multiple training teams, training infrastructure, processes, methodologies, and implementing technology to deliver enterprise-level training programs and projects.
Anthony also has significant experience managing multiple training teams of classroom trainers, instructional designers, eLearning developers, and has managed more than $30 million of training projects over the past ten years.
Dedicated to training with purpose, power, and passion, Anthony enlightens the hearts and thoughts of audiences in ways that help them further their understanding of themselves by working to find their own answers to "Who am I?", "What am I doing?", and "Why?"
Having the opportunity of completing two successful corporate careers, first as an IT professional and second as a training professional, Anthony has synthesized his lessons, experiences, failures, and successes of corporate life and personal life, processed them and studied them diligently through the lenses of various psychological, physiological, biblical, business, and life application teachings.
In alignment with Anthony's passion for helping individuals and teams better define their "why and how," he has produced these offerings:
"The Business Performance-Based Training Model" -- a structure for organizations to strategically implement training that achieves defined business performance results
"Seven Skills of a Life-Changing Speaker" -- a public speaking training program
"Best Monday Inspiration Workbook" -- a year-long journey for pursuing your best self
"Give Love" -- a studio acoustic piano instrumental recording that musically shares the emotions of introspection and perseverance through life challenges
Anthony Griffin is a conscientious, purposeful father of two, learner and trainer of human mechanics, and a facilitator of potential, purpose, and love in the hearts and minds of those who are seeking to exercise the abilities they know exist inside themselves but haven't yet reached their personal tipping point.
---
True Love from God's Perspective
A comprehensive exploration of God's love as expressed throughout the Bible and how to apply it in its truest form. What is true love from God's perspective? ... Not from our perspective, not from what we've learned by default through experiences and watching the screen and reading fairytales. Love is not equal to good feelings! This presentation delves into crucifying the flesh; bad habits and how to stop them; and good habits and how to integrate them into our relationship behavior. Audience interaction includes practical exercises to examine daily relationship behavior and identifying how to improve perception of love and acts of love.
The Glorious Castaway
A detailed look at the cycle of moving from victim to victor as shown repeatedly in the Bible. Abraham, Moses, Joseph, David and Jesus all experienced a similar pattern as they went from castaway to glorification. This pattern includes the initial castaway, the dream / prophecy, temporary success, the second castaway, enduring the promotion process, forgiving those who were used along the way, and, ultimately, glorification.
Family Shine
Gone are the days of families huddled around the radio, fireplace, or one TV set. Everybody has their own device to connect with any world of information, entertaiment, and people that they desire. Car rides and occasional family dinners are often the only times a family is together. Family Shine makes strategic use of devices and technology for the purpose of good ... spending intimate family time together on a regular basis to learn, connect, and encourage each other. I experienced divorce in 2006, but I started Family Shine with my children and previous spouse in 2008 to keep our family connected and provide a time for encouraging each other, connecting, and exposing the children to necessary information while proactively addressing negative information that they could be exposed to outside the home. Familly Shine can cover everything from love languages, credit reports, personality assessments to funny YouTube videos, driver education, and turning lights and water off to keep utility bills down. We always started with each of us hugging each person one by one and praying over them while in a full embrace and then ended with a trip to dessert! Using online content kept the kids engaged for sometimes five or six hours as we laughed and talked about many very important topics, along with a lot of fun. This presentation reviews how I structured Family Shine, some of the topics we explored over the years, and the importance of making time for family connection, learning and encouragment.
Revival of the Spirit
A comprehensive Bible exploration of how spirit works: the human spirit, the Spirit of God, and the many examples and situations of spirit working in the Bible.
Best Self Cycle Workshop
This multi-session training class looks at the cycle of human behavior for continued growth and development.
Teen Maturity Workshop
A workshop for teens (13+) and parents which looks at the components of maturity and developing a pathway and strategy for purposeful maturity development.
Maturity in the Modern World
A talk about the cycle of maturity and the need for proactive, strategic maturation in modern society.
Training for Business Results
A technical review of how training should drive business performance results, rather than simply put information in front of people. As the creator of the Proficiency-Based Training Model with ten years experience of training management at the enterprise level, I present a proven method for achieving predetemined business goals through training.